Wink-wink … yipp-yipp … r'hot-r'hot …
Geese, those harbingers of autumn, signal a change in the weather, a shortening of the days and the approach of winter. This chorus of winks, honks and yips heralds the birds' arrival at their wintering grounds, and with it the UK is transformed into a hub of goose activity.
Heading south from more frigid Arctic environments, as many as a million geese arrive on our shores for the winter. The UK is home to the majority of the world populations of Pink-footed, Greenland White-fronted and Pale-bellied Brent Geese during winter. The seven or so regularly occurring species have diversified to fill a suite of feeding niches from open coasts and shore to dense inland bogs and agricultural fields. Hiding among these familiar species are the occasional scarcity and vagrant, bringing the British list to 12. There is also a number of recognisable subspecies which gives the avid goose-watcher a further challenge, with 18 or 19 taxa recorded in Britain.

Many thousands of Barnacle Geese make Islay their winter home; these flocks can hold something rarer (Dan Brown).
Ups and downs
We are witnessing substantial changes in the numbers and distribution of these birds. While changes in farming activities have helped a number of species increase – and not just in the UK – we have also seen the decline of others. Hunting pressure was until recently a serious threat to Greenland White-fronted Geese in Wales, while while shifts in distribution, possibly driven by climatic changes, mean that Todd's Canada Goose is now pushing into the breeding range of Greenland White-fronted Goose, potentially outcompeting it.
Agricultural success and the birds access to increased grazing has seen an expansion in populations of Pink-footed and Barnacle Geese. This growth brought the latter into direct conflict with farming on Islay, and in 2015 NatureScot (then Scottish Natural Heritage) introduced a Goose Management Scheme of active culling (termed 'lethal scaring') to bring numbers down from 42,000 to 25,000-30,000, where the population now sits. The scheme subsidises farmers with geese on their land under the prerequisite that geese are also to be shot. A system that is thoroughly in need of review given that around £910,000 of taxpayerstaxpayers' money is spent annually on this.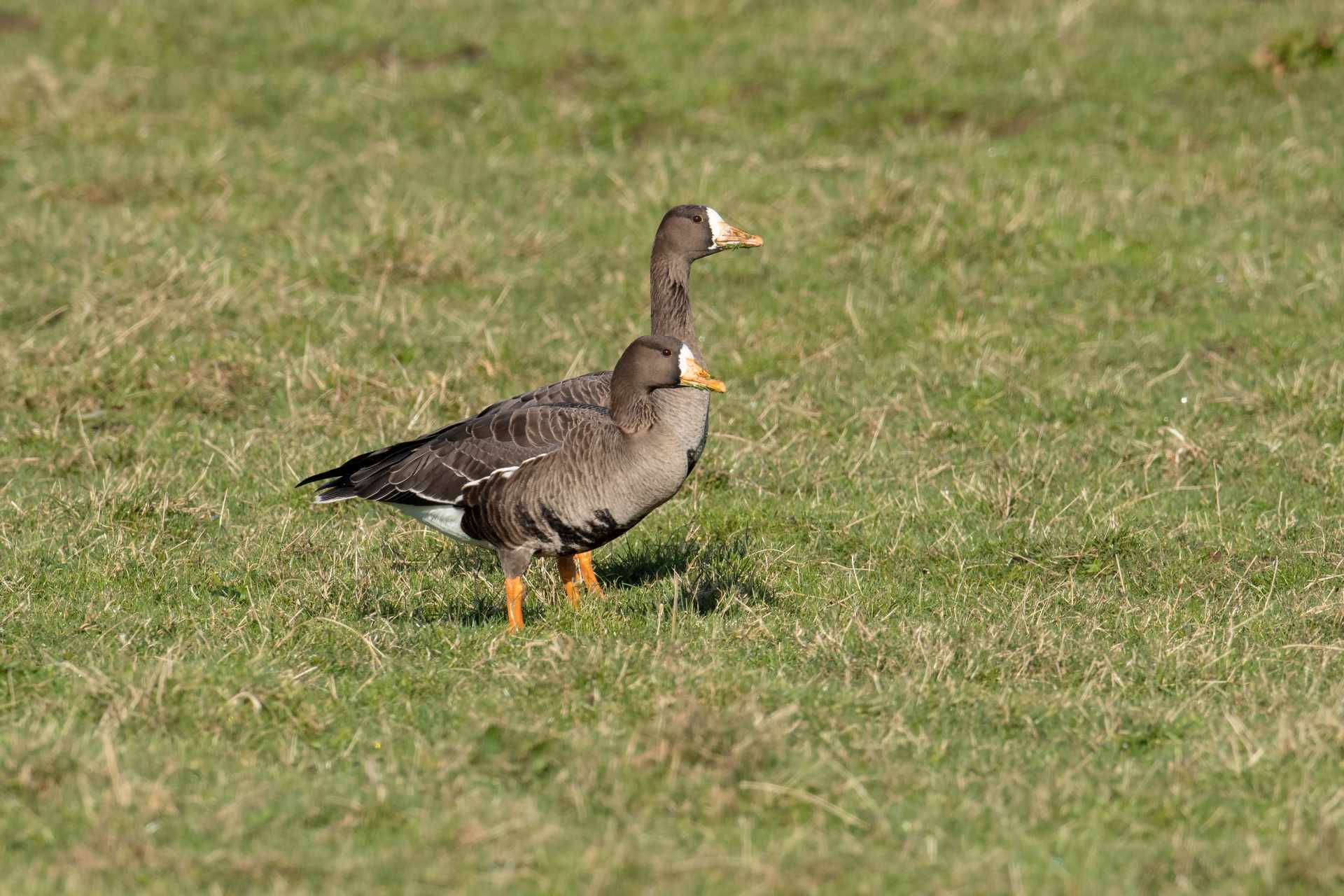 The UK is home to the majority of the world's population of Greenland White-fronted Goose during the winter (Mark Colquhoun).
Milder winters have seen a change in the winter distribution of geese (and other wildfowl) from eastern and northern Europe, with many species, such as Russian White-fronted Goose remaining on Continental Europe for the winter rather than pushing west to Britain. Taiga Bean Goose demonstrates this shift, not just here but in adjacent countries such as The Netherlands where it is now a very rare winter visitor.
This overall decline makes the appearance of individuals here less likely unless we see some significant cold-weather movements. We are currently experiencing a La Niña event which could see a drop in temperatures across the UK and Europe in early 2021 – watch out for an arrival of geese from the Continent.
In contrast to a wintering-range contraction, the likes of The Netherlands and the Baltic States have seen a monumental rise in the breeding populations of Barnacle and Russian White-fronted Geese, with an estimated 16,000-22,000 pairs of the former and 420-700 pairs of the latter in The Netherlands – not to mention the 460-770 pairs of introduced Ridgway's Cackling Goose, a native to western North America! This last aside, these populations are thought to have stemmed from wild birds (except the Cackling Geese) that remaining through the summer due to huge expanses of ungrazed grassland, as well as those that had been shot and injured rendering them incapable of migrating.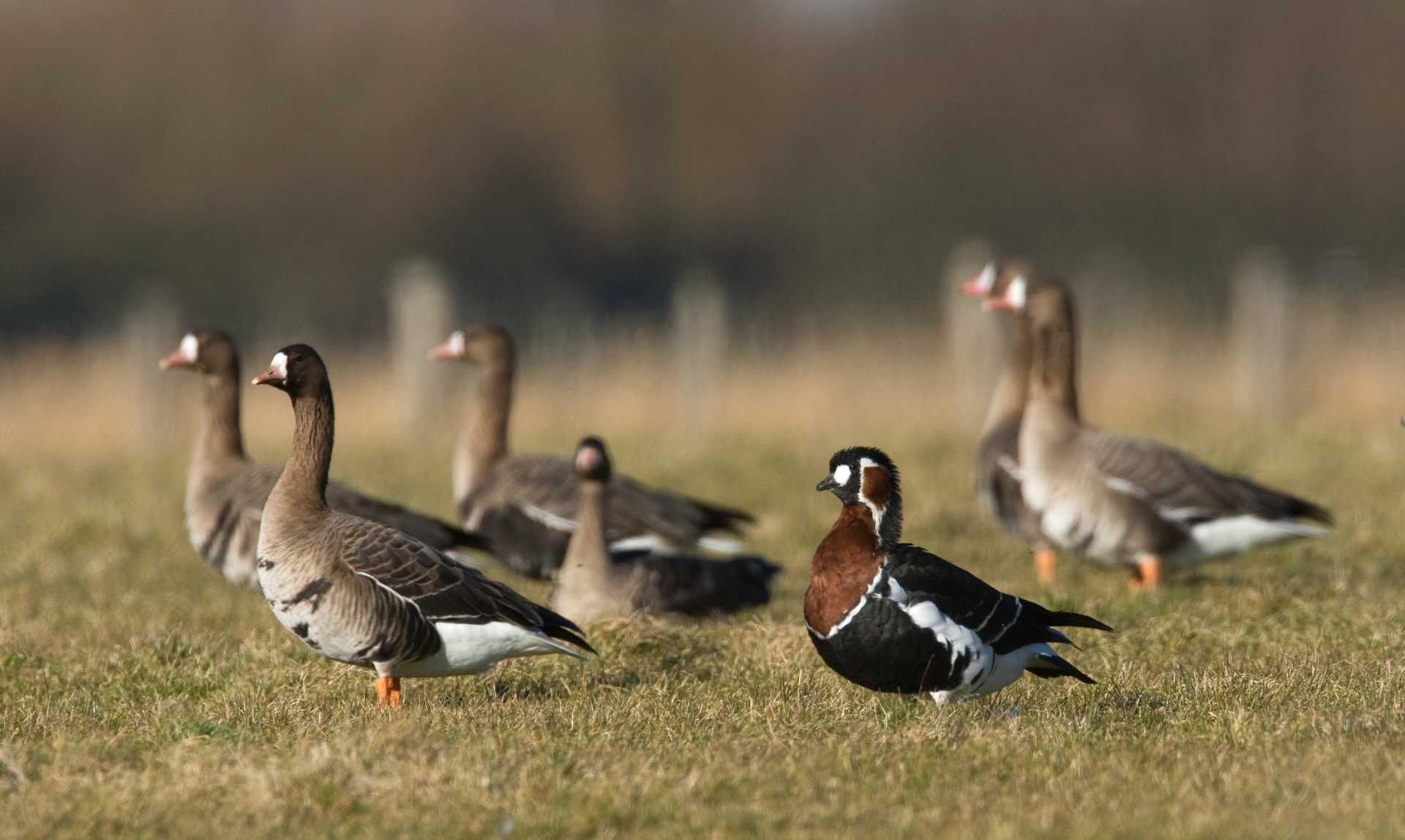 Look for rarities like Red-breasted Goose among regular wintering species such as Russian White-fronted Goose. (Harvey van Diek).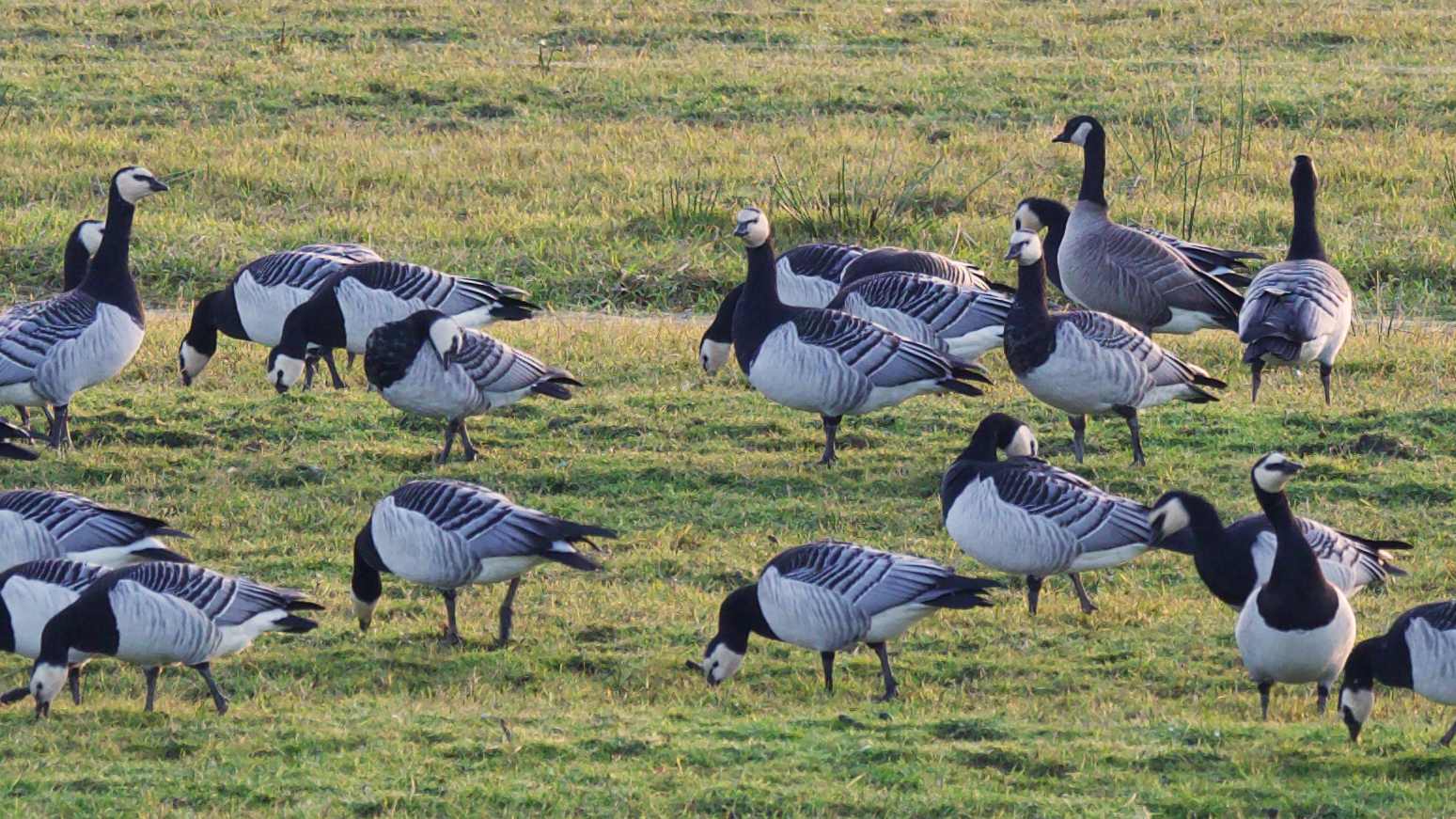 Barnacle Geese can act as carrier species for rarer birds such as this Cackling Goose (above at the back) on Islay (Dan Brown).
Around 1,000 pairs of Barnacle Geese now breeds in the UK, with emerging populations in Bedfordshire, Cumbria and Suffolk, the last likely stemming from wild breeding birds in the Low Countries and potentially wild birds forming the Cumbrian population as well. We should expect this expansion to continue nationally and involve other species as well.
Something special
Like most groups of birds some species arrive in the UK only as scarce migrants or vagrants. Typically, they find their way into larger flocks of geese originating from a roughly a similar area – these are known as carrier species. So as you may expect vagrant Snow Goose, for instance, tend to appear with Pink-footed and Barnacle Geese from Greenland and Iceland, while Lesser White-fronted Goose occur among Russian White-fronted or Taiga Bean Geese.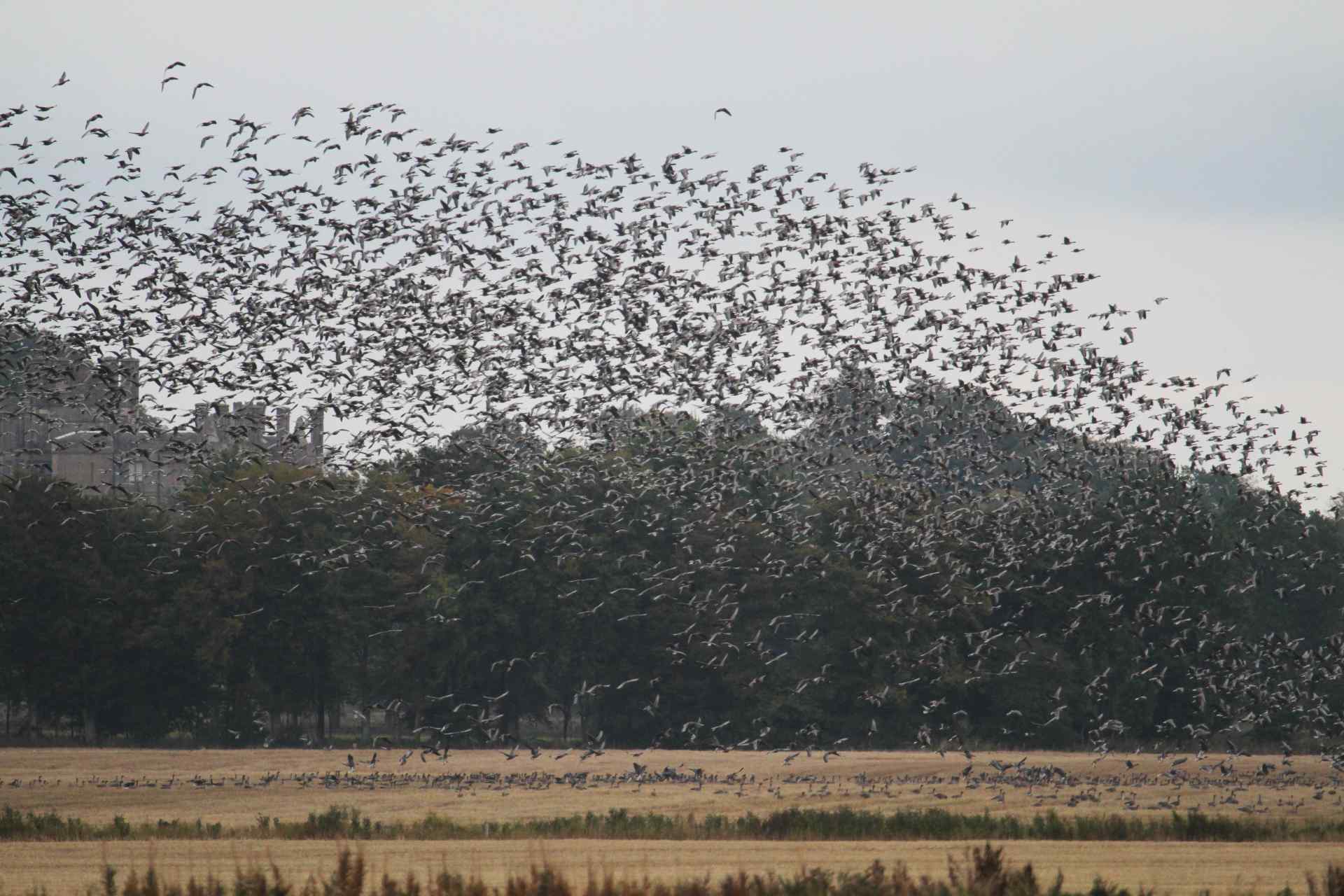 Commoner species like Pink-footed Geese form impressively huge flocks during winter (Dan Brown).
Things get complicated when vagrant geese turn up alone, though. There are proven cases of out-of-range wildfowl arriving on town and city ponds, sometimes singly but often joining habituated flocks used to people; a ringed Barnacle Goose from Islay, Scotland, turned up in the Bronx, New York, in 2010 before relocating to a duck pond in Connecticut. But the popularity of wildfowl in collections, coupled with their ability to escape on a regular basis and then their subsequent success at breeding when they find each other, means there are significant issues in ascertaining the true provenance of many individuals.
For the rarity finder and birder alike huge wintering aggregations offer the chance to find and see scarcities and rarities. Snow, Cackling and Red-breasted Goose all occasionally turn up with commoner species, as do more regular forms such as Tundra Bean Goose and Russian White-fronted Geese (both scarcities further west). So, what should you be looking for and where will it have come from?
From the west
North America is home to a number of species and taxa that have already made it to Britain and Ireland – indeed, some of our regular wintering species breed on the continent and migrate here for winter. Pale-bellied Brent Goose breeds almost as far north as you can get in the Canadian Arctic, on Ellesmere and adjacent islands, while Greenland White-fronted Geese nest, as the name suggests, in western Greenland. The expansion of Todd's Canada Geese into this range may well be responsible for the good run of UK records in autumn 2020 and it seems likely that this species will become a more regular winter visitor.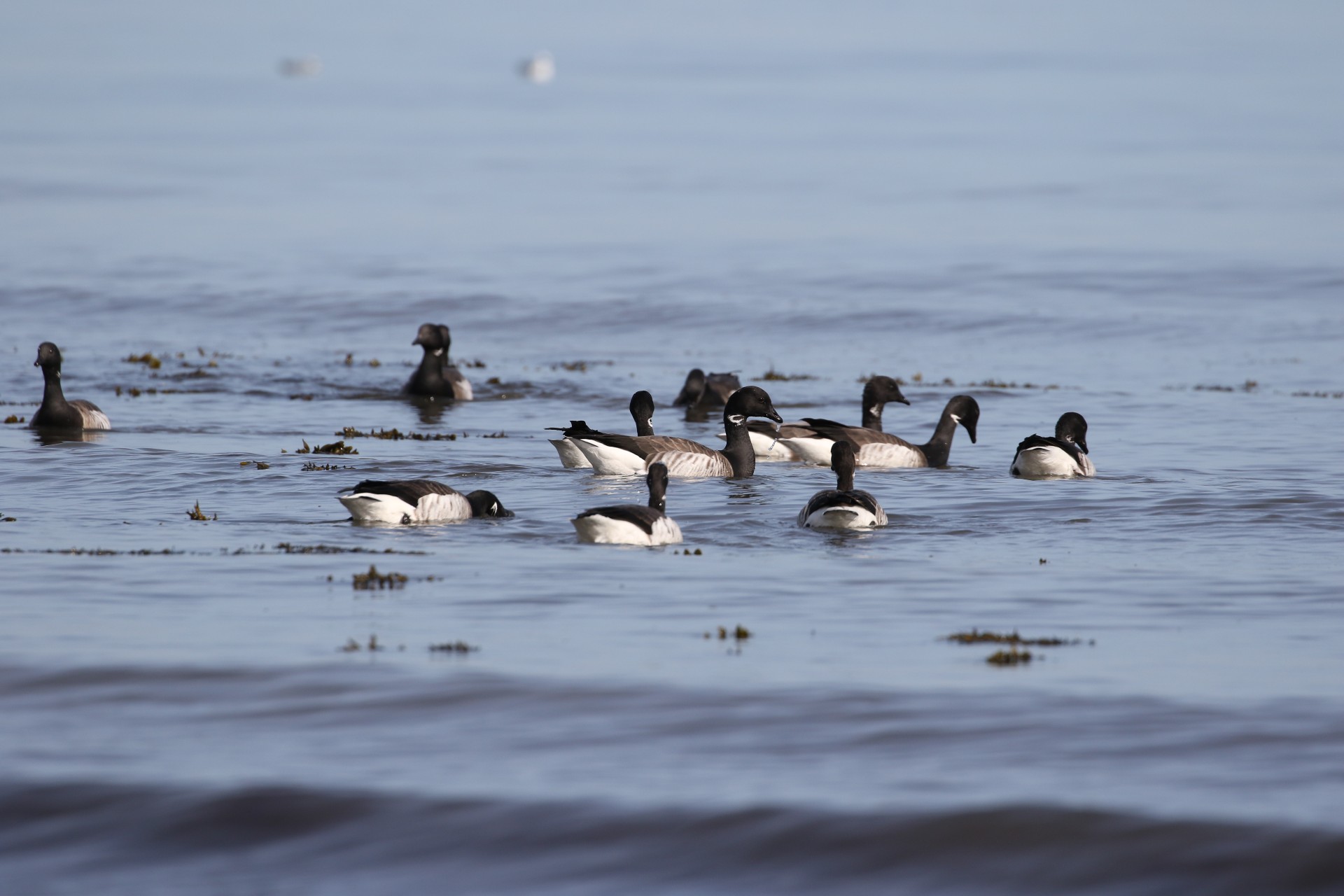 The majority of Light-bellied Brent from the Canadian population visiting the UK during the winter are to be found in Northern Ireland, especially on Strangford LougH (Neal Warnock).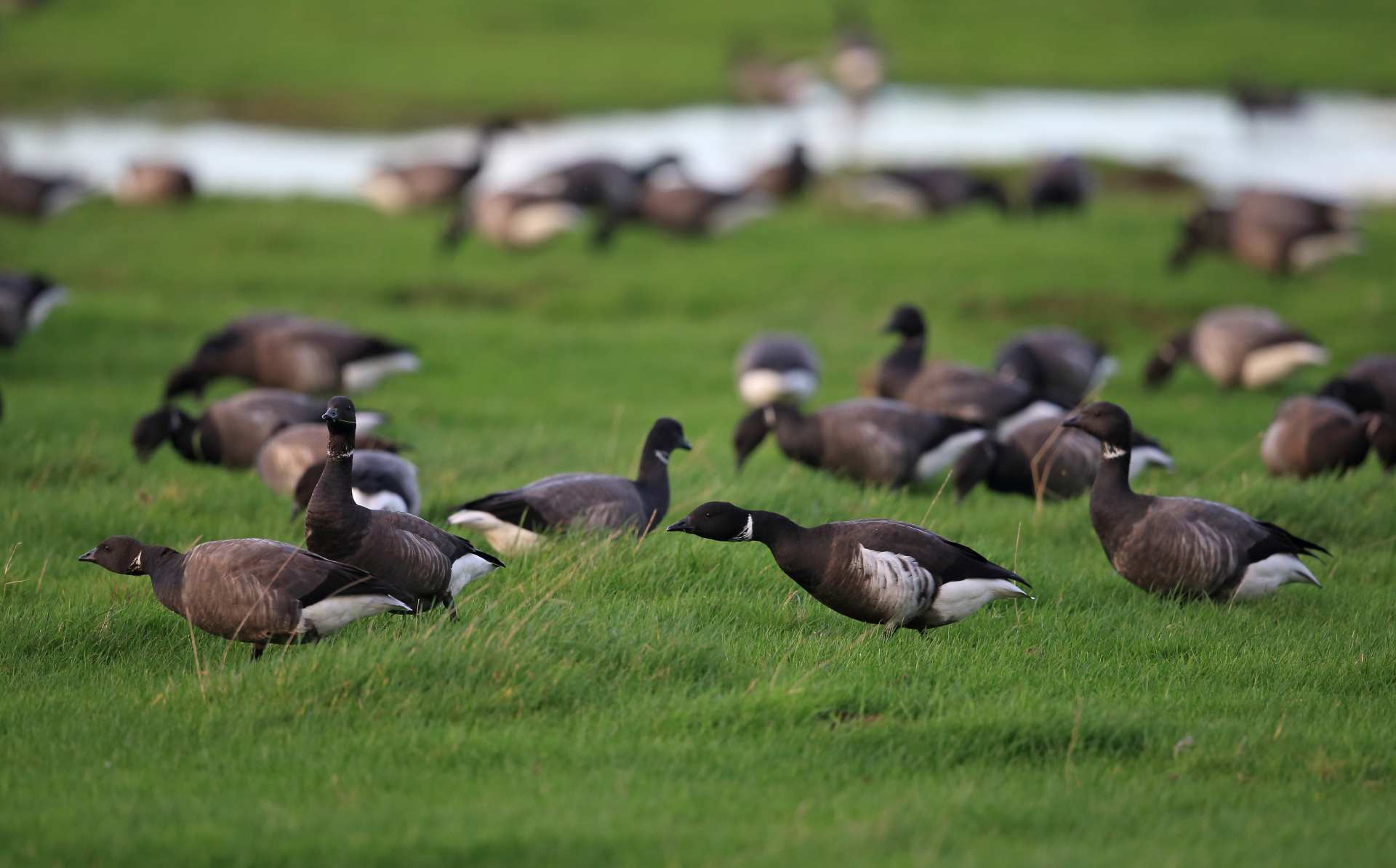 The scarce Black Brant (front bird) can be found in small numbers among flocks of its commoner congener, Dark-bellied Brent Goose (Robin Chittenden).
This story holds for other species in North America, too, with a general northward shift in distribution occurring. The breeding ranges of many potential vagrants overlap; for instance, Cackling Goose breeds right across the northern Canada including Baffin Island, northern mainland Nunavut and Quebec – similar in range to Snow and Ross's Goose.
Ross's is probably the most likely goose addition to the British list (arguably the most likely addition full stoof any bird). With an expanding population currently estimated at 1.7 million birds it is only a matter of time before Ross's Goose makes an undeniably wild appearance; there are already a handful of records that are widely considered to have been genuine vagrants worthy of further scrutiny. Any Ross's Goose arriving with Greenland or Icelandic carrier species such as Barnacle, Pink-footed or Greenland White-fronted Geese should be taken seriously.
Another taxon worthy of scrutiny is Gambell's White-fronted Goose, again breeding in a similar range to the previous species and being the most abundant Greater White-fronted Goose subspecies in North America. Identification, however, is far from straightforward:.in general it is longer necked, larger headed and the bill more orange-pink, with an extensive white forehead, as well as generally paler overall than Greenland White-fronted Goose, but variation is substantial.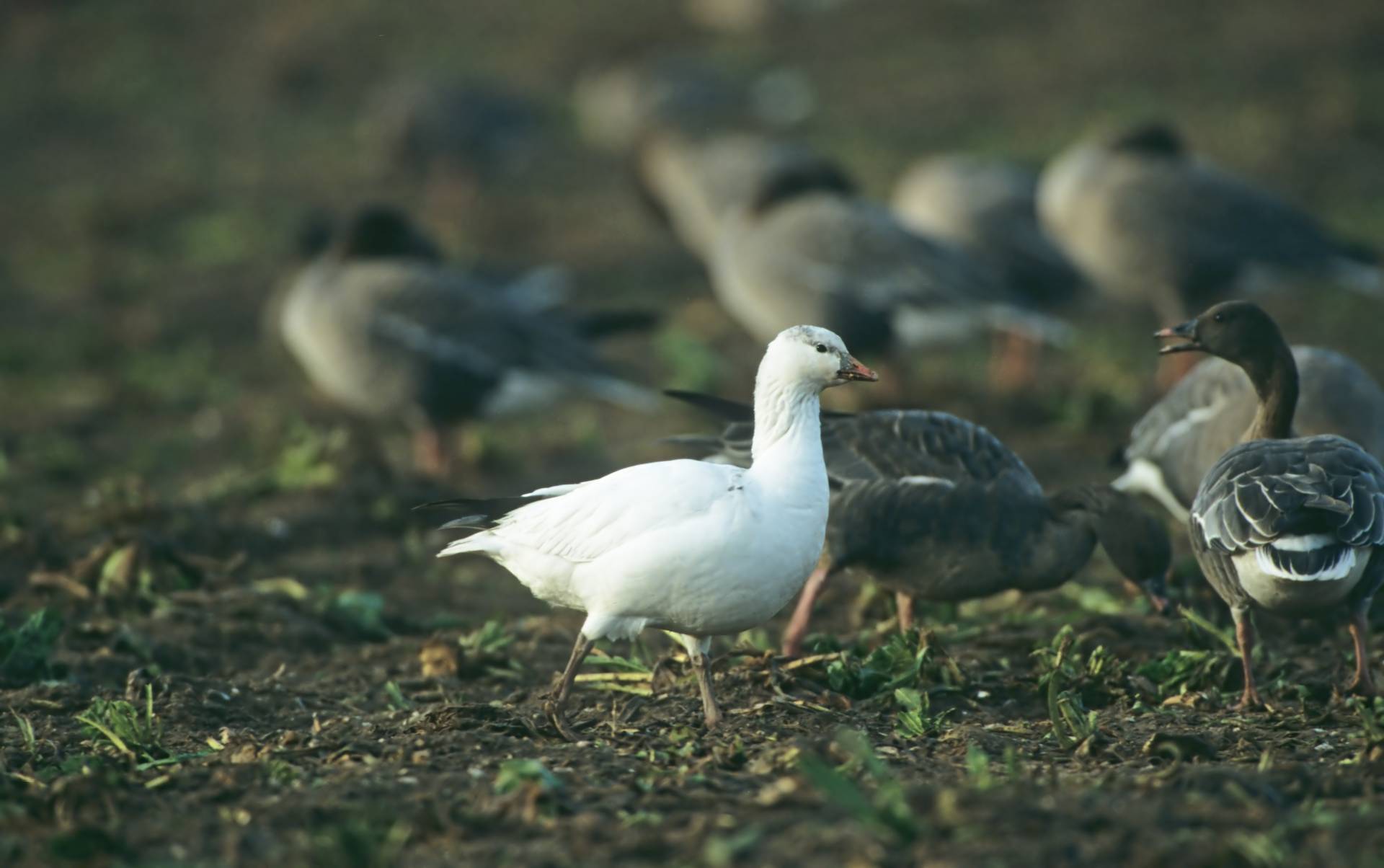 This fi rst-winter white-morph Ross's Goose was present in Norfolk in January 2002 (Robin Chittenden).
The final two taxa to mention are Black Brant and Grey-bellied Brant. It is likely that we see the former arrive from both the west and east, whereas the latter – not (yet) formally considered a valid taxon – is restricted to Melville (and adjacent) Island in the Canadian High Arctic and, much like the aforementioned Gambel's White-fronted, presents some significant identification challenges, due to a highly variable population and the confusion of hybrid Pale-bellied x Dark-bellied Brents in Britain.
From the east
Scandinavia and the taiga and tundra belts of Siberia and the Russian Arctic are the regular breeding haunts of a range of British wintering species. Barnacle, Russian White-fronted and Dark-bellied Brent Geese all migrate to our shores from this region. It is also home to a few of our scarcer visitors – both Tundra and Taiga Bean Geese, as well as the rare Lesser White-fronted Goose.
Lesser White-fronted has undergone a serious decline. From a former regular, but rare, winter visitor, almost always among Russian White-fronts, it is now an extreme rarity – although tagged birds from the Scandinavian reintroduction scheme turn up from time to time.
Away from the two traditional wintering sites in Clyde and Norfolk, Taiga Bean Goose is now also a very rare visitor and, as it decreases, is sadly likely to get rarer – the Norfolk population is on the verge of extirpation. Tundra Bean numbers fluctuate, and can be unpredictable both in terms of location and number, although East Anglia is usually best.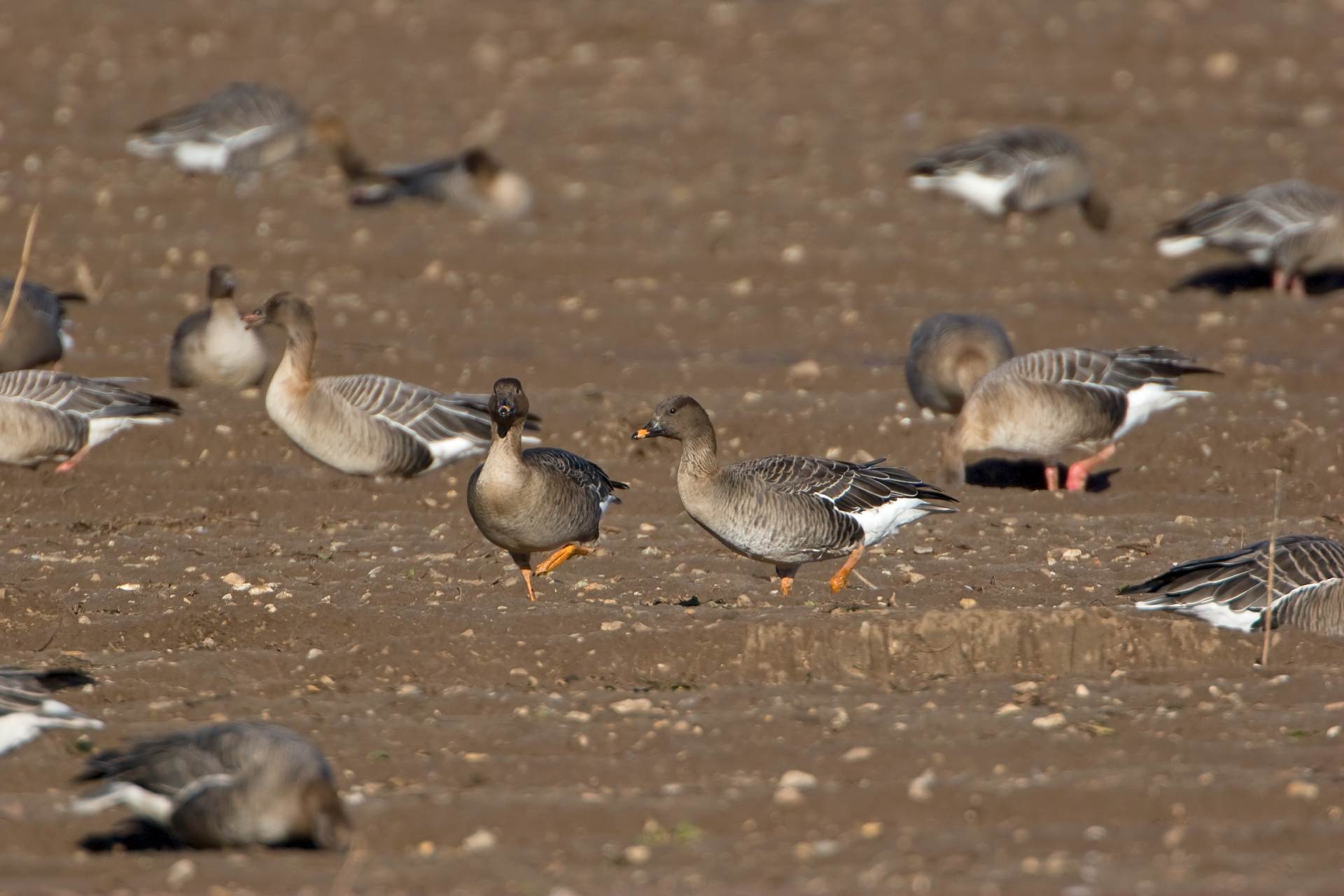 East Anglia is something of a stronghold for the scarce Tundra Bean Goose during winter (Robin Chittenden).
Black Brant, meanwhile, comes west in small numbers among Dark-bellied Brents from their Russian breeding grounds. Watch out for hybrids, though, which are well documented in Britain.
Possibly the most desired of all geese, Red-breasted Goose, breeds in Arctic Siberia. This exquisite species migrates south-west to the Black Sea coast but, as with Lesser White-fronted, occasionally latches onto migrating flocks of Russian White-fronted or Dark-bellied Brent Geese.
An as-yet unrecorded possibility from the east is Middendorff's Bean Goose. This east Siberian taiga breeder packs an impressive punch: the huge bill and headed creating a 'top-heavy', almost brutish look at times. Two further Asian taxa, Bar-headed Goose and Swan Goose, are both migrants, the former crossing the Himalayas, while the latter tends to undertake shorter journeys. In theory Bar-headed is a potential vagrant to Europe, though validating any individual as a genuine arrival is a very difficult given the large naturalised population in The Netherlands and its frequency in captivity.
Where to see
Pink-footed Geese
Montrose Basin, Angus, holds close to 80,000 in autumn; Nigg Bay and Findhorn Bay, Highland; Pilling Moss and Martin Mere, Lancashire; Holkham, Wells and Snettisham RSPB, Norfolk.
Tundra Bean Goose
Singles and small flocks with Pink-feet in Norfolk and Lancashire.
Taiga Bean Goose
Slammanan, Falkirk; Yare Valley, Norfolk.
Greenland White-fronted Goose
Wexford Wildfowl Reserve; Broubster and Mey, Caithness; Islay and Kintyre, Argyll; Loch Lomond RSPB, Dunfermline; Dyfi Estuary, Wales.
Russian White-fronted Goose
Slimbridge WWT, Gloucestershire; Holkham, Norfolk; North Warren RSPB, Suffolk; Swale NNR, Kent.
Dark-bellied Brent Goose
Wells-next-the-Sea and Cley, Norfolk; The Naze and Two Tree Island, Essex; Farlington Marshes, Hampshire; Gibraltar Point, Lincolnshire; Rye Harbour, Sussex.
Pale-bellied Brent Goose
Strangford Lough, Co Down; western Scotland; Lindisfarne NNR, Northumberland.
Barnacle Goose
North Uist, Highland; Tiree and Islay, Argyll; Caerlaverock, Dumfries and Galloway; Co Sligo; Suffolk coast.
Vagrant hot-spots
The key to finding and seeing vagrants is checking flocks of carrier species. Here's a selection of some of the best sites in the UK for finding rarities.
Findhorn and Nigg Bays, Highland
As Pink-footed Geese arrive from the north they often stage at sites such as Nigg Bay, Sutherland, and Findhorn Bay, Highland. Among the tens of thousands of birds look out for Snow and Cackling Geese. Ross's Goose has been noted within these flocks previously and, in recent winters, Grey-bellied Brant.
North Norfolk
The coastal fields and marshes are a mecca for geese. Check the large Brent Goose flocks for Black Brant. Pink-footed Geese often hold scarcer species such as Tundra Bean, Cackling, Snow or even Red-breasted Goose. These are best located by carefully scanning feeding flocks inland rather than waiting at roost sites.
Islay, Argyll
This magical island hosts more than 40,000 geese. It is an excellent area for vagrants. Richardson's Cackling Goose and Todd's Canada Goose are annual in small numbers. The island has also recorded putative Taverner's Cackling Goose and Lesser Canada Goose. Snow Geese occasionally appear and Red-breasted has been recorded. Six species of geese in a day is quite feasible here. This is the most likely location of Britain's first Gambel's White-fronted Goose, too!
Caerlaverock and the Solway Firth
This area is host to thousands of wintering Barnacle and Pink-footed Geese which frequently draw in scarce and rare species including Todd's Canada and Cackling Geese.
Martin Mere, Lancashire
Thousands of Pink-footed Geese attract species such Tundra Bean, not to mention the occasional rarity. Nearby fields and coastal marshes also host big flocks.
Farlington Marshes, Hampshire
The coastal marshes hold an impressive aggregation of Dark-bellied Brents and, with them, the occasional Black Brant.
Yare Valley, Norfolk
The wet grasslands here hold one of only two wintering populations of Taiga Bean Geese which have also attracted Lesser White-fronted Goose, although this population is on the wane.
This article appeared in the January 2021 edition of Birdwatch. Dan Brown is an ecologist, author and expedition naturalist and lecturer. Follow him on Twitter @DanBrownNature.