The second week of September 2011 saw the remnants of two Atlantic hurricane systems battering the Isles of Scilly. In both cases the strongest winds occurred after dark, but for a week or more either side we woke to tremendous westerly gales roaring in across the water. At the same time, the equinox spring tides combined to produce a massive sea with long, rolling waves crashing against the beaches, inducing the islands' males to rediscover wetsuits and surfboards hidden in the back of the cupboard for years.
At first it was all American waders: Pectoral and Baird's Sandpipers, Lesser Yellowlegs on St Agnes; six Pecs together on Tresco; up to eight Buff-breasted Sandpipers and a couple more Pecs on St Mary's. Then the best of the lot arrived on the day the wind finally dropped and we got our hearing back: a delightful Solitary Sandpiper in the most enchanting of settings at Newford Duckpond. Though all the birders on Scilly had been talking about these weather systems for days before they materialised, the history books told us it was too early for passerines. Shame it wasn't October — that was my thought, anyway. Then, on 13th September, Ren Hathway spotted Britain's earliest-ever Red-eyed Vireo in his garden while he was drinking coffee at his kitchen window, and that was the end of that bit of complacency — for 48 hours. As already indicated in my previous piece for these pages, I whipped myself up into a maelstrom of running around all my favourite spots on St Agnes, pishing myself senseless to no avail. When a late message came through on the night of the 16th telling me of a possible waterthrush at dusk on Lower Moors, I raised an eyebrow but little else. "That'll come to nothing," I thought, and proceeded to sleep the sleep of the righteous.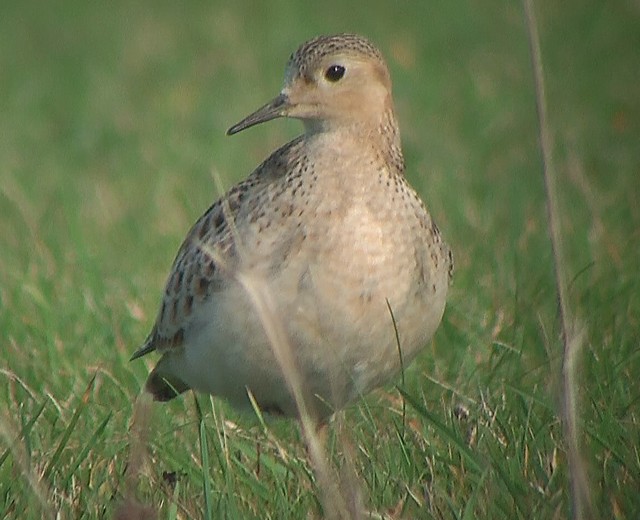 Buff-breasted Sandpiper, St. Mary's, Isles of Scilly (Photo: Philip John Parsons)
Seven o'clock the next morning — Saturday 17th September — the phone rang. "You'd better get yourself over here again, boy!" "OK, but not right away," was my response. There was no boat off the island for another three hours and I had to sweat this one out. I relieved some of the pressure by having another mad dash around St Agnes, once again full of expectation, but...nothing.
The new school on St Mary's was having an open day, which meant everyone from the off-islands was invited to come in and inspect the new premises and facilities. It meant our boat, Spirit of St Agnes, was chock-a-block with interested parties as it set off from our quay at 10:15. The armies of October birders might find it a strange experience to be so hopelessly outnumbered by ordinary civilians as I was on this occasion. Sometimes I find the maturity within to talk to these everyday folk about what all the excitement is about, but this just wasn't one of those occasions — and certainly not when I chose to ring my mate Higgo to get an update from the scene amid the hubbub of good-natured chatter among the mums and dads on the boat. Unluckily for me, I chose the exact moment the tannoy began blasting out the boat's safety instructions; during the course of a minute's barely audible telephone conversation the only two words I heard in response to my question as to whether or not the waterthrush had been seen again were "white" and "black", but not necessarily in that order. If there'd been any chance when I'd got on the boat of my having a nice conversation with these nice people about the nice weather, there wasn't one now. It wasn't just tension, you understand: it was the sheer, unadulterated joy within of being on Scilly when something BIG was happening. I just wouldn't have been able to put it into words for these humans. I needed to be with my own subspecies!
I ran from the quay through Hugh Town, partly for the hell of it, partly for old time's sake, but mostly because my mate Spider had told me he could give me a lift to Lower Moors if I made it to the front of the deli some time in the next two minutes. I was with a Swedish birder, Torgny Nordin, who I'd met on St Agnes a couple of times the previous week. Coming from Sweden on a week's holiday to the Scillies with his girlfriend, he'd been very satisfied to have seen and photographed the three American waders we'd hosted for the week. One could only imagine the whirlwind he must have felt caught up in as he ran through the streets alongside me, hot on the trail of two sensational American passerines, neither of which had been seen in this country for over 15 years.
The waterthrush had been seen only briefly on the mud opposite one of the hides at Lower Moors in the early-morning equivalent of twilight, whatever that is. The trail of the Black-and-white Warbler was slightly warmer — though, so far, only the finder had seen it and an hour had since passed. Chris Ridgard has spent most of his 40-odd years pursuing a passion for music, but a lifelong interest in birds has started to develop into something more serious in the past four or five years. I'd last seen him a week before this moment, when he asked me to give him a lesson in pishing. It was Chris I told — something I mentioned in my last report — that if you're doing it properly you should have a dry mouth and a headache at the end of the day (and be sick of the sound of your own 'voice'). Separated from the rest of the group, who were now scattered looking for the waterthrush in the 'wet woods' at Lower Moors, he thought this might be a time to give it a proper go. A small flock of tits came in overhead and seconds later...'one of the greatest moments of my life so far'. Once described as 'a near apparition' by Peter Grant when he found a Black-and-white Warbler in the 70s, not fifty yards from where we were now standing, this little stripy humbug will forever hold a place in many birders' top ten most exciting birds of all time — mine included. No wonder Chris looked gobsmacked when I saw him. It wasn't long before a shout came up from the right that (Spaniel) Spider had refound the bird about 100 yards away and soon nearly every one of the 30 birders on the island at the time converged en masse for tantalising glimpses of the black and white stripes feeding actively on the outside of the wood. Twenty minutes later it came a lot closer, but still always on the move. Another two days after that, on a separate trip for the Baltimore Oriole on the Garrison, I came back and had wholesome views at minimum focus range for half an hour, right above my head.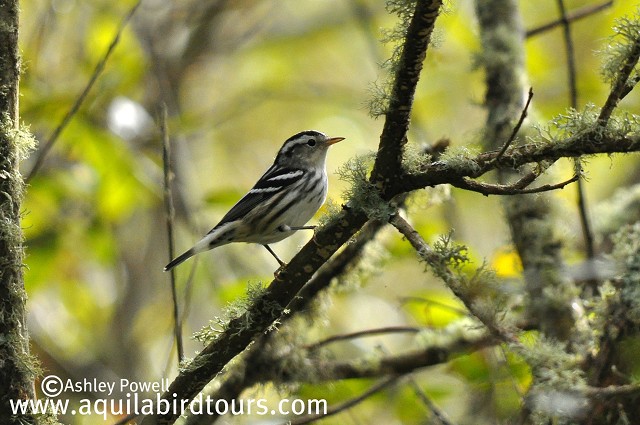 Black-and-white Warbler, St. Mary's, Isles of Scilly (Photo: Ashley Powell)
Although the Black-and-white Warbler wasn't a new British bird for me (having seen two in the 80s), the waterthrush was. The previous one on Scilly — at Porthkillier Beach in August 1989 — was about the only bird I couldn't drop work for during my five years in the Civil Service. When the Portland bird occurred in 1996, I was well settled in Cape May, USA, seeing dozens of the things; hence, after the excitement of the Black-and-white Warbler in the morning, I chose to walk away from Lower Moors with a view to covering the rest of the island and returning in the evening. Hours went by with no news of the waterthrush's rediscovery; then, at about 3pm, a young couple chanced upon it (with the aid of some judicious pishing) in the woods where everybody had been looking. No-one else had seen it by 5:30. I found Chris in the woods, still grinning broadly from ear to ear and overcome by the emotion of it all. "Sit down and join me in a cup of tea, Graham," he said, producing his flask, "and tell me a thing or two about these here Black-and-white Warblers; where do they live and all that..." "Well", says I, about to get into my stride, "where shall I begin...?"
I guess from the outside it was probably a pretty heroic thing at the time — Chris certainly seemed to think so — but by the end of the year every birder and his dog could probably recognise the quite loud, distinctive, slightly explosive, metallic call of the Northern Waterthrush. It was a familiar sound of the swampy woods in Cape May from late July to late September. I think I'd managed a few sentences in my discourse on one of my favourite subjects when all of a sudden there it was: chink. It wasn't that close — the woods, as anyone who was there will know, were a tangled morass, and the leaves were uttering more than just whispers in the strengthening wind. But I was pretty sure, even ten years after I'd last heard one, that that was it calling: it is a distinctive sound. And the next minute we were looking right at it, just 10 yards away on the edge of the most beautiful, leaf-littered, algae-strewn, woodland pool. The minute between hearing it and seeing it was a blur as we shifted instantly from relaxation mode to stand-to-attention concern, knocking over cups of tea in our haste to cover the ground between us and the sound. Other birders sensed the change of atmosphere and came rushing up to the scene as quickly as swampy mud, slippery logs and spiky brambles would allow. But only the first few got on to it — after just 10 seconds it disappeared once more into the impenetrable mess that is probably as close as you'll get in Britain to a waterthrush's idea of heaven.

Northern Waterthrush, St. Mary's, Isles of Scilly (Photo: Richard Stonier)
But of course, at this point in time nobody could possibly have imagined what a heavenly paradise Lower Moors would turn out to be for the little star; least of all Martin Goodey who next morning managed to wait patiently in a crouched position for four hours before it quietly walked in front of his camera and allowed him the kind of photographs of this hitherto impossibly elusive bird that he thought would go down in history. The Black-and-white Warbler and Baltimore Oriole disappeared after a couple of days, but the Northern Waterthrush clung on into October, giving hundreds of birders many anxious hours' waiting, but also occasionally giving itself up by appearing in the same place at the same time (more or less) for several days at a time. The most famous of these places became Higgo's Project — a small body of water scarcely bigger than a kiddie's garden paddling pool secreted away in the reeds behind the Municipal Rubbish Dump that John 'Higgo' Higginson had worked on for the past three summers. I went back to St Mary's myself in late September to experience it during one of its periodic bursts of regular arrival, on cue half-an-hour before dusk. It was the first time I'd been to John's Pool and bunker hide built of sand bags and mud. I got there an hour early and managed to get myself situated on one of only two spaces available at the open screen, ready to start slapping! We hadn't had much of a problem with mosquitoes on St Agnes this year, and nobody had told me that a thin T-shirt was no protection against the miniature Darth Vaders that swarmed the cramped burrow within minutes of my sitting down. Alright if you're a Northern Waterthrush, though! No doubt the local abundance of these biting little menaces was one of the reasons for the bird's sojourn in the area; indeed the tendency for the Lower Moors area in general to hold plenty of insect food well into November was probably instrumental in its decision to forgo the Caribbean for its winter vacation, if 'decision' be the right word. Fortunately someone brought me a thick jumper and I remained in pole position at the hide alongside photographer Bryan Thomas long enough to see the it perform its routine exactly as prescribed: first this bit of mud, then that, then this little island here in the middle of the pool, and now, finally, here it is right in front of our faces.... There are few more satisfying feelings in the birding world than waiting an hour for a bird and then having it come in and perform at exactly the moment in time you were about to give up on it. Having a gorgeous young Lesser Yellowlegs at point blank range in front of the hide did take some of the sting out of the wait, though, I must admit.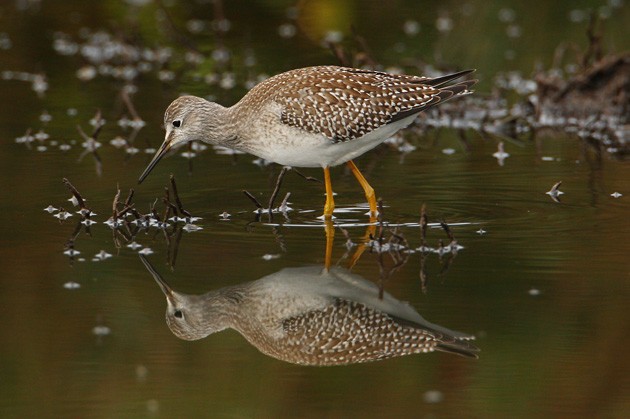 Lesser Yellowlegs, St. Mary's, Isles of Scilly (Photo: Steve Arlow)
And so photograph after photograph ensued. Some of the best photographs of any bird taken in Britain last year. Astonishingly the bird was caught and ringed at Porthellick Pool, half a mile from where it had been hanging out, but within hours again it was back on the pool behind the dump. It became slightly more irregular in its appearances there, giving many October birders a hard time; disappeared altogether for a few days; then turned up again several times a day directly in front of the blind at Shooter's Pool. Some holidaying friends of mine stepped straight off a plane and saw it there within half an hour of arriving on Scilly; others staying on St Agnes arranged boats back after dark or even forked out silly amounts for one night's accommodation on St Mary's but all to no avail. What a naughty little bird! Remember that throughout this six-week period from mid-September to mid-October, apart from the Black-and-white Warbler and Baltimore Oriole already mentioned, there were several (elusive) Red-eyed Vireos around; the Solitary Sand and two Lesser Yellowlegs hung about (while a Least Sandpiper turned up on Tresco); an Upland Sandpiper and two Olive-backed Pipits arrived on St Mary's a couple of days and a couple of fields apart; and an amazing Scarlet Tanager was still yet to come. It was undoubtedly the finest year Scilly had seen since 1999, and it completely stuffed the statement 'Scilly is finished' right back down the throats of those who'd been daft enough to utter it. It was the kind of autumn those of us living here have been looking forward to for ages and it was a privilege to be here from beginning to end. Wilson's Snipe, three Black Kites, another Pallid Harrier, American Golden Plover, two Little Buntings, three Dusky Warblers, Radde's Warbler...when Scilly is at its best there is nowhere in the country that can compete with it.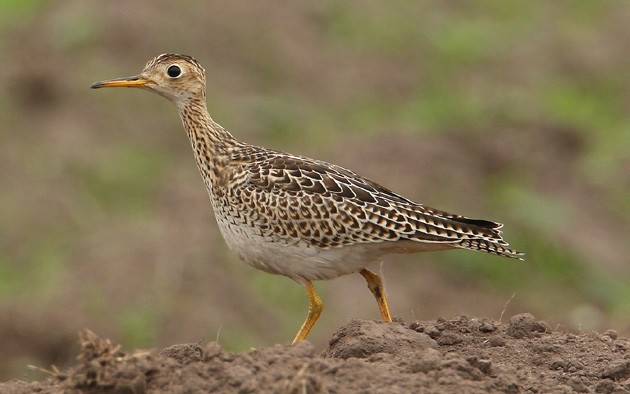 Upland Sandpiper, St. Mary's, Isles of Scilly (Photo: Steve Arlow)
October became November and we expected we might have heard the last of the waterthrush, but I flew out of St Mary's on the 9th and saw and heard it briefly by one of the hides at Lower Moors, and on my return a fortnight later heard it again just once deep inside the marsh. The chances were now that it would probably overwinter. The massive drop in the number of birders, the shorter hours of winter, and the infinite number of hidey-holes meant that it was the second week of January before wintering was confirmed: a brief sighting but a significant one. Then in early February on three successive days it appeared fairly briefly in a small channel alongside the 'tin hut' next to Shooter's Pool on Lower Moors. I got a chance to take a four-day break from the winter flowers, went across, stayed on St Mary's and had myself a lengthy search through the woods. It is no fabrication that I tell you that for years every time I walked through Lower Moors I always used to think it looked ideal for two American passerines in particular: Northern Waterthrush and Black-and-white Warbler! I thought about this several times after the event in late October and November, but it took until this February visit for the satisfaction of this 'dream come true' to sink in properly. Over the years I've developed what I call a real spiritual connection towards trees. It began in Cape May, continued in the Andean Cloud Forests, was apparent in certain city parks in Cork City, and is now a major theme of a number of my visits to St Mary's from St Agnes where, yes, there are a few nice individual stands but nothing of the magnificence of Holy Vale or some of the pine plantations at the north end of the main island. Lower Moors is also very much a place of pleasant contemplation for me, much more so than, say, Porthellick, which is always slightly more windswept and somehow too open to create the ideal 'temple'. I prefer to be inside the woods and have them up above me, all around and beneath me. That is the feeling I get inside Lower Moors — a spirit of being in connection with a place. And I often find the wintertime, without the weather-dependent boom-or-bust manic depressions of the autumn, a better time to experience this other side of me for longer periods. And so it was these four days in February I didn't actually need to see the waterthrush — it was enough just to feel the extra spark of magic its presence brought to these still, silent, winter woods. I wondered whether it could see me while I couldn't see it.
Three weeks later and it's back again in another place, briefly, two days in a row. Spiritual contemplation be damned, I'm going to see the little blighter this time. I've become renowned amongst my friends for moving about too quickly and not being able to sit and wait in one place at a time; I'm aware of this 'ants in the pants' feeling myself. I had to steel myself for a long vigil this time. Even then, every hour or so, I broke from my trance of sitting silently staring at this one little pool at the back of the woods at Lower Moors to go off on a little trot into the woods to take in the fresh spring atmosphere of budding sallows, wild garlic flourishing in a carpet on the woodland floor, the first butterflies on the wing, and Great Tits piping out their courtship songs. How different it all seemed six months on from the first days of the waterthrush's appearance, when the summer Swallows had been gathering for the off and the leaves had begun falling one by one. It took me eight hours of waiting over two successive days before the little bird was once more in my view, bobbing up and down energetically as it had always done, looking so much at home in the dappled, shady depths of the Lower Moors jungle.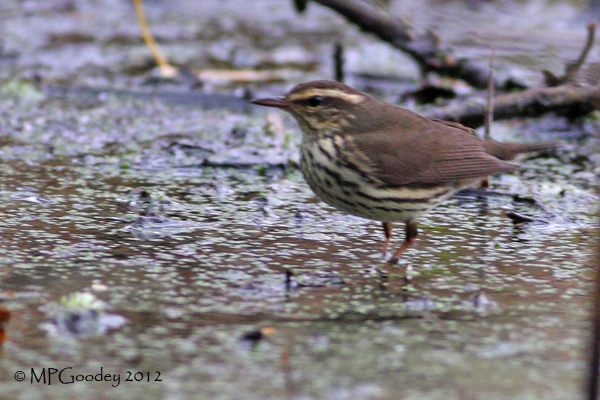 Northern Waterthrush, St. Mary's, Isles of Scilly (Photo: Martin Goodey)
It's now the first of April and still it lingers on. If you haven't seen it yet, it's not too late to come on down, but you'd better hurry: one day it will be gone and the Scillies will be slightly sadder for its passing.