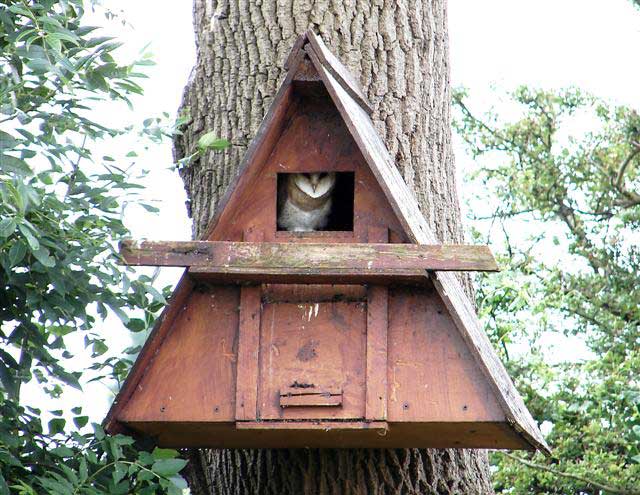 photo: Ron Demaine
Tuesday 5th June
Three weeks ago during initial inspections, we'd found several females on eggs and small chicks. I rarely catch the females at this sensitive time but now's a good time to catch them as the chicks are growing and they soon settle back in the box. A week later and the females are no longer in the boxes with the chicks.
I was on my own today but this is easily a one-man job and the lady at the first house told me of much activity and how much they were enjoying watching the adults come and go bringing food back for the chicks. The female was in the box with five downy chicks; she was a ringed bird and I was pleased to see that she was one of my last year's chicks fledged from a box about six miles away. She was from a second brood and hadn't fledged until mid-September, so only eight months later she has a family of her own.
At the next box there were only two chicks but a valuable piece in the jigsaw, as I found the female from the end of the Gotham chain, described earlier: the female that had lost both her mate and chick on the nearby road.
On to the next box and another 'lost' female. I was delighted to find the female that had given me nine chicks in two broods last year - another female that had relocated to the next territory, this time on another four chicks.
Content continues after advertisements
Wednesday 6th June
My friend Gordon Ellis, who is such a big help to me, started the Broxtowe Barn Owl Project on the west side of Nottingham three years ago, with backing from the Broxtowe Borough Council. It's run along the lines of RUBOP but has much less farmland and, at the moment, about 25 boxes. Last year, BBOP had two roosting Barn Owls but no breeders, but this year had high hopes as a farmer had reported much activity in one of his boxes. Today was the day designated to do the BBOP boxes and an early start was needed if we were to get round. Little did I know just how long the day would be!
We had a good start: the first box had three nearly-fledged Little Owl chicks and the second held six good-sized Kestrels, which were their usual pain in the backside with their scratching, pecking and screaming.
After that good start, it was empty boxes with nothing to report apart from a few Stock Doves. Things livened up, however, when Gordon got a phone call about the White-tailed Lapwing in Scotland. We were committed to visit the farm where the owls had been reported so went straight there. The farmer was like a dog with two tails and we all went to the box where we were delighted to find three fat female Barn Owl chicks, about five weeks old: the first chicks for BBOP, and congratulations to Gordon and his team on their success.
After this, inspections were abandoned for the day and four hours later we were at Caerlaverock looking at the Lapwing. Well, I think we deserved a bit of a break!
Thursday 7th June
We were due to finish our box inspections today but first I'd a date with a farmer to ring his Barn Owl chicks. He was so chuffed he even carried the ladder out to the box, where we found five big chicks, three males and two females and all gorgeous.
I had Nigel and Lynne with me today and we spent the next hour trekking round a farm where we were disappointed to find no owls and two boxes full of Jackdaw nests, which we cleaned out. However, the next proved to be more fruitful; we have three boxes on this farm and also know of a tree where Barn Owls have nested in the past.
The farmer here is very keen on wildlife and the farm has many good grassy areas. He told us that he'd seen several owls around and we found a pair with six chicks in a box. I ringed the female and carried on to look in the tree hole. It was full of big chicks and I managed to reach in to catch one. Looking in to catch another, I was surprised to see the female in the hole as well. I managed to grab her and also caught two more fat chicks. I ringed them all and we won't have to disturb them again. So an extra pair on this farm, with the two nests only about 400m apart.
The next stop was to a box inside a very small barn which is only about the size of a single-car garage. The box had held roosting birds in the past but this time looked more promising as a Barn Owl flew from the barn as we approached and the box had six chicks of about two weeks old, which we will ring next month. Another extra pair!
Friday 8th June
A morning out with Clive. I wanted to try to catch the female on the golf course, but she wasn't at home; however, six fat chicks were almost ready for ringing and the green-keeper and his staff will be invited along to watch. We also had a date with four Little Owl chicks and these lovely chicks were duly ringed. Next week, we start the round of Barn Owl ringing, which will take us until the first week of July.
Sunday, 10th June
We'd been booked to take our show stand to a Farm Day on a local farm. We have a nice marquee, goods for sale and display boards with photographs and information that show off our work. We also sell box plans and pellet-dissection kits, complete with instructions and an illustrated chart that shows which small mammals have been consumed by that particular owl. Speedy, our mascot, was also there and he attracted all the kids. However, it was a bit slow and we took less than fifty quid, but we did talk to a lot of people and spread some info and goodwill. In two weeks we're at the Springwatch at Derby, where the crowd and takings will hopefully be much higher.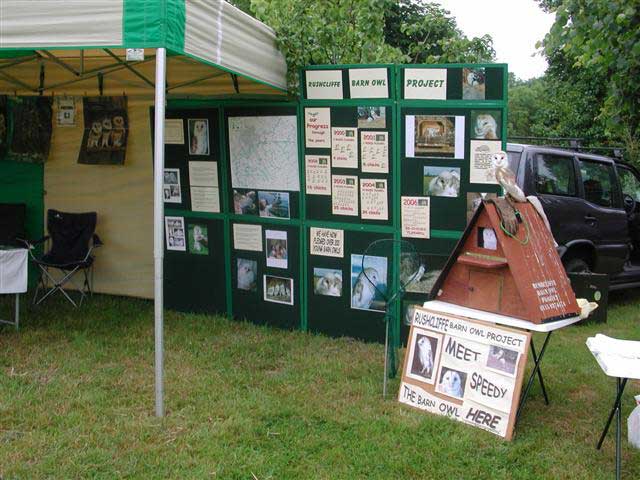 photo: Ron Demaine
Monday 11th June
This morning I received the kind of phone call I hate, telling me of a dead owl picked out of a drinking trough at a farm. I phoned the farmer who told me that the owl was brown and that there were some young owls in a tree hole nearby. Sounded like a Tawny, but when I got there I saw the tattered remains of a Barn Owl.
Now females usually like to have a bath after leaving the box when the chicks are getting big; after all, she's been in the box for two months brooding first eggs, then the chicks, and her armpits will be getting a bit whiffy - if you've ever seen inside a Barn Owl box, you'd understand. Drowning in a cattle trough is a common form of death at this time and we often put floats made up of swimming floats sandwiched between timber boards. I'd scrounged a bag full of old floats from the local leisure centre some time ago and the float gives the owl something to climb on if the water is too deep.
However, this was a male. I checked the ring and was saddened to find that it was the one I'd ringed two weeks before in a box in a barn on another farm about 500m away. I didn't know how long the bird had been dead; the body had been eaten by something so there was little of it left. So how long had the female been feeding the five chicks in the box, and were they still alive?
We went round the farm to break the bad news. I looked in the box and was relieved to see all five still very much alive. However, the oldest was about five weeks old, getting to a size where it would need 3-4 voles a day to survive to fledging, so mum would have to supply about 20 voles per day. I decided that she needed a bit of help and phoned Clive, who has a freezer full of day-old cockerel chicks on which he feeds his captive birds. He gave me a bagful and the next day I put ten of these in the box and will check in a couple of days to see if they were being consumed.
But what about the young owls the farmer had found in the tree? I climbed the ladder to the hole and found four Little Owl chicks that will fledge in another week.
Thursday 14th June
Lots of rain today so I cancelled the job I had in mind. However, it was a feeding day for the chicks in the barn so I went over to put another ten cockerel chicks in the box. The ones I'd put in on Tuesday had all gone and all the chicks were looking well.
That evening, I ringed five chicks. The eldest, a female, was about six weeks old and she was a lovely mixture of white down with honey-coloured feathers coming through. They're beautiful at that age but you still have to watch those feet! They were soon back in the box with their new silverware to show off to Mum and Dad when they deliver the food. I'm worried about the effects of the rain though - this could really knock us back. Hopefully the adults will be able to catch enough prey during the gaps in the rain and also hunt during the daylight hours.
Tuesday 19th June
I'd arranged to ring the chicks at the local golf course and was due to meet the head green-keeper and his assistant, who are very keen on the wildlife on their course. I picked Lynne up on the way; she's very good at ringing sessions as she fusses around keeping all my things together, hands me the right rings and finds my pliers in the long grass. Both the green-keepers were waiting and followed us out to the box in a buggy. They were keen to put some photos of the chicks on the golf club website in order to explain to some of their members who were always complaining about the amount of long grass on the course.
The last time I'd looked in the box there were six chicks, but after all the rain I wasn't sure what I'd find. If the adults had had problems hunting in the rain, some of the chicks could be dead. However, my fears were unfounded: there was still six, very much alive, chicks in the box and the first one out, with impeccable timing, squirted stinking whitewash all over my arm as soon as its vent cleared the box. Despite this, they were soon in the box. The first four were all females, with varied spotting and apricot blushes around the neck.
This brood contained the fiercest chick I've ever seen. He must have been part Kestrel: he was the next smallest but struck faster than a Cobra and seemed able to get his feet into any position in order to get hold of me. I was glad to see back of him!
Wednesday 20th June
Gordon and I were due to visit the BBOP boxes we'd left when we shot off to Caerlaverock two weeks ago. There was no rush: only one of the boxes had pellets and, apart from the odd Stock Dove, there was nothing to report. However, there's a lot of excellent habitat in the area and I'm confident that in time many of these boxes will hold breeding Barn Owls.
That evening, Clive came round and we went off to ring the Kestrels we'd found on 30th May at the old Co-op College, and also the Barn Owls in Leicestershire. Dave the gardener/handyman met us, and on opening the box we found the Kestrel chicks to be bigger than anticipated. All five seemed intent on jumping out the box, but only one got out, which Dave retrieved, and all five were soon bagged, ringed and returned to the box.
Whilst on the site, we went to see how the brood of Barn Owls I'd ringed on my last visit had coped with the rain. They were all fine and growing; I checked each one and found them to be all females. Dave had told me that he'd seen Barn Owls going into a hole in a large oak in the grounds at the front of the hall. It was quite high up and while extending the ladder, the female came out of the hole. There were 3-4 small chicks at the far end of a very snug chamber and I'll be back in three weeks to ring them: the 29th Barn Owl brood of the year for RUBOP.
We then drove over the border to ring the brood we have in Leicestershire. After getting stuck on barbed wire and stung by nettles, I ringed four healthy chicks.
From here we went to ring Barn Owl chicks in a box north of Gotham. This was a special day for them as we'd been asked by the lady to ring the chicks on this day as it was her partner's birthday. The lady wasn't in a very good mood. She's very busy campaigning against the building of a large housing estate, tramway and park and ride next to her idyllic village and that morning she'd learnt of a proposal to build the new 50,000-seat Nottingham Forest stadium near the park and ride. She wasn't over-chuffed when I suggested that she would be able to get a job at the new McDonald's that was sure to be built!
Anyway, back to her Barn Owls and after a celebratory beer with the birthday boy we went out to the box, where I found three live chicks and a dead one: my first dead chick in two years and, with all the rain, I'll be surprised if that's the last. On a brighter note, the owls seem to be finding enough voles to feed their chicks, despite the rain.
Saturday 23rd June
A gap in the rain so a chance to get out and ring some birds; Lynne came over and brought her husband Ron for his first close-up view of Barn Owls and Kestrels. First, though, a quick look at some chicks that I'd ringed last week. I thought at the time that they felt a bit thin but on opening the box was relieved to find all five alive and kicking.
Part 3 of the Diaries had a photo of five chicks lined up in a row. If my calculations were correct, these must have been close to fledging. We went next to this box and there was a fully fledged Barn Owl peering at us from the box entrance hole, a beautiful heavily spotted female with a dark apricot flush around her upper breast. She dropped back into the box and as I walked up with the blocker two more Barn Owls flew out of the tree. There was only the one female left in the box and she flew off to join her siblings as we left. So the first five of the year successfully fledged.
Next, a brood to ring, but the female was still with them and some were too small; I'll ring these in two weeks. These were doing well despite the rain and a nice cache of four voles showed that they were getting an adequate supply.
I still had a brood of Kestrels to ring; they were on a children's play farm and all big and feisty. One jumped out of the box as I started to bag them and Lynne had to be quick off the mark to catch it, getting a few scratches as she brought it back to the others. Their mother was circling anxiously above us as I processed them and they were soon back in the box.
The Gotham chicks were next: two broods to look at. First we checked a box close to the breeding box and were lucky to find the male roosting. It's not often that we catch the males. The female here last year had moved on to another nearby box so it would be interesting to find out if the male had gone with her. I checked his ring and found he was the male who bred here last year. So much then for Barn Owls mating for life. His woman had moved out and he'd stayed on with a younger chick. How often have we heard that?
The female was still with the chicks in the breeding box and, again, they were too small for ringing.
Next we were to check the box where the last year's female had moved to. On the way to the tree, we passed a derelict barn and saw an adult male Barn Owl perched on a beam out in the open. This was a great chance to take a photo of an owl in natural surroundings and Ron soon had a couple of good images. On to the box and I ringed three good-sized chicks, a male and two females. After this, the rain started and persisted all night.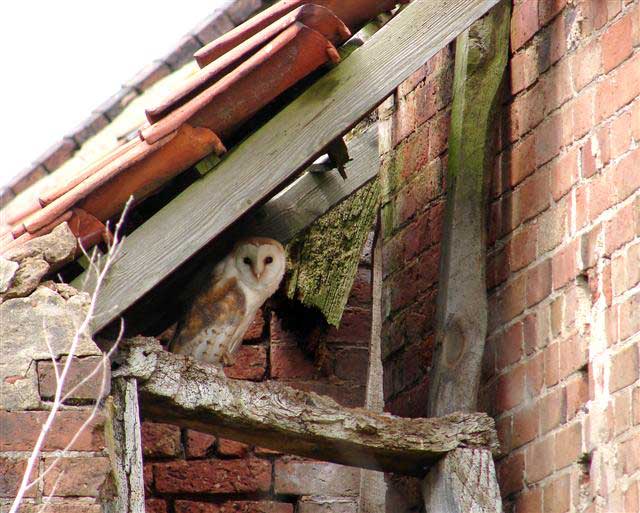 photo: Ron Demaine
Sunday 24th June
Today we were taking the roadshow to Derby for the Springwatch Day. It was bright when we got up; the rain had stopped but started again as we hit the A52 and it chucked it down for the next two hours. Last year, when it was in Notts, the sun shone all day and we took 300 quid; say no more. Clive was there with Speedy, our mascot; also Kate with Pauline and Mary who man the sales store. We got the store up without getting too wet. The rain stopped and we ended up having quite a good day, taking a few pounds towards our running costs; Clive and Speedy ended up on Midland News and I did an interview with Radio Derby.
Tuesday 26th June
Two more rainy nights, floods everywhere and the Barn Owls, against all odds, continue to find enough voles to feed their chicks. I'd a date with a farmer to ring his chicks this evening and he turned up with wife, daughters and grandkids: a big occasion for them as it was the first time that this particular box had produced anything more interesting than Jackdaws and Stock Doves. I picked Lynne up on the way and, as we drove down the track to the box, a hunting Barn Owl crossed in front of us and began quartering the nearby fields. There'd been four chicks in the box on my two previous visits and all four had survived with the eldest, a well-marked female, about six weeks old.
Wednesday 27th June
Two more broods to ring today and some guests to take out: the Environmental Sustainability Officer from the Borough Council, a posh name for the guy who gives us the grants we need for our running costs, Pauline Hall, our treasurer who does our sales and accounts, and her friend Mary who helps with the sales.
First, we went to the chicks in the barn that had lost their dad and who'd received some help with their feeding. The supplementary feeding had worked well: all five chicks were well grown with the eldest almost fully feathered; she would be flying in a few days. They had plenty of food as well, as there was a cache of three voles in the box.
Next it was to my home village, a box used for several years with 11 owls fledged so far. There were only two to ring here and it was straightforward enough, apart from me tearing my trousers on the barbed wire. Hopefully, I can apply to the council for a grant towards a new pair! On a brighter note, the second chick I ringed was our 60th for the year, passing last year's record of 59 and we still have over 40 to do.
Thursday 28th June
Just one ringing today, a new pair in a box in a small nature reserve created by a local landscape gardener. He has a lovely flower meadow full of Dog Daisies and a big pond and reedbed. The resident Barn Owls are testament to his efforts. The female at this box is one of my last year's chicks fledged from the box I'd visited last night in my home village and you get a great feeling of satisfaction when one of your fledglings has chicks of her own. This was a real occasion with lots of kids and family friends invited to watch the ringing. I too had a surprise: there were three chicks in the box and I had it down for two, so a bonus for us.
From here, we went to look in a box in a very small tractor shed and I was surprised to find that the five chicks inside were about a week older than I'd estimated and almost full grown. Unfortunately, the box is so positioned that you cannot reach the owls inside the box and I'd already decided that we'd have to unscrew the end off the box to get to them. A job for tomorrow!
Friday 29th June
A big day for us as we were filming with Central TV. We'd featured on the ITV Central evening news programmes a couple of times in the past and the lady presenter, Sameena Ali-Khan, always showed delight in seeing the Barn Owls. I emailed her and invited her along to a ringing session - not with the cameras, just a private outing. However, she'd had a word with her producer and they cooked up a programme to coincide with the premiere of the latest Harry Potter film.
I'd emphasized that the programme must stress that owls of any kind were not suitable pets but wild animals; also that none of the pictures could show the location. We were fortunate that I had a brood of young Barn Owls in a box fixed to the back of a stable block at a private house, so we had easy access, parking and a place under cover if it was raining.
Earlier in the week, I'd answered some general questions about birds in Nottinghamshire put by a journalist at the Nottingham Evening Post and he wanted some birdwatching pictures. I arranged to meet their photographer before the film crew arrived and he took some pics of the Barn Owls before saying that he wanted to take some pictures of me birdwatching. Unfortunately, I'd forgotten my binoculars and the lady of the house kindly offered me hers, an old-fashioned pair of Boots 10x50s. Good job I don't do embarrassment, though Gordon thought it hilarious as I posed for the pictures with my hands discreetly covering up the bins. The things we do for a bit of publicity. As they say: I don't care what they write about me so long as they spell my name right.
The film crew and Sameena and son turned up on time and we did a lot of filming, looking in the box, removing the chicks and doing the ringing with Sam and young Danny sitting next to me and discussing the project and Barn Owl conservation in particular. They all seemed very happy with the shoot. Next week they're meeting the man who trains the owls for the Harry Potter films.
Gordon and I then went to the box in the small tractor shed that I'd visited the day before. I'd built a sliding door into a new box side and we removed the existing box side, took out the chicks and attached the new side before ringing the chicks. They were all well grown, a couple with full wings that could probably fly. We'd caught them just in time.
So with 10 chicks ringed today, we'd now done 74, well past our best ever total. If only it would stop raining!