With easterly winds forecast for the remainder of the coming week, the occurrence of one of spring's brightest migrants is a significant possibility. A jewel among grey, damp late March vegetation, the White-spotted Bluethroat (Luscinia svecica cyanecula) is among the earliest of our rarer migrants to appear, and is on the move back to breeding areas right now. Migrants of this subspecies often arrive in the last 10 days of March and the first half of April, 'helped' across from the near-Continent by suitable weather conditions.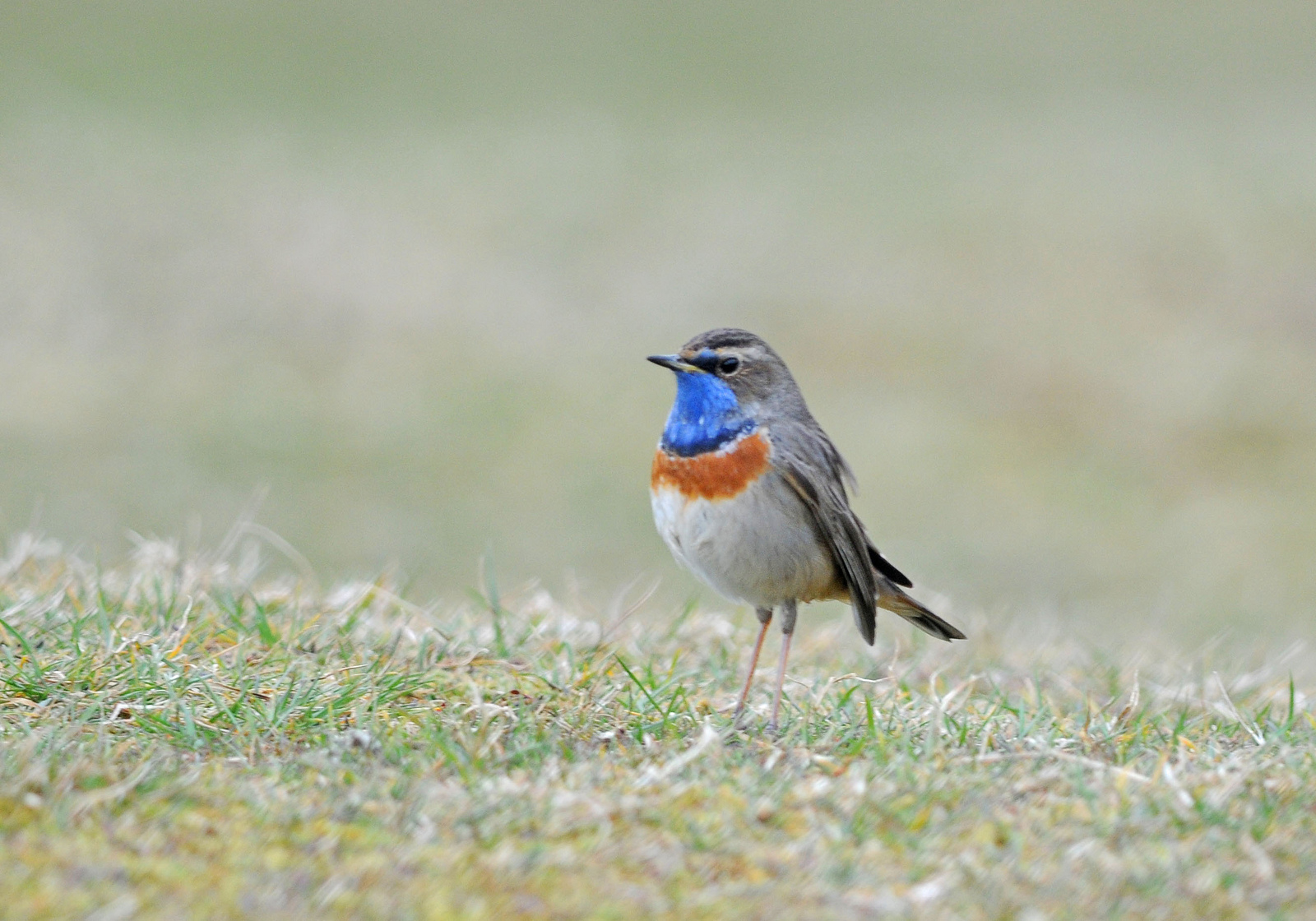 Male White-spotted Bluethroat, Bembridge, Isle of Wight, April 2013 (Photo: Bill Dykes)
Two forms of Bluethroat routinely reach British and Irish shores, differing in the explosion of colour on the birds' throats, particularly (and sometimes only) apparent in males. White-spotted Bluethroats arrive earlier from their wintering grounds in Africa, often favouring a western route through Spain and Portugal, with peak passage through Germany and central Europe during the first week of April. Birds of the nominate Red-spotted race (L. s. svecica), breeding further north in Arctic and boreal regions and wintering further east, typically arrive from mid-April with a peak in May. As well as the differences in the colour of the throat, they also differ in habitat preferences, with White-spotted birds, characteristic of more temperate conditions at lower latitudes, displaying a liking for sites associated with water including reedbeds and bushy, juncus-filled marshes.
Though an easterly airflow in late March and early April invariably sees birders reaching for their winter woollies and results in a halt of the northward advancement of many other migrants, it's perfect weather for delivering a White-spotted Bluethroat or two to our shores. Most occur along the south and east coasts of England, though the species is rarely numerous and finding one won't be easy. The good news is that if you do it's likely to be gaudy: the vast majority of early spring reports relate to males.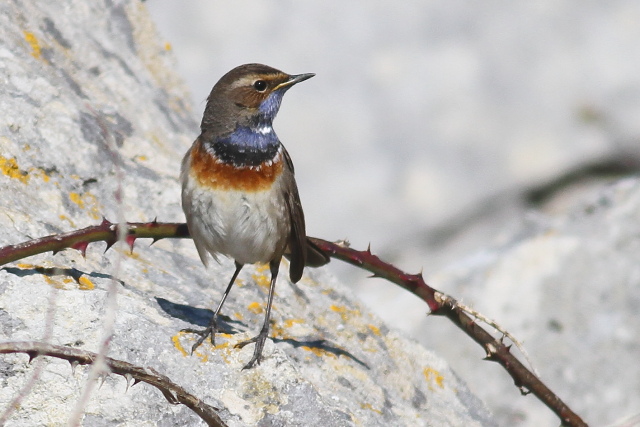 Male White-spotted Bluethroat, Chesil Cove, Dorset, April 2013 (Photo: Peter Moore)
As with all scarce migrants, numbers vary year on year. Some springs pass without so much of a sniff of a Bluethroat for many, but in others — such as 2013 — the species can be much more numerous. Last year an impressive 13 individuals were recorded over a two-week period following the first — a male at Portland Bill Bird Observatory (Dorset) on 23rd March. In fact Portland fared particularly well, with three individuals on the island and a showy fourth at nearby Chesil Cove for six days from 1st April. Other south coast records came from the Isles of Scilly, Devon (2), the Isle of Wight (a gorgeous male at The Duver for 12 days from 26th March) and Kent (3), while inland occurrences were logged in Wiltshire and Gloucestershire.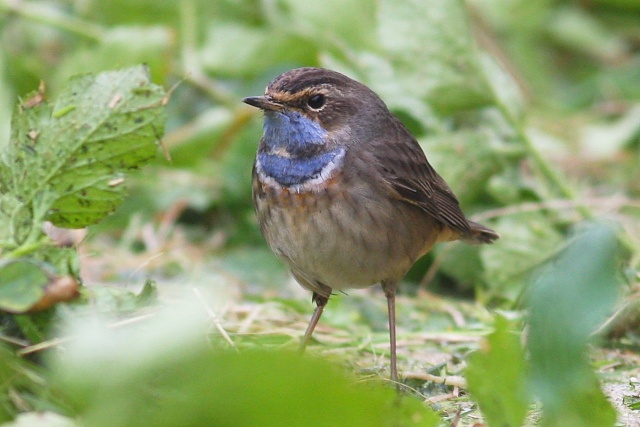 White-spotted Bluethroat, Portland, Dorset, March 2013 (Photo: Peter Moore)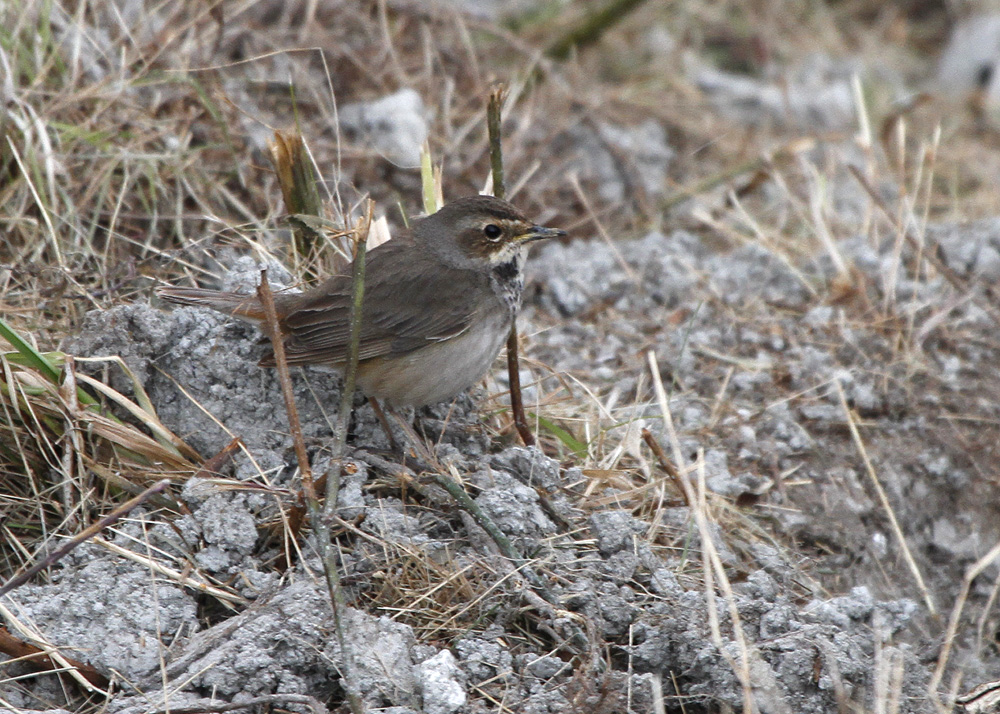 Female White-spotted Bluethroat, Samphire Hoe CP, Kent, March 2013 (Photo: Mike Buckland)
As can be seen, the south coast fared particularly well last year, but the east coast as far north as Northumberland routinely produces birds in suitable conditions in late March and early April. Suffolk has done particularly well in recent years, boasting seven late March records since 2000, and Norfolk and East Yorkshire have both netted four. As for individual sites, two of Northumberland's recent records have come from the Farne Islands, and Spurn can lay claim to three of East Yorkshire's four occurrences since the turn of the century. Landguard Point in Suffolk also has form for the species: two for four days in late March 2005 proved particularly popular with birders. There is also a handful of Scottish records — including from Shetland — though these naturally tend to be a little later than the first arrivals down south.

Geographical distribution of White-spotted Bluethroat records since the inception of Bird News Extra in November 2000.
Occasionally, territorial males are discovered later in the season. Recent examples include singing birds at Cley (Norfolk) and Martin Mere (Lancs) in early June 2013 and, more famously, a male spent summer 2010 at Welney (Norfolk) after arriving on 23rd April, only to return the following summer — from 24th March — to hold territory once again. It's worth mentioning that, if you happen to find a territorial male Bluethroat, it is best to consult the relevant county recorder and the Rare Breeding Birds Panel before making the news public.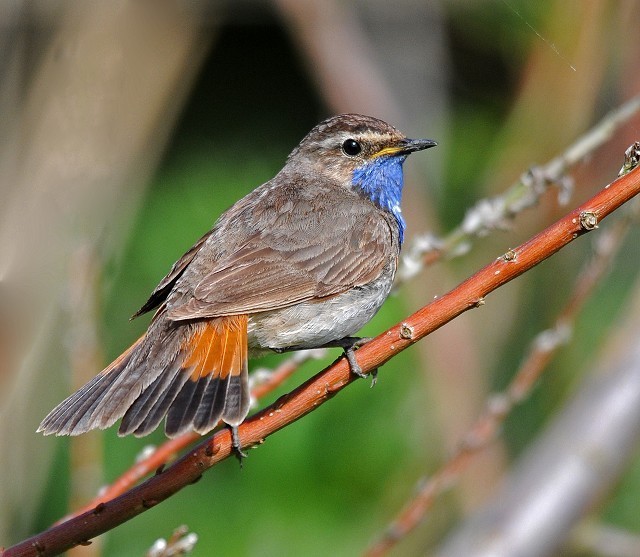 Male White-spotted Bluethroat, Welney WWT, Norfolk, June 2010 (Photo: Jon Evans)
The earliest spring report of White-spotted Bluethroat this century came on 17th March (a bird on Romney Marsh in 2003), so we're well in the zone right now. The predicted easterly winds into the weekend look perfect for drifting one or two across the Channel or the North Sea; in Britain, coastal footpaths/scrub and wet ditches are the favoured habitats of migrants. Birds are often elusive, but the brilliant blue throat of the male bordered below with burnt orange is a vivid reminder that the colour and warmth of spring proper are only just around the corner. So, why not get yourself to a stretch of the east or south coast this weekend and try to find your own?