Smew: Toft Newton, Lincs Drakes are beautiful birds. Noticeably black and white in flight, there are two white oval patches on the forewing (photo: Dean Eades).
The sight and sound of massed wildfowl on a crisp winter's day is a delight to stimulate the senses. Scanning through wildfowl flocks is part of the winter birding scene, and why not, perusing wildfowl makes for an entertaining experience. Not only are there a lot of them at this time of year, but the drakes are in pristine plumage and there is always the possibility of something a little more unusual.
| | |
| --- | --- |
| | |
| Smew: Paxton Pits NR, Cambs A huddle of Smew is a fine winter sight. They will often remain on the tiniest patch of ice-free water (photo: Garth Peacock). | Smew: Druridge Pools, Northumbs With his black 'panda eyes' and black line at the side of the nape, a drake cuts a dashing presence amongst his congeners. Much rarer than 'redheads', drakes are a superb prize for patch-watchers (photo: Alan Gilbertson). |
As a young boy tramping my local flood meadows near York then there was one species of duck that I dearly wanted to see above all others — a pristine drake Smew. A few winters passed where I missed their fleeting local appearances and with young impatience I felt that this was one species that would elude me for ever, or so it seemed! However, a numbing late winter cold spell finally sated my youthful quest and allowed me my first encounter with the species courtesy of a deceptively attractive 'redhead'. This was exciting enough, but shortly afterwards it was followed by a superb 'panda-eyed' drake at close range. It was a spell-binding experience for me. Some 'must-see' birds disappoint, whilst others live up to, or exceed, your preconceptions. This bird, on my 'patch', was definitely filed under the latter and the stillness of that winter's day is still etched in my memory many years later. The cold in my young bones disappeared rapidly as I gorged myself on this intricately beautiful individual, and, like buses, more followed shortly after during an exceptional late-winter influx.
Smew are the smallest member of the sawbill family to be found in the UK, being little larger than Teal. They share the serrations on their bills with the larger, and commoner, Goosander and Red-breasted Merganser; these allow them to hold their prey firmly. The drake is unmistakable, and unlikely to be confused with any other species, except for perhaps Long-tailed Duck. Females and immatures, known as 'redheads', may recall other small dark-headed ducks, such as winter-plumaged drake Ruddy Duck or Goldeneye, or perhaps the smaller grebes, but potential confusion should be eliminated by a number of features and identification should really only be problematic at some distance.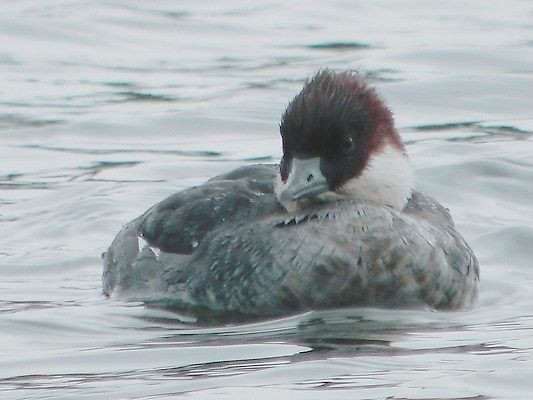 Smew: Linlithgow Loch, Lothian Unlike Ruddy Duck the chestnut-brown crown passes through the eye and onto the lores. Note also the structural differences. For 'redheads', according to BWP, the lores on juveniles and 1st-winters are paler than those of females, at least for the early part of the winter (photo: Mike Thrower).
Distribution and European status
The breeding range extends across the taiga zone from Scandinavia eastwards to the Pacific coast of Siberia, though numbers are low at the western and eastern extremes of the range. The bulk of the European breeding population, estimated at between 5,300 and 8,400 pairs, is found in northern Russia and Finland, though a moderate decline has been noted. Like Goldeneye, they are hole-nesting species, often using holes made by Black Woodpecker. However, they will also readily take to nest-boxes. Favoured breeding areas are lowland riverine forests.
The numbers wintering in northwest and Central Europe are put at 40,000. Favoured areas include the Baltic Sea, Szecin Lagoon in Poland and Lake IJsselmeer in The Netherlands. In addition, there are estimated to be 35,000 in the Black Sea/E Mediterranean, and 30,000 in the "Central and southwest Asia, Caspian" region.
Where to see Smew
Luckily for birders, Smew are relatively site-faithful, with birds returning to some of the same sites year after year. Usually the first birds return during October, with more following through the winter. During cold weather we can also experience influxes from the continent to supplement our regular wintering numbers. When such conditions occur the large numbers just across the North Sea are forced to seek out ice-free waters elsewhere. During such periods our relatively small wintering population rapidly increases, swelled by a sudden arrival of immigrants and several hundred can be found in British waters at these times. The more usual British wintering population lies in the low hundreds, though numbers vary, with the 5-year mean between 2000/01 and 2004/05 around 300 birds.
| | |
| --- | --- |
| | |
| Smew: Fairburn Ings, W. Yorks (photo: Dave Winnard). | Smew: Chew Valley, Somerset (photo: Simon Mackie). |
Just nine English sites have regularly held 10 or more birds over these five winters and four of these sites averaged over 20. The following sites are the main wintering locations for this beautiful duck:
The main wintering areas lie in the southeast of England, with birds increasingly scarce further north and west. However, for observers in other parts of the country there are still a number of sites which hold small numbers of birds each winter. Some of the other regular sites (of over 20 such sites that reach 'national importance' for the species) include:
Click on any of the above locations to find out more details about that site and use the 'search' facility in Bird News Extra to search for Smew over the years at your local patch, in your home county, or region. A good number of sites not listed have accommodated this fine species over the years, but numbers fluctuate and some winters are better than others, which is why it is always best to check Bird News Extra first!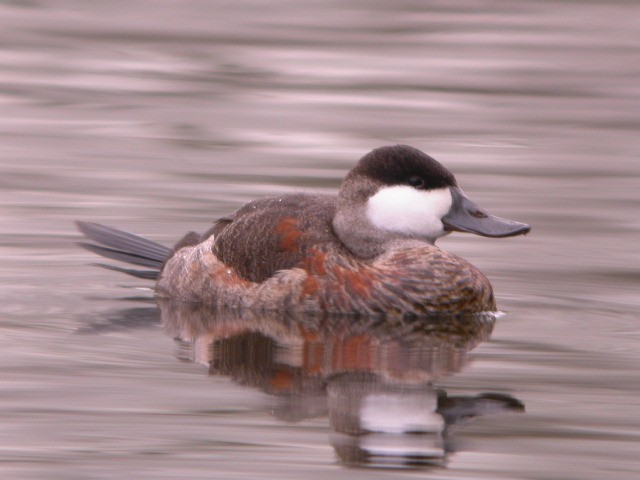 Ruddy Duck: Brandon Marsh, Warks Winter drakes can be confused with redhead Smew, but note the posture of Ruddy Duck with their stiff tail which is often cocked. On the head, Ruddy Duck's dark crown passes through at eye-level and meets the top of the bill. At close range separation should not be a problem, but on an open expanse of water this could be a pitfall for the unwary (photo: Chris Farr).
Further information
Much of the information in this article has been supplied by the Wetland Bird Survey (WeBS), the national recording scheme for non-breeding waterbirds. WeBS is entirely dependent upon the efforts of thousands of volunteer counters. The organisers of WeBS at the British Trust for Ornithology are always on the look out for new counters; if you feel you could help out with a monthly count at a wetland near you then please contact WeBS@bto.org for further details.
WeBS is a partnership between the British Trust for Ornithology, the Wildfowl and Wetlands Trust, the Royal Society for the Protection of Birds and the Joint Nature Conservation Committee (the last on behalf of Natural England, Scottish Natural Heritage, the Countryside Council for Wales and the Environment and Heritage Service for Northern Ireland).
Acknowledgements
Many thanks to Andy Musgrove, Wetland Bird Survey National Coordinator at the BTO for providing assistance with this article.