By the end of November, mainland birders in the north were enjoying the sight and sound of flocks of Waxwings flying around their villages, towns and cities, whilst those in the south and west were still awaiting their arrival in any numbers.
Meanwhile, in the Northern Isles, it was pretty much all over. "Haven't seen any for weeks", commented Fair Isle warden Deryk Shaw. "Heard one in Lerwick last week", said Shetland ornithologist David Okill, whilst Alan Leitch of the RSPB in Orkney had "four turn up a few days ago in Finstown but they moved on again."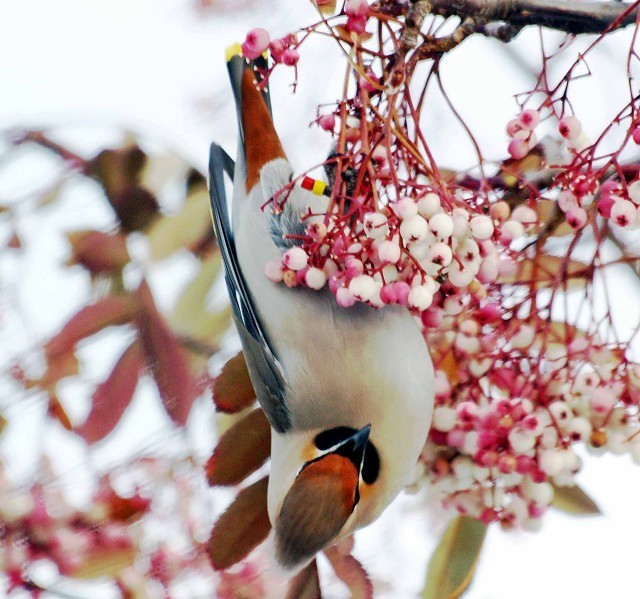 Waxwing, Stockton-on-Tees, Cleveland (Photo: Paul Welsh)
Their loss in the north was the rest of the country's gain though, and some movements of recently ringed birds from the Northern Isles are shown in the table and map below — testimony to this exodus south.
Ring number
Date ringed
Place
Date seen
Place
Days
Distance (km)
NW36100
2 Nov
Orkney
9 Nov
Aberdeen
7
200
Colour rings
???
Orkney
16 Nov
Norwich
13?
740
NW50511
5 Nov
Orkney
18 Nov
Aberdeen
12
200
NW36091
31 Oct
Orkney
19 Nov
Aberdeen
19
200
NW36074
28 Oct
Orkney
19 Nov
Oldmeldrum
22
180
NW36074
28 Oct
Orkney
19 Nov
Aberdeen
+3 hours
+30
NW36066
27 Oct
Orkney
20 Nov
Caithness
24
25
NW37183
25 Oct
Fair Isle
23 Nov
Aberdeen
29
220
NW50503
3 and 11 Nov
Orkney
23 Nov
Aberdeen
29
220
NW50504
3 Nov
Orkney
27 Nov
Aberdeen
24
200
NW50524
8 Nov
Orkney
28 Nov
Aberdeen
20
200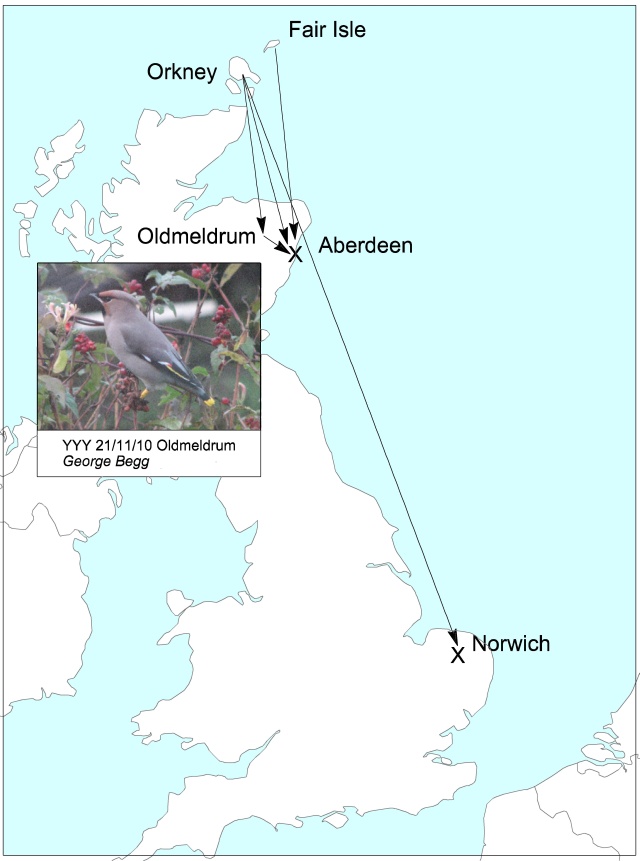 Movements of colour-ringed Waxwings to the end of November (map: Grampian Ringing Group.)
One ringed bird from Fair Isle and six from Orkney have been resighted or recaptured in Aberdeen during November and a particularly fast bird was seen in Norwich on 16th November, only a couple of weeks after ringing in Orkney. Compared to this, a relatively slow-mover had made it to Caithness on the Scottish mainland by the 20th.
NW36074 (with triple yellow colour-rings) was photographed in a garden in Oldmeldrum (Aberdeenshire) on 19th November in a group of 12 birds feeding on honeysuckle berries. Incredibly, three hours later the same bird was resighted in a flock of 300 birds some 30km away on the south side of Aberdeen.
Thanks very much to the many birders, photographers and members of the public who have reported colour-ringed Waxwings so far during this invasion and previous ones. It is always so exciting and interesting to follow the movements and fortunes of a small sample of colour-ringed birds amidst the huge numbers arriving in the UK during invasion winters.
Anyone seeing a colour-ringed bird can report it direct to me via email.
***STOP PRESS*** Since writing this, the return of the snow and and subsequent pressure on the berries from everything from thrushes to Woodpigeons as well as the Waxwings saw stocks severely depleted in Aberdeen. This has lead to a large exodus over the last couple of weeks ago, which has resulted in recent sightings in central England and beyond. Aberdeen-ringed birds are now in Rotherham (South Yorkshire), Lincoln (Lincolnshire), Giltbrook and Bingham (Nottinghamshire), Coalville (Leicestershire), Oswestry (Shropshire), Eardiston (Worcestershire), Alcester (Warwickshire) and Woburn and Linslade (Bedfordshire).