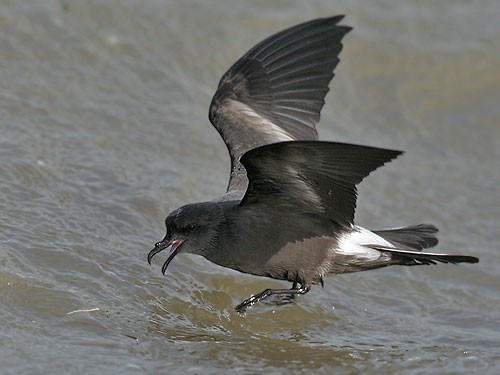 Leach's Storm-petrel: Cheshire The dark underwing is diagnostic and instantly separates this species from European Storm-petrel, from which it also differs by larger size, longer-winged appearance, forked-tail and, for experienced observers, flight action (photo: Steve Round).
At this time of year, our obsession with the daily weather forecast takes on greater importance, much to the amusement of family and friends! Every forecast is scrutinised for an opportunity to see something of interest, be it locally or nationally, or chasing a particular 'bogey species'. Leach's Storm-petrel falls into the latter category for many observers. With few opportunities to see this superb seabird from the mainland during the course of the year, it is very easy to miss out on the occasional autumn days when these birds do get blown close to the shore. The numbers seen are dependent upon the weather conditions during passage periods. There can be a significant movement on one day, then that's your 'lot' for the year. Timing, and appreciation of the required conditions, are essential to maximise your chances of success.
Globally, these small seabirds are not uncommon, with large numbers found in both the Pacific and Atlantic Oceans. A handful of Scottish and Irish breeding colonies contain a total of just under 50,000 pairs - a fraction of the estimated world population of around ten million pairs. Birds disperse from breeding areas between September and November, the best period to try and connect with this lovely bird. At other times of the year it is a decidedly difficult species to catch up with. In winter the majority of the population is located in waters to the south of Britain, though displacement can occur during the winter and sizeable numbers have, on occasion, been recorded during this season, but such events are rare.
Autumn offers the best opportunity when strong onshore winds may bring birds close inshore to famous Irish Sea watchpoints along the west coast of Britain, and also to renowned seawatching locations in both the Republic and Northern Ireland. Small numbers can be encountered in the North Sea at such times too, with Norfolk invariably taking the lion's share of sightings, but low-lying parts of the Yorkshire coast can also accommodate birds, as can other east-coast areas such as Kent and Suffolk. However, by far and away the easiest area to see these fantastic birds is observing those forced into the mouths of the Dee and Mersey estuaries in Northwest England.
To catch up with these birds, though, you're going to need to pay attention to the weather, you'll need to go seawatching and you'll need to prepare yourself for the frustration that this often thankless pursuit brings with it. The following offers a quick guide to where to go looking, though obviously any coastal location could well produce a sighting of the species. This guide concentrates only on those locations which give you a better chance of success (more details about how to see Leach's Storm-petrels at the better sites can be found by clicking on the site).
Northwest England
| | |
| --- | --- |
| | |
| Leach's Storm-petrel: Cheshire The wings are angled, and in stormy conditions the flight action is erratic, making birds difficult to follow in stormy seas (photo: Steve Round). | Leach's Storm-petrel: Cheshire From above differs from European Storm-petrel by pale panel on the upperwing (photo: John Malloy). |
For birders unable to reach prime Irish seawatching locations, the most accessible birds are to be found in the Dee and Mersey estuaries following a west or northwesterly gale. Without doubt, this area offers birders the best opportunity for seeing Leach's in British waters, with sometimes several hundred seen on good days, often at close quarters; for example over 650 were noted passing Hilbre Island in Cheshire on 17th September 1978. Watch the weather charts for a west or northwesterly blow, preferably of several days' duration, and head to any of the following sites (check the tide times too, as high tide offers the closest views):
Also in the northwest, Workington harbour can produce birds in similar conditions to those mentioned for the sites above.
Content continues after advertisements
Wales
In the northern part of the principality, any location facing the Irish Sea could produce records in the same conditions that produce birds in the Dee and Mersey, though the two most reliable sites are:
There is only one site in southern Wales that regularly logs decent numbers of Leach's, usually following a period of strong southwesterlies and then northwesterlies:
Southwest England
The key sites for observing birds in this area are the traditional famous seawatching locations. The best site is St. Ives Island, particularly during strong-to-gale-force west or northwesterly winds to push birds into the bay. Notable autumn counts include c. 400 passing St Ives Island on 24th September 1974.
Numbers from any Cornish watchpoint rarely exceed double figures, though small numbers are observed off most headlands on both north and south coasts. Good numbers (50-100) are occasionally noted in December, January and February after prolonged southerly gales, with, for example, c. 250 past St Ives Island and 200+ Pendeen Watch on 6th February 2002 (click here for a short account of this influx).
| | |
| --- | --- |
| | |
| Leach's Storm-petrel: Cheshire Given good views, the body coloration is paler than potential confusion species, but under such views the other salient features would be more obvious! (photo: Sue Tranter). | Leach's Storm-petrel: Warks Wings are long and arched, but views on an inland reservoir can differ markedly to those in a coastal setting (photo: Steve Valentine). |
Eastern England
Strong onshore winds in the autumn invariably produce birds along the north Norfolk coastline, the best site being Sheringham, where seawatchers have logged as many as 75 birds in day (though that count was quite exceptional for a North Sea watchpoint).
Further north, sightings are less predictable, though the Holderness section of the Yorkshire coast can sometimes produce counts into double figures. Favoured sites include Spurn and Hornsea, where a Yorkshire-record count of 54 was noted during an exceptional North Sea movement in early September 1989 (when a cumulative total of over 250 were seen in the county). If birds do occur then single-figure tallies are the norm, but these can be difficult to catch-up with unless you are prepared for a long seawatch.
Other well-watched promontories along the North Sea can also produce birds under suitable conditions, but sightings are few and far between and are by no means reliable. Better possibilities include Whitburn, Hartlepool Headland, Filey Brigg and Flamborough Head. As elsewhere along this stretch of coastline, patience and a bit of luck will be required to connect.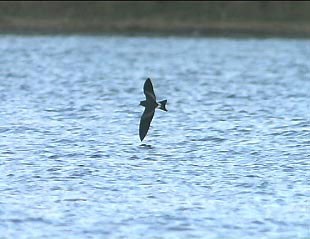 Leach's Storm-petrel: S. Yorks Note the typical suspicion of a dark central divide on the rump, which on some birds can be extensive with the rump appearing dark, inviting confusion with dark-rumped petrels such as Swinhoe's Storm-petrel. In this view the forked tail and pale midwing panel on the upperwing are very obvious (photo: Roy Harvey).
Scotland
The best locations are the usual seawatch points from the Outer Hebrides, including:
However, during suitable conditions (typically a run of Atlantic depressions bringing strong-to-gale-force west or northwesterly winds), some mainland sites can be good, including Uisaed Point (Argyll) and Corsewall Point (Dumfries and Galloway). Additional sites include the harbour mouths at both Ayr and Troon, which can both be good in suitable conditions.
Ireland
The west and north-west of Ireland has some of the premier seawatching locations in Europe, so it is not surprising to find that Leach's occur there in good numbers. The best sites include:
Incredible numbers can be seen from Kilcummin with, for example, 2,620 seen between 31st August and 16th September 2001, the peak being a minimum of 2,000 on 8th September. Three-figure counts from the site are not unusual, and include 500+ on 10th September 1998. Weather conditions for seeing Leach's at the Bridges of Ross include anything from northwest to W-WSW winds while Brandon Point needs a more northwest element to the wind to push birds into the bay.
In Co. Donegal there are a number of suitable locations to try during strong northwesterlies. Reliable places to see birds in suitable conditions include Malin Head; Fanad Head; Bloody Foreland, Arranmore and Rocky Point at the tip of the Glencolumbcille peninsula.
Although seawatching sites along the south and east coast of Ireland do not share in these movements, one site which can be good (for small numbers) during east/northeast winds is Greenore in Co. Wexford (near Rosslare).
Northern Ireland
The only reliable site in Northern Ireland for large numbers is Ramore Head in Co. Antrim. Early birds can be seen in August, but the main passage occurs in September, though some are seen in October in most years. These birds are associated with strong northwest winds (no other conditions will produce birds). Typical numbers on 'good days' will be between 30 and 100 but, on occasion, conditions will produce huge numbers with up to 900 recorded on some seawatches.
Inland
Occurrences at inland locations are impossible to predict, but each year several birds turn up on inland waterbodies. Such stays are invariably short, so you have to be prepared to drop everything for an inland Leach's experience. However, for patch-watchers at these locations this species is always a 'hoped for' during an autumnal westerly blow, and the views afforded by such displaced individuals can sometimes be spectacular.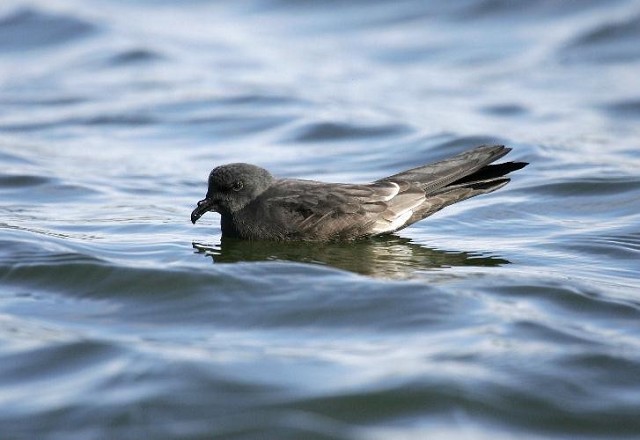 Leach's Storm-petrel: W. Yorks Inland birds can offer fantastic views, and reservoir 'pelagics' are not uncommon for those keen to get closer! Under such circumstances many observers are surprised by the diminutive size of the storm-blown waif before them (photo: James E Wilson).
Acknowledgements: Many thanks for additional site information provided by Angus Murray (Scotland), Eric Dempsey of
Birds Ireland
, Derek Charles, Brad Robson and John Cromie (Republic and Northern Ireland), and Greg Conway (Cornwall).