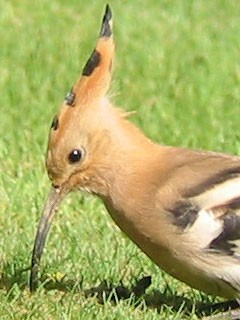 Hoopoe: Hunnington, Worcs. (Photo: Vince Garvey)
For European birders, Hoopoes certainly fit the criteria for the select group of birds that qualify for the 'exotic' tag on our shores. Colourful and bizarre in appearance, they are instantly eye-catching and leave little room for confusion with other species, a poorly seen Jay being perhaps the only potential 'confusion' species. Their affinity with vicars' gardens is doubtful, but they are a feature of our coastal hotspots during the migration periods and they have the ability to turn up in those 'out of the way' locations where they are often a chance encounter for a member of the public walking their dog! Housing estates, school playing fields, waste ground, short turf on a coastal headland: you name it, any habitat is fair game for the charismatic Hoopoe.
Hoopoes breed over much of Europe, Asia and Africa. The nominate race occurs across much of Europe and western Asia, but is largely absent from Scandinavia. Across Europe the range of this exotic species is contracting and there has been a steady decline, especially since the middle of the 20th century. In Britain, breeding has taken place on over 30 occasions, though such events are opportunistic, irregular, and unpublicized.
| | |
| --- | --- |
| | |
| Hoopoe: T'yn-y-groes, Conwy. (Photo: Steve Round) | Hoopoe: Eldroth, Yorks. (Photo: Bill Aspin) |
Few sights can be more captivating than a migrant Hoopoe bounding across coastal fields during a flurry of spring migrants. A scarce migrant on our shores, spring, and to a lesser extent autumn, accounts for the majority of sightings in Britain and Ireland, but they have been noted to winter. Over 4,000 were seen in Britain between 1958 and 2002, with an average of 118 per annum during the 1990s. Recently, numbers have been slightly below average, with, for example, just 49 in 2000. In years of favourable conditions numbers can be high: 218 were noted in 1968, and 188 in 1980, but there has been a downward trend since the mid-1990s.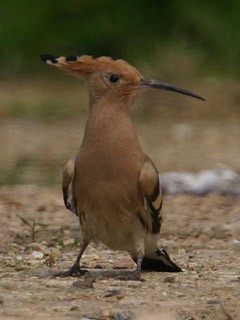 Hoopoe: Stibbington, Cambs. (Photo: Kit Day)
As would be expected, the majority of records have occurred along the south coast, and multiple arrivals during favourable conditions are not unusual, even as early as late February. Records become scarcer further north, though they can, and do, occur anywhere. A visit to a coastal location in the spring far from guarantees an overshooting Hoopoe, luck and timing play their part, but in general during the spring the south coast promontories or the offshore islands offer the greatest chance of bumping into a Hoopoe. In the southwest, favored localities include the Isles of Scilly, Porthgwarra SW3621 -Land's End SW3524 area (Cornwall), The Lizard (Cornwall), Start Point SX8237 and Prawle Point SX7635 (Devon), Portland SY6869 and Durlston CP SZ032774 (Dorset), The Needles (Isle of Wight), Selsey Bill SZ8592 (W. Sussex), and Dungeness TR0917 and Sandwich Bay TR3559 (Kent). On the east coast, likely locations include Blakeney Point TG0046 (Norfolk) and Spurn TA4011 (E. Yorks), though sightings at coastal watchpoints further north become even more unpredictable. In the autumn, east-coast locations tend to fare better as a scatter of drift migrants and reverse migrants make landfall though at this season too good fortune rather than skill contributes to an encounter.
| | |
| --- | --- |
| | |
| Hoopoe: Shenington, Oxon. (Photo: Marcus Gosling) | Hoopoe: Terrington, Yorks. (Photo: Russell Slack) |