In this series of articles I will be following bird migration through the year, based primarily on visible migration: migrants on the move during the day rather than 'grounded' nocturnal migrants that migrate 'invisibly' by night.
Looking out from my home/office window across the snow-covered fields of the Angus glens, it looks as if spring and bird migration are still a long way off. We've had more or less constant snow cover here since the first big fall on 13th–14th January. That was followed by a 36-hour blizzard a week later — and the snow was definitely the winner this time. You know it's been bad when your kids, on hearing that more snow is forecast, groan "oh no!" rather than jumping up and down at the thought of extra days off school and more sledging. And our wintering birds must surely think along the same lines — an extended period of snow cover is a matter of life or death for many of them.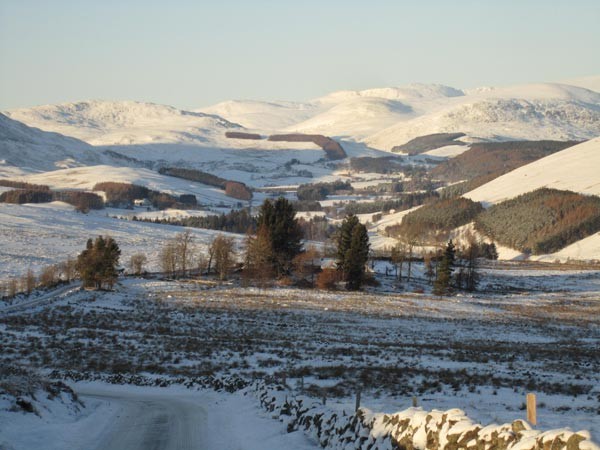 Looking up Glenisla (Clive McKay).
Cold-weather Stonechats, Barn Owls and Bitterns
At the start of the big freeze, two Stonechats suddenly appeared in fields in front of my house where I haven't seen a Stonechat since the last big snow in 2010, and at Loch of Kinnordy, my local RSPB reserve, I saw another out-of-habitat bird attempting to forage on the frozen surface of the loch. These birds had probably come down off the local moors looking for respite, but the second dump of snow must have hit them hard. I hope they managed to get as far as the coast, otherwise they probably won't make it back to the hills to liven up our moorland this spring.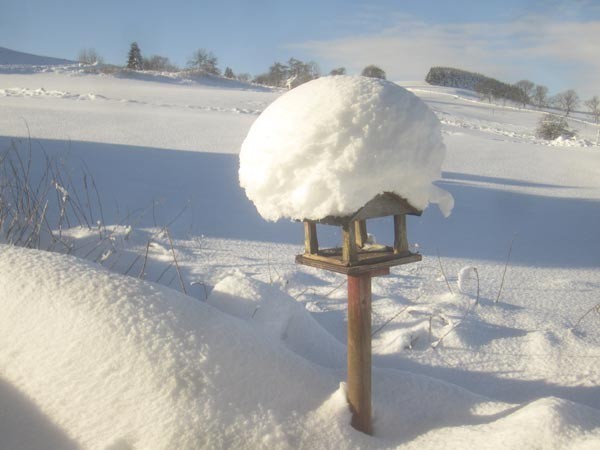 Day 13 of the 'big snow': Glenisla, 26th January 2013 (Clive McKay).
Two definite casualties of the weather were a couple of Barn Owls brought to me by local farmers in the second and fourth weeks of snow cover. Both were found dead or dying in farm buildings. How many other unfound casualties are out there? Snow cover is bad for owls because it's good for voles: they burrow away under the snow out of sight of aerial predators. It's only when the snow finally melts that you can see the maze of vole pathways marked by chewed grass.
Even up here, moderate snow fall causes consternation among the school bus services, and on day two of the first big snowfall I had to drive my son to school. The bonus of this was a stop off at Kinnordy on the way home to look for the Bittern that has been resident there this winter. It has been tantalising local observers with very occasional appearances, only revealing itself to the most dedicated or lucky! I come into neither category, but I'm glad to say that this individual has been seen in the last week, so at least this bird has made it through the winter.

Bittern before the snow, Loch of Kinnordy, Angus, 16th November 2012 (Stuart Green).
Content continues after advertisements
Cold-weather Kites?
On the way home that morning I stopped at a local vantage point to scan the horizons for moving geese or swans. Floating west over the opposite hill was a Red Kite, not a common sight in this area midway between kite release schemes in Aberdeenshire and Central Scotland. I focussed my scope on it to see if it was tagged, but it was too far away to judge. The bright sunlight reflecting off the snow below made the white underwing markings flash on and off like some sort of hazard signal, changing the whole appearance of the bird. I wondered if this was the same individual that I'd seen close by last summer. Then, as I scanned to the right I was pleasantly surprised to spot another kite, apparently following the first a hundred metres behind it. Both were flapping steadily to the west, rather than the usual patient circling and searching flight of hunting birds, raising the possibility that they were 'on the move'.
Migrating raptors can often be identified by their flight behaviour in situations like these. Resident birds, local breeders and wanderers generally appear more casual — circling around, moving backwards and forwards over the same spot. In contrast, migrants such as Ospreys and Honey Buzzards have a much more direct and purposeful flight, often with a lot of flapping. They are on a mission and don't have much time for circling around and sightseeing.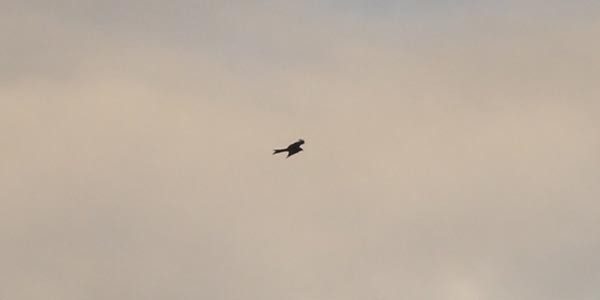 Red Kite, Maarnsche Berg, Netherlands, 5th December 2012 (Aat Schaftenaar).
Switching to binoculars to look for land features to work out where these birds were heading I scanned the horizon again and came across two kites — but surely in a different place to the first two? And so it proved to be! This 'pair' of birds was behaving just like the first two, flapping steadily westwards, almost following in their tracks. Four kites at once was three more than I'd ever seen in this area before, and the sunlit snow reflecting on their underwings enhanced their elegance. Further scanning revealed a third 'pair' following the same flightline, and finally a seventh individual at the back. Crikey!
The birds were spread along a "line" perhaps two kilometres long — not exactly a flock, but definitely moving as some sort of a loose unit. They continued >WSW until out of sight, 5km away from me. I have no doubt that they continued on this determined route. But where were they heading? The answer may lie in the presence of a Red Kite feeding station at Argaty Farm near Stirling, 75km west of here. Before the snows, 20–30 kites had been present at Argaty, but this number soon doubled as the big freeze got under way. Perhaps the seven birds I saw were heading to this all-weather food source? Support for this fanciful idea comes from the fact that two wing-tagged kites from the RSPB's Aberdeenshire release scheme, which had previously not been seen at Argaty, appeared there as part of the cold weather influx — including "J5" (ringed as a chick in Aberdeenshire in 2012) photographed at Argaty in January 2013.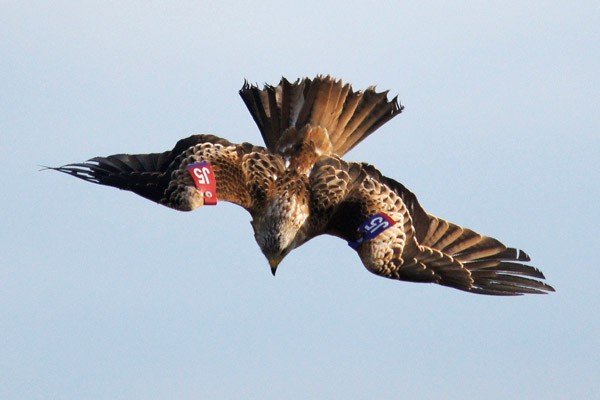 Red Kite "J5" at Argaty, Perthshire, January 2013 (Victora Hume).
It is known that tagged kites move widely throughout the country during cold snaps (Duncan Orr-Ewing pers. comm.), and these observations may tell us something about the importance of the kite feeding stations to birds from large areas, and the ability of kites to find them.
Migration, migration, migration
So it seems that migration is on hold during the dark cold months of January and February. But is it? Of course not! First prize for earliest-moving birds of the year goes to the Pink-footed Geese that move from Norfolk to Lancashire as early as the first week of January. In 2013, the Norfolk geese got off to an early start, with 20,654 movers counted in January.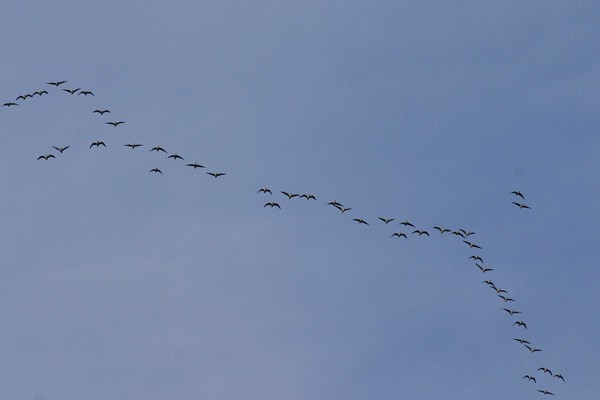 Pink-footed Geese heading northeast over Lintrathen, Angus, 22nd February 2006 (Clive McKay).
The map below shows total number of Pink-feet counted on visible migration in Great Britain in January 2013. Small numbers were recorded at Gibraltar Point, Spurn Point and Sunk Island, with many over the south Pennines in the Sheffield and Bradford areas, and heading north at Fleetwood in Lancashire and at Reston in the Scottish Borders. Most of the movement occurred in clear weather on 5th and 6th January, when a minimum of over 13,000 birds was seen.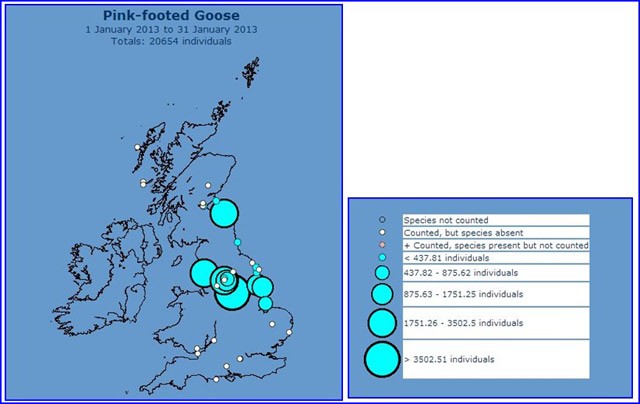 Number of Pink-footed Geese counted on visible migration watches at sites in Great Britain, January 2013. Link to the original map on Trektellen here.
Weather conditions were slightly different in the southern Pennines on the two days, resulting in the birds following slightly different routes. On Saturday 5th the weather was murky over the South Yorkshire Pennines near Sheffield but clear in the Bradford area of West Yorkshire; the Norfolk Pinks clearly avoided the bad weather and tracked further north through the Bradford area. The following day, with clearer weather over Sheffield, the geese took route one from Norfolk to Lancashire with a minimum of 3,630 birds seen over the Sheffield area in many flocks by members of the Sheffield Bird Study Group.
Visible migration counts of Pink-footed Geese at sites in Great Britain, January 5th–6th 2013, compiled from counts submitted to the Trektellen visible migration website
| Sites | 5th January | 6th January |
| --- | --- | --- |
| Gibraltar Point, Lincs | 430 | 75 |
| Spurn, E Yorks | 0 | 800 |
| Sunk Island, E Yorks | 115 | 970 |
| Barmston, E Yorks | 60 | 0 |
| Filey Brigg, N Yorks | 63 | 0 |
| Sheffield area, S Yorks | 255 | 3,630 |
| Bradford area, W Yorks | 360 | 0 |
| Calderdale, W Yorks | n.c. | 227 |
| Northowram, W Yorks | 856 | n.c. |
| Fleetwood, Lancs | 3,150 | 21 |
| Whitburn, Durham | 0 | 64 |
| Reston, Borders | n.c. | 2,300 |
| TOTAL | 5,289 | 8,087 |
Why not try making a quick estimate of the flock size in the photo below in no more than 10 seconds? How many birds are there — answer at the end of the article!

Pink-footed Geese heading high over Bradfield on the Sheffield Moors, South Yorkshire, 6th January 2013 (Andy Deighton).
Good practice
It is always difficult to separate out possible duplication among counts of geese such as those over Sheffield, where many observers and sites are involved. The Sheffield total of 3,630 birds is a minimum estimate based on a small number of flocks that could be safely identified as being separate from each other based on their flight times, flight directions and flock size. If there had been no duplication on that day, then the total increases dramatically to over 9,500 birds! So if you are recording goose or swan migration over your area, it is good practice to make notes of flock size, flight direction and exact time. If you are a BirdTrack user, you can add in all these details using the 'Additional Details' option. This will make the lives of your Local Recorders and bird report editors a lot easier at the end of the year!
Looking forward...
Many would argue that there is no finer sight or sound than that of leisurely flocks of Whooper Swans on the move. Mid- to late March is the peak period for their spring passage through the country from their winter quarters at wetlands such as Welney (Norfolk) and Martin Mere (Lancs). So far this "spring", relatively little movement has been detected at migration watch points. There was a brief burst of activity over the south Pennines from 15th–20th February when six flocks totalling 157 birds were seen. The movement was heralded by a typical sighting of 12 birds resting on Howden Reservoir in the Peak District during the day on 15th before heading off >N in the late afternoon. More birds passed over the Sheffield area on 17th with flocks of 14 >NW at Rawmarsh in the morning and a superb group of 54 >WNW over Orgreave Lakes in the late afternoon. Two more flocks passed over the Sheffield area on 19th followed on 20th by a cracking flock of 46 >NW over Northowram, Halifax seen by Andrew Cockroft.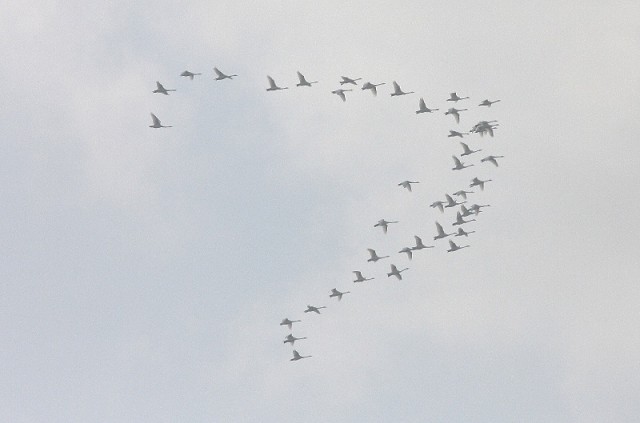 A magnificent flock of 44 Whooper Swans heading >NW over Wintersett Resr (W Yorks), 3rd March 2012 (Paul Meredith).
Many Whoopers migrate by night, so what migration watchers typically see are birds either heading off in the late afternoon/evening or conversely, in the first few hours after dawn ending a leg of their overnight journey and looking for a place to rest up during the day. So early morning and late afternoons over the next two weeks are the times to raise your eyes (and ears) to the skies to catch Whoopers on the move over your area.
Further afield...
The good weather during the first week of March produced some record numbers of birds on the move on the near continent. The prize among these must go to the massive surge of Cranes on 4th–5th — with over 65,000 moving birds counted on both days! Click here for a list of the top 25 counts this spring, or here for a day-by-day graph.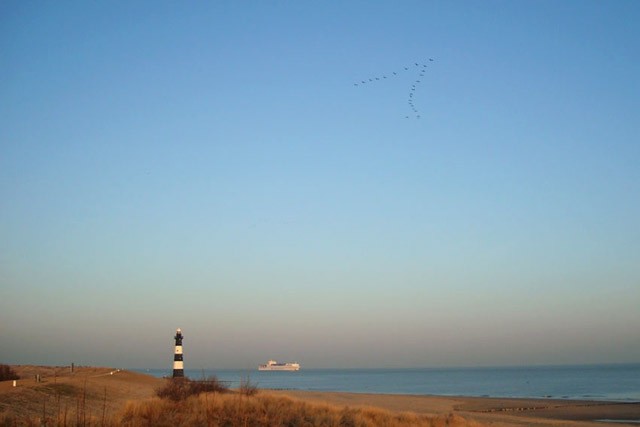 Common Cranes migrating north over Breskens (Netherlands), 5th March (Gerard Troost).
Sadly for us, the Trektellen migration map for 3rd–6th March for the Low Countries shows that the flocks were concentrated along the eastern edge of these countries, with a paltry 275 birds(!) reaching just four west-coast sites and suggesting that few would cross the Channel. This indeed proved to be the case, with only three Cranes reported on BirdGuides after 3rd March — all long-staying individuals (in Lothian, Lancashire and Kent).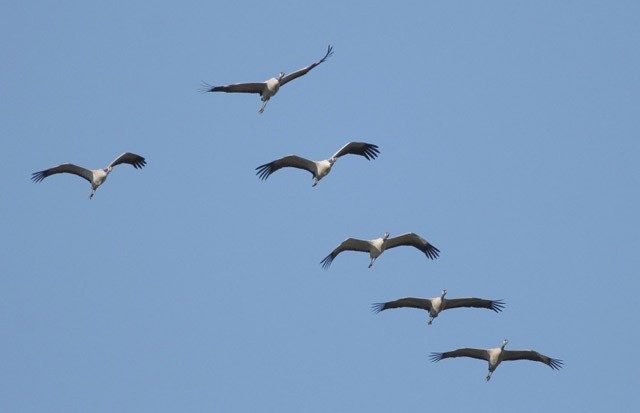 Common Cranes heading north over Maarnsche Berg (Netherlands), 5th March (Aat Schaftenaar).
Plenty more migrating Crane photos can be found here.

Look closely at these Greylags — can you see the easily-overlooked Crane? (Aat Schaftenaar).
How many Pink-feet?

And the answer is 157 birds, marked in white and yellow in the photo below in groups of ten. My initial estimate of 165 (which I was quite pleased with!) was based on grouping the birds into approximately 10 individuals at a time.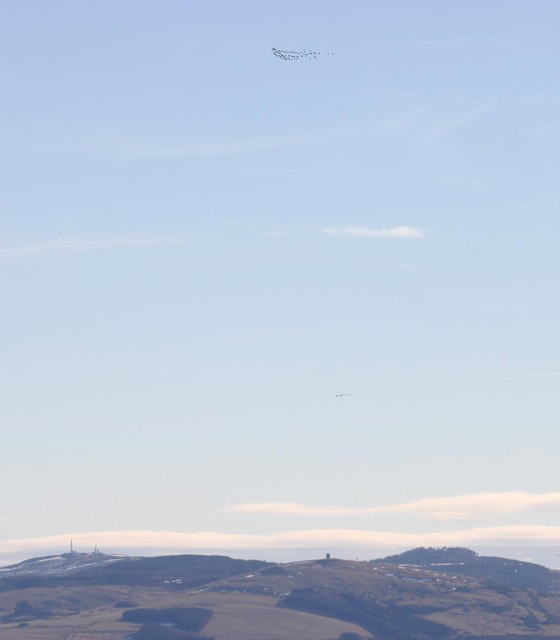 Two flocks of Pink-footed Geese moving >NE high over Strathmore, on the Perth/Angus border on 2nd March 2013. These geese are too small to show up so are clearly marked with black dots. One flock can be seen in the top centre, second flock just visible slightly right of a line between tower on horizon and centre of image. (Clive McKay).
Acknowledgements

Thanks to RSPB staff Jenny Lennon, Ian Francis and Duncan Orr-Ewing for information on kite movements within Scotland; to Mike McDonell, Head Ranger at the Argaty Red Kite project; and to Arjan Boele, Adri Clements, Andy Deighton, Stuart Green, Victoria Hume, Paul Meredith, Aat Schaftenaar and Gerard Troost for permission to use their photographs. Thanks also to the observers who submit their visible migration counts to the Trektellen migration website, and to the Sheffield Bird Study Group.