Winter is certainly not the best season for rare birds to turn up, and prolonged lockdown clearly not the best time to find them. But Saturday 6 February 2021 will go down as the start date for a unique event in British birding history: the discovery in Devon of a Northern Mockingbird which, at the time of writing, has gone on to add itself to another two county lists.
A common and widespread species in North America, it is not surprising that a few individuals have made it across the Atlantic. Although sedentary in many parts of its range in southern Canada, the lower 48 states in the US, Mexico and the Caribbean, some are migratory, though surprisingly little seems to be known about this aspect of its ecology. But what is clear from ringing recoveries is that some individuals travel up to 800 km (Farnsworth et al 2020).
Bar one spring individual, previous Western Palearctic occurrences have all been in autumn. There are two accepted British records – from Saltash, Cornwall, on 30 August 1982, and Horsey Island, Essex, from 17-23 May 1988 – as well as one in The Netherlands, from 16-23 October 1988. Two earlier British records, at Blakeney Point, Norfolk, from 22-25 August 1971 and Worm's Head, Glamorgan, from 24 July-11 August 1978, were placed in Categories E and D respectively by the Records Committee of the British Ornithologists' Union (BOURC), although both are now in Category E.
The only other Western Palearctic record is from the Canary Islands, where an adult male took up residence on Gran Canaria from November 2004 to February 2006. Settled in a built-up area at Arguineguin, it apparently accepted food from people and was eventually captured. This record is also in Category D of the Spanish list.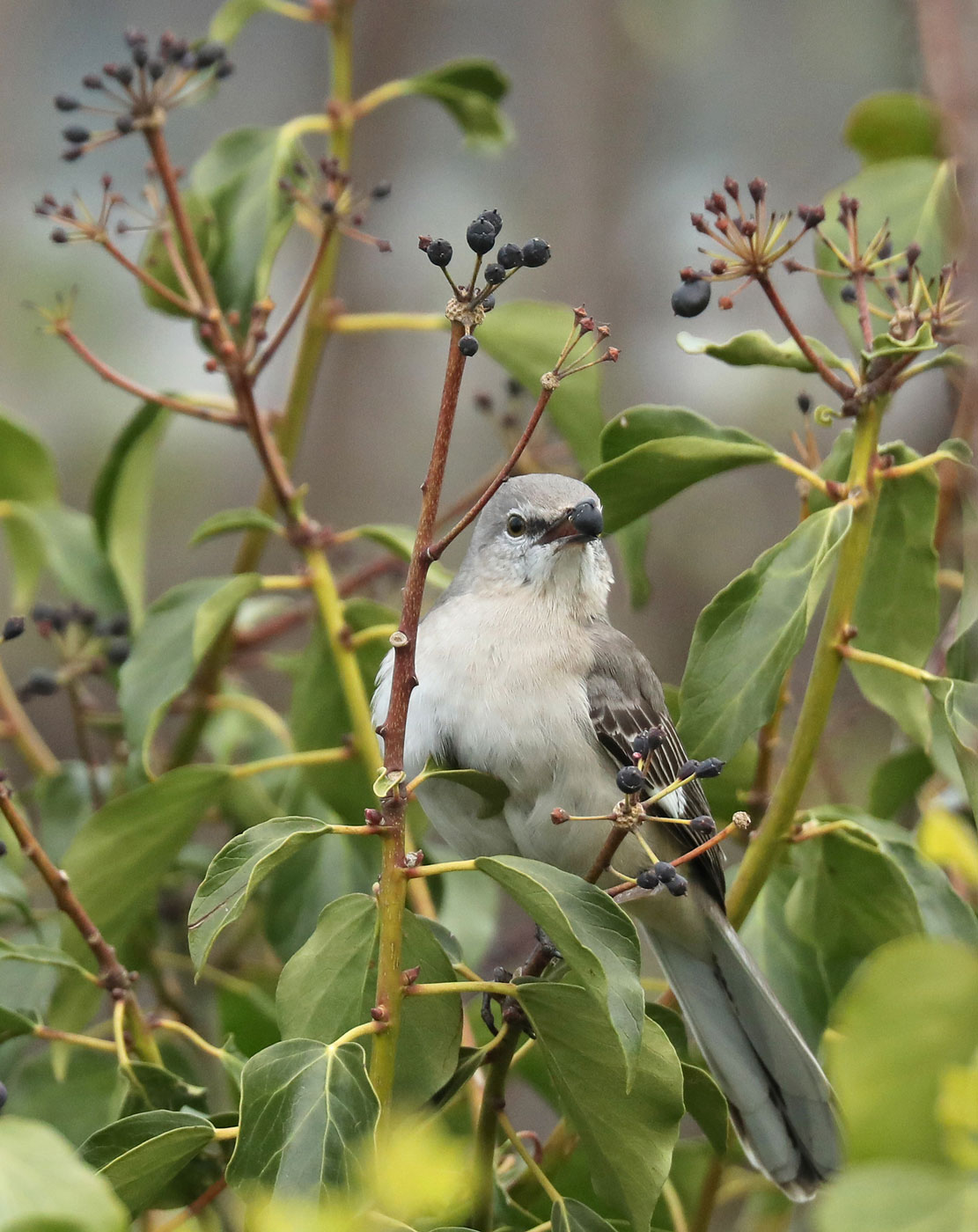 The Northern Mockingbird fattens up in Devon, prior to undertaking its northward migration (Dominic Mitchell).
So until now, only half of the six occurrences on this side of the Atlantic have been accepted as involving wild birds. Central to this reasoning in Britain is not the likelihood of ship assistance, which is permissible except for port-to-port transportation or for birds fed and watered on board, but the key years 1979, after which the species was no longer advertised for sale in Cage & Aviary Birds, and 1982, when a Mexican export ban came into force that limited the numbers of North American birds brought to Europe (Cobb et al 1996).
These factors were significant in the assessment of the two Category E British records, as was the heavily abraded plumage of the Norfolk bird – though the finders noted that "When it arrived, it was very hungry and its plumage very tattered, as if from a long journey" (Cobb et al 1996). Most BOURC members voted for the Glamorgan bird to go into Category A, but the required two-thirds majority was not reached, so it was placed in Category D.
Twenty-five years after the paper on previous British records was published, it is surely time to look at them again – especially the Glamorgan bird, which showed no signs of captivity, was damned by a minority vote mainly on the basis of its arrival date, and has bizarrely ended up in Category E effectively as a confirmed escapee, with no evidence in support of this status. The Spanish record probably also deserves a review.
As for this year's itinerant 'mocker', its journey from Exmouth to Pulborough and onwards to Newbiggin-by-the-Sea means it has covered a straight-line minimum of 685 km. Clearly a migrant on the move again in spring, it has already reached more northerly latitudes than its breeding range extends to in North America. Its final destination will probably remain unknown, though it may well be hopping about in a shrubbery somewhere in eastern Scotland right now …
References
Cobb, P R, Rawnsley, P, Grenfell, H E, Griffiths, E, and Cox, S. 1996. Northern Mockingbirds in Britain. British Birds 89: 347-356.
Farnsworth, G, Londono, G A, Martin, J U, Derrickson, K C, and Breitwisch, R. 2020. Northern Mockingbird (Mimus polyglottos), version 1.0. In Birds of the World (A F Poole, Editor). Cornell Lab of Ornithology, Ithaca, NY, USA. https://doi.org/10.2173/bow.normoc.01.