My September 1975 stay on Fair Isle had been very much an American affair, highlighted by two Tennessee Warblers, a Laughing Gull and an Upland Sandpiper. Palearctic vagrants had been lean and so I headed north again in the second half of my 'gap year' the next May, hoping for what at that time was almost a Fair-Isle-only speciality — Thrush Nightingale.
The trip did not start well, as a male American Kestrel and a Rustic Bunting present during the previous two days had seemingly gone. I headed down the island from North Haven to what would be 'home' for the next three weeks — the Pund — with heavy heart knowing I would have to re-start at 'square one'. The Pund was a mostly abandoned croft with just one remaining intact roofed room with wooden floorboards, a single bunk and an open fireplace as the only 'facilities'. Apart from birding, daily chores included fetching water, collecting driftwood for the fire and milk from nearby Field croft. Billy Fletcher, who had been working on Shetland Mainland over the winter, had already made the Pund his base for a few weeks and had even decorated the walls with his fine 'gripping' bird drawings. To supplement our daily diet of beans on toast we soon learned where to pick wild mushrooms and sought permission from the then warden Roger Broad to harvest gulls' eggs for omelettes!

Pund croft, Fair Isle, October 2013 (Photo: Shaun Robson)
The last week of May was quite unremarkable by modern-day standards, but I was pleased to put Short-toed Lark, two Icterine Warblers, two Bluethroats, several Red-backed Shrikes and a Golden Oriole in the notebook. June 1st saw the arrival of south-easterly winds and a male Subalpine Warbler followed by several Grey-headed Wagtails over the next few days. Apart from a dark robin-like bird with a rufous tail quickly disappearing down a geo never to be seen again, then a male Red-throated Pipit and a fine male Common Rosefinch at the end of the first week, it seemed that this spring was winding down.
David Wynn, another student from the West Midlands area, had arrived at the Pund in early June to add to the mid-island search potential. On the evening of 7th the wind had again swung round to light south-easterly and the following day, under clear skies and in calm weather, the seemingly excellent overshooting conditions had, after a thorough search, produced a single Spotted Flycatcher as the only new migrant. We were also getting low on eggs so an early-evening visit to the colony at Goorn saw David and me returning back down the main road with a bag full of newly laid gulls' eggs.

Field croft, Fair Isle, October 2013 (Photo: Shaun Robson).
At 20:00 we were walking past Field when a rather heavy-looking lark got up from a small square of newly sown land and flew low to land in short pasture on the Setter side of the road. It looked odd, so I quickly placed my bag on the ground, and raising my binoculars my suspicions were soon confirmed: it was clearly a lark of the genus Melanocorypha, with heavy build and a prominent black patch on each side of the lower neck. Just as the lark rose again and returned to the original patch, Billy Fletcher arrived and in good light at a range of only 15m we obtained some valuable details: about the size of a Skylark, but much more bulky. A dark line through the eye which was thicker anteriorly, broken by slim white orbital ring and above which was a bright, pale, quite broad supercilium. The long, jet-black patches starting at the shoulders gradually tapered to a fine point and from the front almost met in the centre of the upper chest. The rest of the underparts were clean albeit with a dirty buff wash along the flanks. The wings were mainly brown but with a pale spot at the tip of each tertial. The open tail, which looked short, consisted of brown feathers, except the outermost with a clear white spot at the tip. In flight it was evident that there was no white trailing edge to secondaries and the edges to the outer tail feathers were brown. It was quite aggressive to two Skylarks feeding on the same bare ground. It pecked at the ground and often sat on it but when standing adopted a bold upright stance. Billy Fletcher and myself agreed it was a Bimaculated Lark — a first for Fair Isle and Scotland and only Britain's third.

Steve's illustration of the Fair Isle Bimaculated Lark, 8th June 1976.
A passing car was hailed and word was sent with this back to the observatory and soon Roger Broad and his staff arrived in a Land Rover. After more views were obtained, Roger decided an attempt to trap it was necessary. Dusk was approaching so a single-panel mist-net was erected at the end of the field and Roger attempted to at first shepherd it close, then quickly charged but alas the bird flew over the top and undulated, calling, across the road and off into the gloomy late evening light by Pund. It was never seen again.
The following day the few birders on the island searched every possible hiding place for the 'Bimac' but it had obviously moved on. The next few days were akin to 'after the Lord Mayor's Show', with only Quail, Marsh Warbler and another Red-throated Pipit to show for our effort. On the evening of 15th news arrived from Cornwall of a female American Kestrel, this one on Bodmin Moor, which was all that I needed to start the long haul south! There had been two previous records of Bimaculated Lark in Britain and Ireland and both had been in the West Country: on Lundy, Devon on 7th–11th May 1962 and on St Mary's, Isles of Scilly on 24th–27th October 1975. I had been rather unlucky with the second one as I had actually left St Mary's by helicopter only minutes before it was found on Peninnis by David Flumm. There were no mobile phones, Birdlines or internet in those days and we were at Exeter, en route to Norfolk, before we found out!
The late-spring months were never that well attended by serious birders on Shetland in those days; quite a different scenario to nowadays. Fair Isle itself has a new, much larger, multi-purpose bird observatory building and this spring the island has already taken pole position on the Mega destination grid with Calandra Lark, Caspian Stonechat, Hermit Thrush, both Eastern and Western Subalpine Warblers, Collared Flycatcher and Cretzschmar's Bunting. The island is once again proving beyond all doubt that it can be among the finest rarity locations in the land.
It is now 38 years since the last Bimaculated Lark in Britain — perhaps it is about time for another!
Steve Whitehouse
Monday 2nd June 2014
David Parnaby, FIBO warden, writes:

The new Observatory building is the third in FIBO's history and, with each new incarnation, the facilities at the Obs improve. All guest rooms are now spacious and en-suite, while the bar and dining room retain their friendly atmosphere as guests dine and socialise together with the staff. The new building has improved facilities for visiting researchers and a new Visitor Centre, which is also used for talks and island events, while an SNH-supported Ranger Service provides walks, talks and other events. As the largest accommodation on the island, it's inevitable that not all visitors are birders (although the peak times of late September and early October are very much migration-orientated), but with daily trap rounds and Log and a 'phone-around' system whenever there's a rarity, the emphasis is still very much on the birding guest.
Although the wardening team turn up a lot of the good birds, there are only three or four of us, which leaves a lot of ground out there to cover! Indeed, birds like Lanceolated Warbler are best looked for by small 'crews' (one group have found three in the last two years by systematically working the likely areas). There is lots of potential for finding your own good birds, with some of the quieter times for visitors including August (late in the month is good for Arctic Warbler, Citrine Wagtail, scarce migrants and the chance of Booted Warbler, Great Snipe etc.), early September (a mouthwatering list of rarities includes the recent Eastern Olivaceous Warbler), late October (the time for Siberian Rubythroat and good for the 'biggy') and a lot of the spring. Discounts apply at some of these times (check http://fibowarden.blogspot.co.uk/p/observatory-news.html for details).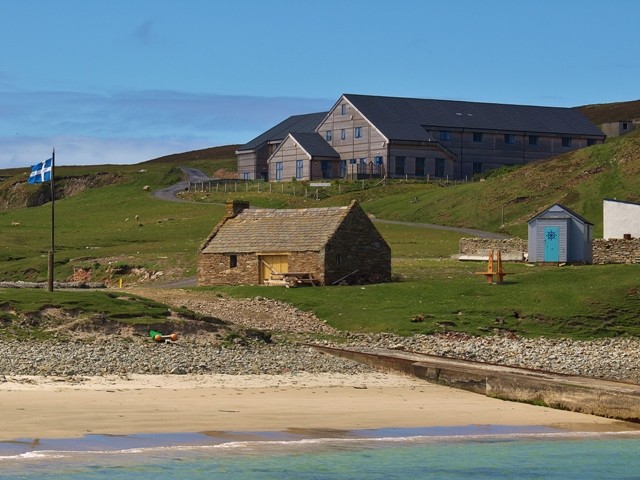 The new Bird Observatory and North Haven, Fair Isle, 2013 (Photo: David Parnaby).
Getting to Fair Isle involves getting to Shetland first then flying from Tingwall (near Lerwick) on the small 'Islander' aircraft or taking the 2.5-hour boat trip on the Good Shepherd IV from Grutness (at the very south of the Shetland mainland). Although 'the Shepherd' has been known to induce the odd bout of seasickness, the chances of cetaceans, seabirds and even migrants (one of my more memorable rough crossings was accompanied by Sooty Shearwaters, Storm Petrels and several flocks of Meadow Pipits, Skylarks and Starlings migrating low over the sea) make it worthwhile; and certainly make you realise that you're going to Britain's remotest inhabited island!
References
Whitehouse, S. M. 1978. Bimaculated Lark in Shetland.
British Birds
, Volume 71, Number 10, October 1978, page 462