One of the stand-out events of this year came in mid-July, when a Bearded Vulture gave itself up on the Derbyshire-South Yorkshire border.
This was a huge moment in British birding history. The spring 2016 bird, present over a period of weeks, was witnessed only by a fortunate handful. Offering little more than fleeting glimpses over the 10 days since it was first seen passing over the West Midlands on 30 June, the 2020 bird looked set to go the same way.
Then the bird's roost site was found at Howden Moor on 10th (ironically, slap-bang in the middle of one of Britain's worst raptor persecution hot-spots). Here it remained regular for several days, showing to all and sundry and often putting on quite unbelievable performances, both perched and in flight, before moving slightly north to the Woodhead Pass area by early August.
You only have to look at social media to see that posts about the vulture are some of the most viral ever generated by a British rarity. Bearded Vulture is one the world's iconic birds. Unique for a large raptor in so many ways, it's big, spectacular and spends its life eating bone marrow. This is a rock 'n' roll star that has captivated the imagination of both birders and non-birders alike.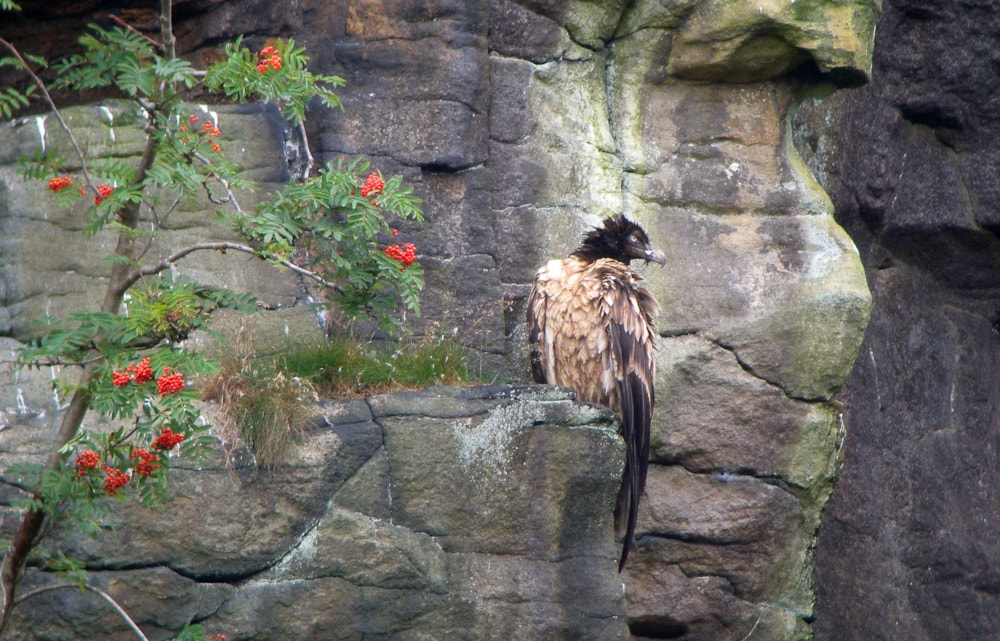 The spectacular sight of a Bearded Vulture in the Peak District is something to celebrate and enjoy, not dismiss flippantly because it can't be counted on a list – yet, at least (Lynne Demaine).
Kill of the thrill
Yet, sadly, the vulture's thrilling aura is being killed off to some degree by a droll debate on whether it's "acceptable", or what category of the British list it fits on. Birders are casting judgement on this magnificent creature purely on the basis of whether they can add it to their life lists. Some are openly rubbishing its appeal because the current stance of the British Ornithologists' Union's Records Committee (BOURC) is unlikely to mean it makes it further than Category E, which is what happened to the 2016 bird in near-identical circumstances. I've lost track of how many times I've seen the word "plastic" unceremoniously tossed around in recent weeks.
Have some of us become so disconnected from the joys of birds and birding that all that matters is whether something equates to '+1' on a list? And why should the opinion of a committee dictate our perceptions and appreciation of a bird?
I'm all for the BOURC and its work, even if I might not always agree with its decisions. I also understand the appeal of keeping lists, even if its importance has faded away for me in recent years. But to summarily dismiss this blockbuster vagrant on the basis that it might not be tickable is, frankly, absurd.
This is a wild-born Bearded Vulture. In Britain. It's travelled several hundred kilometres and completed a Channel crossing to get here. Its journey through the near-Continent to our shores mirrors the wanderings of immature Bearded Vultures throughout their range, and its arrival here is something to celebrate – we should all congratulate the heroic efforts of conservationists working to restore a viable breeding population in the Alps, which has ultimately driven the upturn in sightings across Europe. If you remain unconvinced, then it's well worth taking a read of Sam Viles's detailed article on the status of Bearded Vulture in Europe, which looks at examples of vagrancy, both pre- and post-reintroduction scheme.
What's more, it opens the door to engaging discussion over the potential for other large raptors (such as Griffon Vultures or various Aquila species) to make it here. Who cares if one of its parents or grandparents possibly originates from captive-bred stock?
You may not be interested in seeing it – but that's no reason to knock it. And if you were among those that did go and have a look, even if only for listing 'insurance purposes', why not make a donation to the Vulture Conservation Foundation (www.4vultures.org), which has been so instrumental in bringing Bearded Vulture back from the abyss, as well as supporting many other vital vulture-related projects across Europe.