The incredible song of Common Nightingale on a spring evening is a real treat. Once you know where to find them and get the timing just right, you'll be rewarded with a performance few other songbirds can match. This superstar of the British summer has an illustrious repertoire that includes at least 250 different phrases: a rich, fluid and melodic warble interspersed with croaking, grunting and high pitched singular notes.
This elaborate act has secured nightingale's place in our culture, with books, music, poetry and theatre all paying tribute to what might otherwise be seen as just a 'little brown job'. Curiously many stories about nightingale refer to the superb songster as female. Indeed it was once thought by naturalists and writers that it was the hen, rather than the male, serenading her mate from deep within the hedgerows.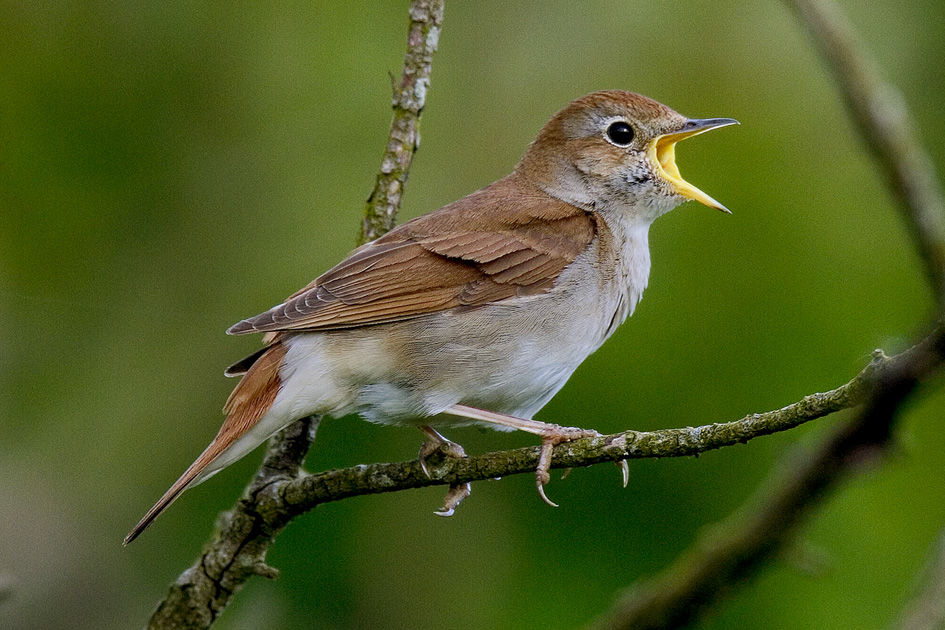 A male Common Nightingale belts out its extraordinary refrain (Roger Wilmshurst).
This lyrical phrasing is now becoming harder to hear as the species' population is crashing: 90 per cent of the UK's nightingales have vanished in the past 50 years, and their range has contracted, confining them to the south and east.
Loss of scrubby habitat is clearly a significant factor in its decline – in fact the most important UK site for the species is once again threatened by development. Lodge Hill in Medway, Kent, has for many years been a real stronghold for the species. Its patches of ancient woodland, grassland and extensive bushes form the perfect habitat for nightingales, and up to 85 singing males have been recorded here. However, the site has been earmarked for development and for more than four years there has been a campaign to save Lodge Hill for its nightingales – and the nation.
To highlight the parlous situation of this much-loved bird, a national festival was organised last year. Thousands of people attended over 100 special events, walks and performances, which were held by a range of partner organisations across the bird's range.
This year the National Nightingale Festival is back with a series of fantastic walks and performances across the country. At Pulborough Brooks RSPB, West Sussex, there's an entire Bank Holiday weekend devoted to nightingales, taking place from 5-8 May. This is quite a special place for the species, which has a habit of singing out in the open here. At another key nightingale site, the Essex Wildlife Trust's Fingringhoe Wick nature reserve, there are 20 guided evening walks. Up to 40 males have been singing here. You can also treat yourself to special evenings at Knepp Safaris, West Sussex, with dinner, wine and singing nightingales.
Content continues after advertisements
The most important westerly outpost for Common Nightingale in Britain is Highnam Woods RSPB, Gloucestershire, which will host five guided walks through the ancient woodland, while Minsmere RSPB, Suffolk, is holding 11 Sounds of Spring walks where nightingales will be the stars of the show.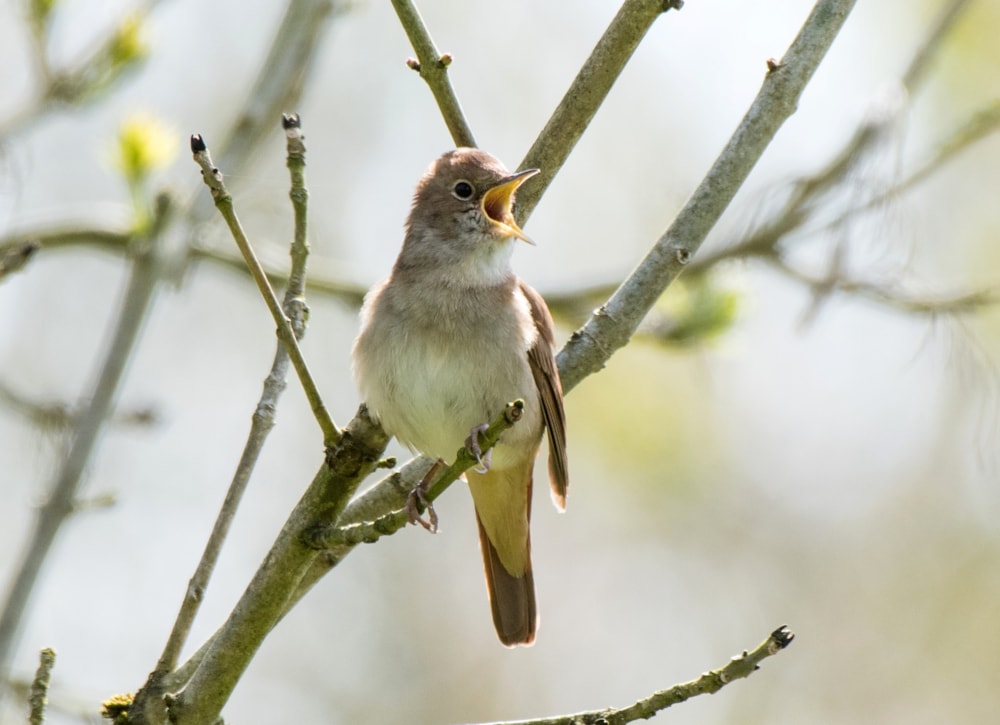 Common Nightingale may not be the most extravagant-looking bird, but it more than makes up for this plainness with its spectacular song (Alex Barclay).
You can also try something a bit different: Sam Lee's immersive Singing with Nightingales. At these events, you'll head into starlit woods where folk music and storytelling is sensitively combined with listening to nightingales singing. For the first time there will be live broadcasts of the bird's song to music venues as far afield as Bury, Exeter and Leeds, bringing these magical sounds to areas of the country from which nightingales have long been absent.
The festival is a timely celebration of a Red-listed migrant which is at serious risk of being lost from Britain. We hope that the art this magnificent musician inspires could ultimately prove to be its saviour, inspiring a new audience to stand up and defend Common Nightingales and the special places they call home.
The National Nightingale Festival runs from 15 April to 31 May. Find out more at rspb.org.uk/nightingalefestival.
To help #SaveLodgeHill, there's a critical opportunity to make your voice heard between 16 March and 11 May. Find out how to have your say at rspb.org.uk/savelodgehill.