The number of rare birds recorded in Britain in 2015 was the lowest for several years, according to the most recent report from the Rarities Committee. Among the highlights, however, are four species and one subspecies new to the national list.
There were just 392 accepted records in 2015, compared with 478 in 2014 and well over 500 in both 2013 and 2012. Despite this, the number of taxa was slightly higher than the previous year: 120 compared to 118 in 2014. The decline in records is partly because four species which have occurred increasingly regularly — Lesser Scaup, Penduline Tit, Blyth's Reed Warbler and Citrine Wagtail — have been removed from the committee's list.
The four new species, all announced previously by the Records Committee of the British Ornithologists' Union, are: Cackling Goose (10 records now accepted, the first from Lancashire in November 1976); Yelkouan Shearwater (Devon, August 2008); Chinese Pond Heron (Kent, January–March 2014); and Slaty-backed Gull (London and Essex, January–February 2011). The new subspecies is Azores Gull, the atlantis form of Yellow-legged Gull (two records accepted, from Cornwall in July–November 2008 and at many sites mainly in the Midlands region between 2009 and 2015, all assumed to relate to a single returning and wandering individual).

Chinese Pond Heron, Hythe, Kent (Photo: Paul Rowe)
Other notable occurrences featured in the committee's 58th report, published in the October 2016 issue of British Birds (109: 566–631), include the second records of Great Blue Heron, Citril Finch and Wilson's Warbler, third Hudsonian Godwit, fourth to sixth records of Cedar Waxwing, fifth Red-billed Tropicbird and Mourning Dove, and fifth to eighth records of Moltoni's Warbler. Above-average numbers of some rarities were reported during 2015, including Pallid Harrier, Spotted Sandpiper and Red-flanked Bluetail, but conversely Blue-winged Teal, Siberian Stonechat and Desert Wheatear were among those under-recorded. Similarly low scoring were Aquatic Warbler and Tawny Pipit, which along with Red-throated Pipit and Rustic Bunting returned to the committee's list in 2015.

Great Blue Heron, Bryher, Isles of Scilly (Photo: Tony Dixon)

Wilson's Warbler, Port Nis, Lewis, Outer Hebrides (Photo: Matt Eade)
Disappointingly, and despite further records, Ross's Goose and Falcated Duck — two species widely considered to have occurred as genuine vagrants in Britain — remain in Category D (species for which there is reasonable doubt that they have ever occurred in a natural state). This controversial area of records assessment will be covered in more detail in the forthcoming November issue of Birdwatch magazine, with analysis and discussion of British records of these two species as well as those of Marbled Duck and White-headed Duck.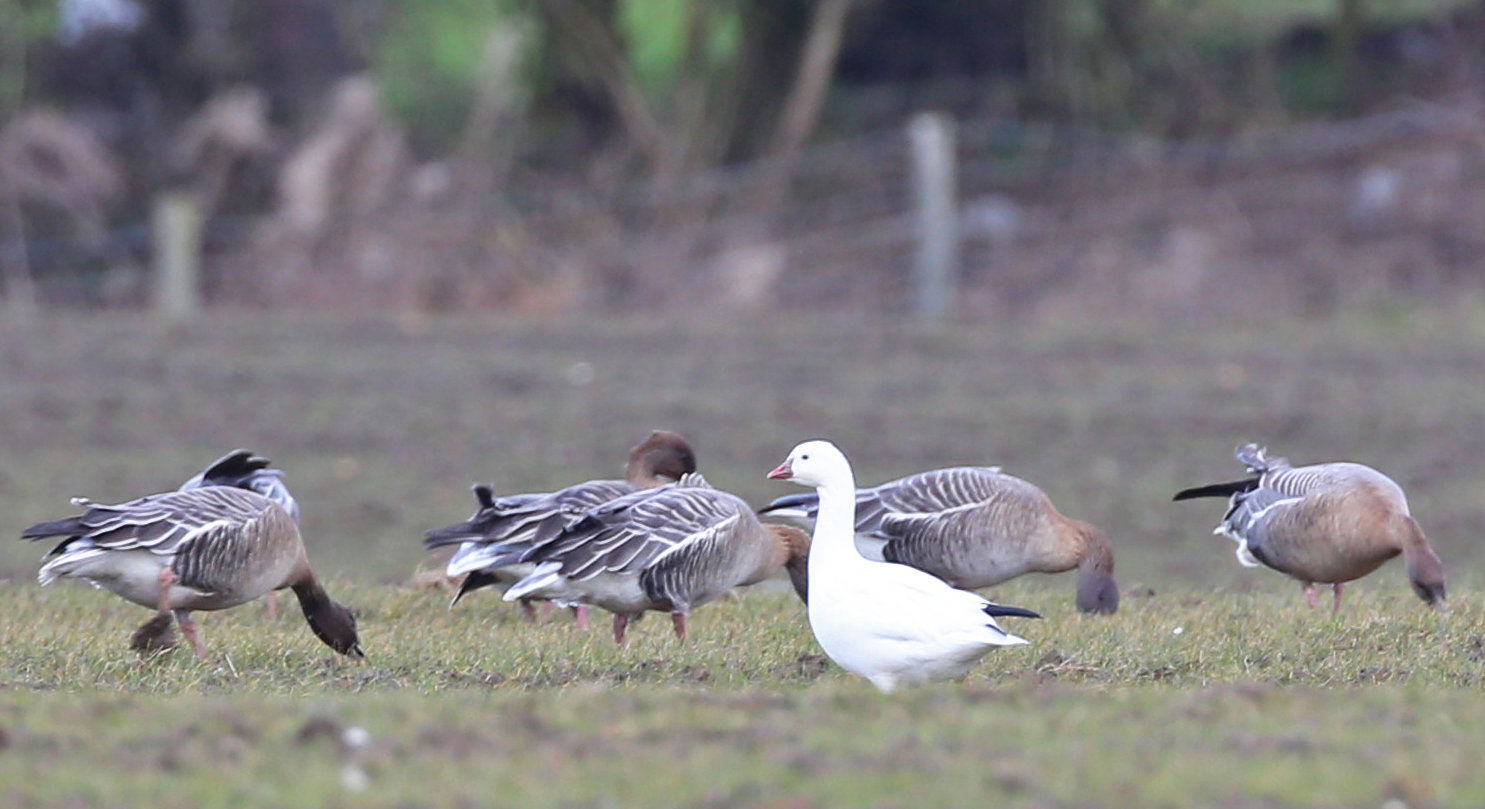 Ross's Goose, Widdrington Moor Lake, Northumberland (Photo: Joe Jobling)
The report also reveals that the sole British record of Mugimaki Flycatcher, involving a young male in November 1991, has been moved from Category D to Category E, despite no new evidence of captive origin or any reasoning being published. A series of other records in Appendix 3, involving wildfowl and a Great Bustard in Kent, appear to have been left uncategorised.
Among 2015 records found not proven are claims of Kermadec Petrel in Cornwall, Short-toed Eagle in Hampshire, Booted Eagles in Essex and Norfolk, Audouin's Gull in Cheshire, Crag Martin on the Isle of Wight, Zitting Cisticola in Norfolk and Rock Bunting in Northumberland. Those from other years include Dusky Thrush in Yorkshire (2014), Steppe Buzzard in Suffolk (2011), Madeiran Storm-petrel in Cornwall (2009) and Saker Falcon in Orkney (2006).
All records of species accepted by the Rarities Committee, as well as those approved by the Irish Rare Birds Committee in Ireland, are available to Bird News Extra subscribers in our Online Rare Birds area, and the database will be updated shortly with 2015 records. For more information on the work of the Rarities Committee, which is sponsored by Carl Zeiss and the RSPB, and for details of how to submit rarity records, please see www.bbrc.org.uk.