Pallas's Sandgrouse? Wallcreeper? Steller's Eider? Siberian Rubythroat?
It's probably a debate that takes place whenever birders gather together — but it's never been put to the vote. Until now.
To mark the 50th anniversary of the British Birds Rarities Committee in 2009, BirdGuides in collaboration with British Birds is conducting a poll to find the definitive British rarity event of the past half-century. The rarity roll-call from 1959 to the present day is long and illustrious, so any shortlist will be highly subjective. But for our Top 30 we've selected a range of species from across the period that cannot fail to excite birders, even 50 years after the event. We want you to vote for your Top 10 by March 31st. We'll hold another poll later in the year so you can vote on the resultant 10 to select the definitive Top 10 British rarities of 1959–2008, with the most votes crowning the undisputed Number One!
Some of these birds sparked a mass twitch, some of them were enjoyed by a tiny minority but all of them are — or were — on birders' Most Wanted lists. None more so than the first bird in our Top 30. In December 1959 a first-winter male Dusky Thrush took up residence on Hartlepool Headland in County Durham and stayed for an incredible 10 weeks. In 2009, rarity-starved British birders have travelled to Belgium to see Dusky Thrush as the wait for a twitchable British bird continues.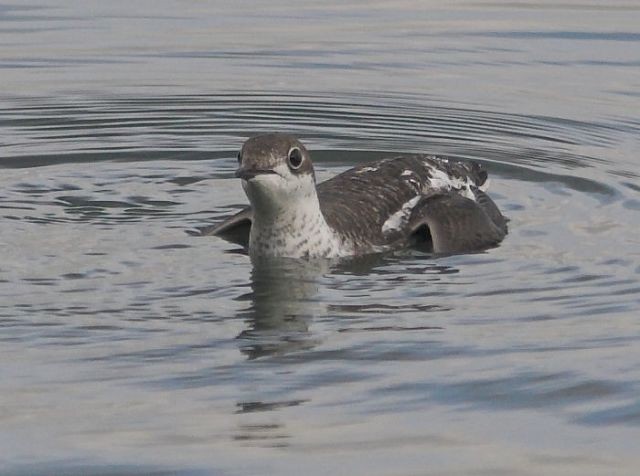 Long-billed Murrelet, Dawlish, Devon (Photo: Graham Catley)
The 1960s were not even swinging before the next big bird landed on our list. And it WAS a big bird! The Suffolk 'Houbara' (MacQueen's Bustard) that strolled around the Minsmere area in November/December 1962 was famously photographed by Eric Hosking through his car window.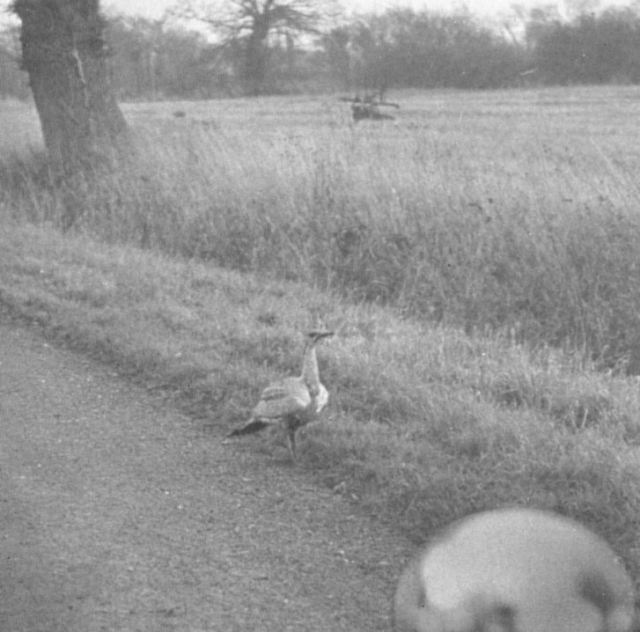 Houbara Bustard (Photo: Eric Hosking, courtesy of the Eric Hosking Charitable Trust)
The following year a First for Britain arrived just before Christmas —  and stayed for another five years. The Pied-billed Grebe found at Blagdon Lake in Somerset in December 1963 transferred to nearby Chew Valley Lake and was last seen in July 1968. It overlapped with one of the most improbable rarities of that, or any, era. The famous Brown Thrasher that arrived in the November of World Cup year 1966 in Dorset was to be found skulking near — or even in — the public toilets on Durlston Head until February 1967. Yes, it probably hopped off a transatlantic liner, but so what?
In 1968 there was a true rarity event, a nationwide spectacle that would be warmly welcomed if it were repeated 40 years later. The Nutcracker invasion started in August with the first birds making landfall in Norfolk and Suffolk. In the following months more than 200 birds were logged right across the country, from Shetland to Cornwall. Since then, only the occasional singleton has repeated that unprecedented arrival from the East.
The 1970s are often maligned (unfairly) on music and fashion grounds. But in birding terms this decade was Solid Gold Easy Action! In 1972, 'Albert' the lonesome Black-browed Albatross took up residence on the northernmost tip of Britain at Hermaness on Unst, Shetland. He returned every year until 1995 and was probably the bird that summered on the Bass Rock in the Firth of Forth from 1967 to 1969. And if he was also the bird that spent the summers of 2005/06/07 on Sula Sgeir in the Outer Hebrides, then his stay in British waters spanned 40 years! Another 'mega' that started his long stay in 1972 was the male Steller's Eider that inhabited the waters around Vorran Island off South Uist, Outer Hebrides until 1984. Amazingly, another male was summering on Papa Westray, Orkney from 1974–1982!
One of THE vintage years in the past half-century was 1975. Incredible birds arrived in Britain that autumn from both the East and the West and we've chosen two for our Top 30, one from America and one from Siberia.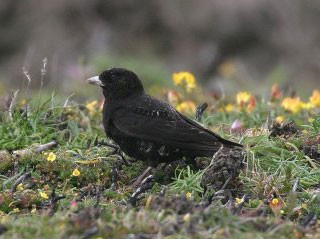 Black Lark, South Stack RSPB, Anglesey (Photo: Mike Richardson)
It was the late, great David Hunt, the 'Scilly Birdman', who found a woodpecker drilling holes in trees on Tresco that September. It was Britain's first (and only) Yellow-bellied Sapsucker and it stayed until October, by which time the 'Sibes' were arriving...among them another First, the long-awaited Siberian Rubythroat on Fair Isle. It was more than 20 years before another turned up (in Dorset in 1997) but Shetland (and Sunderland!) have recorded every other one.
The mid–1970s were a purple patch for Fair Isle with Tennessee Warbler, American Kestrel, Hermit Thrush and Bimaculated Lark among a crop of wonderful birds. But it was the unlikely setting of inland Somerset that attracted one of the most desirable birds of the past 50 years: a Wallcreeper overwintered in Cheddar Gorge from 1976 into 1977 — and again in 1977/78! The 1970s cheese marketing campaign had it just right: Cheddar Gorgeous!
Both 1981 and 1982 were astonishing years for rare birds, with both years logging an incredible nine Firsts for Britain. But we've been very selective and gone for rare bird events that linger long in the memory of those who were there — and those who weren't! The spring of 1982 was very warm and overshooting Mediterranean vagrants included a male Marmora's Warbler who took up residence on a moor in South Yorkshire and song-flighted over the heather from May until July. On Scilly that October there was a 10th for Britain —  and an 8th for Scilly —  but this Common Nighthawk was The One. It stayed for two weeks and performed much-appreciated flypasts around St Agnes lighthouse. Attention switched to the Cornish mainland in November when a strange grey-and-white thrush arrived in the Nanquidno valley. It didn't match any bird in the book —  but it did if you painted it chocolate-brown and orange! It was a very rare variant of Varied Thrush from western North America.
Content continues after advertisements
We're going to be controversial now. The Top 30 bird from 1983 was much-needed by many (and still is), stayed for three weeks at a bird observatory...and was seen by just a handful of people. Yes, it had to be the Spurn Tengmalm's Owl which arrived in March (or even earlier) while the heavily eroded peninsula was being repaired. The news was suppressed to prevent further damage to the area. (In an amazing double there was a Hawk Owl on Shetland later in 1983.)
The Scilly season in 1987 secured no fewer than three Firsts for Britain. But very few saw the Wood Thrush and Eastern Bonelli's Warbler. Many hundreds more made the boat trip to Tresco for the Philadelphia Vireo. There've been Irish birds before and since but this remains Britain's only record.
And from Tresco to Tesco (to quote the finder, Paul Doherty). Twenty years after the event, that Golden-winged Warbler in Kent from January–April 1989 is still the mass participation/mass hysteria twitch with thousands of participants. That year also secures two other nominations in the Top 30 (and they're not the Teesside Double-crested Cormorant and the East Yorkshire Blue-cheeked Bee-eater). In July 1989 two mysterious dark-rumped petrels were mist-netted at Tynemouth, Tyne & Wear. The following summer another bird was trapped — and this individual was re-trapped a total of seven times from 1991–1994! DNA analysis from blood samples confirmed these birds to be Swinhoe's Storm-petrels from the northern Pacific Ocean. And in October 1989, while Britain's finest were steaming over to Scilly, an American vagrant was blowing its own trumpet...in Norfolk. The Red-breasted Nuthatch in the Holkham pinewoods stayed until May 1990.

Pacific Diver, Farnham GPs, North Yorkshire (Photo: Craig Shaw)
The 1990s started with a bang. On four different offshore islands on the same day in late May 1990 there were four extraordinary birds. Skokholm's White-throated Robin was inaccessible and the Isle of Wight's Alpine Accentor was relegated to also-ran because the main events were a long-staying Pallas's Sandgrouse on Shetland and a newly arrived Ancient Murrelet on Lundy. There have been hundreds of Pallas's Sandgrouse in historic times but the 1990 bird was the modern era's Holy Grail. The Shetland birders who found it on their annual bird race will certainly go to Heaven. Meanwhile, the tiny auk hanging out with Puffins on Lundy liked it so much that he/she came back in 1991 and 1992.
It took the better part of a decade for another birding blitz to match May 1990 but there were plenty of good birds during the 1990s. Many would rank the Red-flanked Bluetail at Winspit, Dorset, in October 1993 as their bird of the decade. But for urban birders perhaps their favourite came in February 1996 with a Cedar Waxwing among the hundreds of Waxwings in Nottingham.
Still arousing controversy more than ten years after the event (mainly among those who didn't bother to go and see it) is the Slender-billed Curlew at Druridge Bay in Northumberland that stayed for four days in May 1998. It's one of the most recent, validated, records of this Critically Endangered species and faced a four-year scrutiny period before its acceptance on to the British List.
And then the 1990s ended with a flourish to match their beginning. October 1999 on Scilly was a twitchfest that saw Siberian Thrush, White's Thrush and Blue Rock Thrush eclipsed by a young Short-toed Eagle drifting over the islands.

Belted Kingfisher, Peterculter, Aberdeenshire (Photo: Chris Jones)
How has 21st-century birding measured up? Well, our final six nominations in the Top 30 all come from the past decade and all of them are rare bird events that will live long in the memory.
'Mega alerts' don't come any better than 'Black Lark on Anglesey' and the obliging male that stayed for a week at South Stack in June 2003 became Bird of the Century for many! It emerged that another bird had been logged at Spurn in 1984 (and a third was in Norfolk in 2008). But it was even further back, in 1979/80, that the last Belted Kingfisher graced these shores, a long-staying bird in Cornwall. Surely a repeat was overdue? But on April the First?! Pull the other one! However, the 2005 bird was legit and it led birders on a merry dance from Staffordshire to East Yorkshire to North-east Scotland over the course of a week.
What other jokers could there be in the birding pack? Well, how about another Pacific alcid in Devon? The Long-billed Murrelet that bobbed around off Dawlish in November 2006 was totally unexpected. And then there was an inland Pacific Diver happily cruising around a North Yorkshire gravel pit in January 2007. At least that bird was mass-twitched. Better than that was Somerset's infamous Yellow-nosed Albatross in June 2007. Having crash-landed at Brean, it was photographed and released to continue its journey up the Severn —  and then across country via a fishing lake in Lincolnshire (photographed again) out to the North Sea. And not a single birder caught up with it!
Our final nominee was a lot more obliging. The White-crowned Sparrow that came to stay in Cley, Norfolk in January 2008 hung around until March and raised a staggering £6,400 for the village church restoration fund.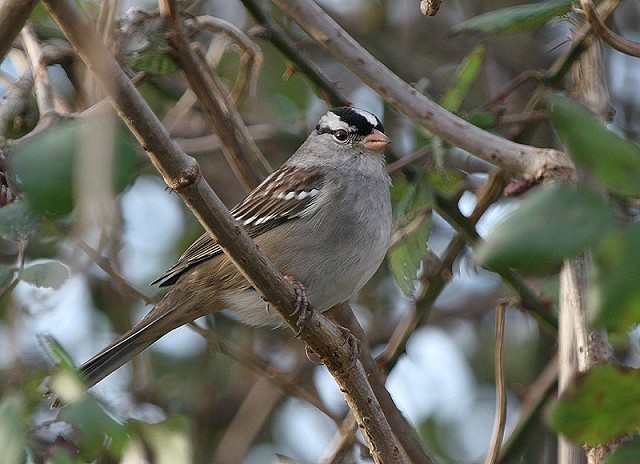 White-crowned Sparrow, Cley next the Sea, Norfolk (Photo: Steve Seal)
So these are our Top 30 rarity events of the past 50 years. Vote for your Top 10 — or vote for several Top 10s!
We'd like to thank the Eric Hosking Charitable Trust for their kind permission to use the Houbara image.