Just after 12:30pm on Tuesday October 1st 2008 I received a call from Jerry Warne at Birdline South East informing me that a Manx Shearwater had been reported as stranded near Pembroke House in Bayswater, Inner London. This precise locale didn't ring any bells with me (I live nearby at Paddington Green) so I asked Jerry to text me the number of the reporter, Stephen Miles, so I could call him and get more precise information.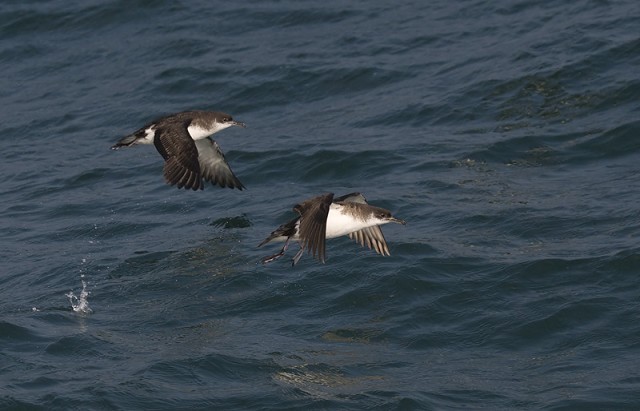 A more usual setting for a Manx Shearwater, At sea, Pembrokeshire (Photo: Richard Crossen)
Jerry immediately did so and I then phoned Stephen. Unfortunately, my phone battery was at the point of dying and I had no time at all to charge it, seeing as I was about to leg it out the door to recover the shearwater. With my battery warning tone beeping in my ears I managed to speak briefly with Stephen, who gave me explicit directions for the bird: under some bushes in front of Pembroke House on the Hallfield council estate, Paddington. Not quite Bayswater but even closer to home!
The story of its discovery is fairly typical of a few of the stranded seabirds found in London over the decades (e.g. a Puffin in a shop doorway!). It was found cowering behind a large communal paladin-type bin in a locked, double-doored, bin-shed by council workers late in the morning. Stephen, a police officer who regularly patrols the estate, had his attention drawn to the bird by the workers, fortunately recognised it as a Manx Shearwater and, once it had been removed from the bin-shed, ushered it under some nearby bushes before alerting Jerry (who then contacted me). My guess is that the bird had entered the bin-shed some time the previous night, during strengthening northwesterly winds, when the shed was unlocked. Given the circumstances, and the fact that Stephen was on duty, placing it under a bush then reporting it to a bird information service was possibly the best option.
Having learnt the exact location of the bushes where the bird was left, I was on site within 15 minutes and began my search, which proved to be anything but straightforward. The site itself is a typical, though nicely maintained, council estate: residential blocks, parked cars, amenity grass and authority-planted roadside vegetation. The area where the shearwater was left consisted of ornamental woody shrubs and other exotica.
My first look involved searching visually for the bird under these shrubs, as did my second, third and fourth searches, all to no avail. I then met a council worker and enquired if he knew anything (my phone was dead so I couldn't contact Stephen and explain my frustrations). He explained what I already knew, but opened a side gate to the rear of the council block so I could search the communal garden on the off-chance the bird had relocated itself: still no luck. We also tried a locked storage area to which the bird could have moved: nothing there either. Next up, I checked under every parked car along the road but found no Manx Shearwater. What had happened? Surely it couldn't have gotten airborne and flown out from under the shrubs?
The area seemed to have an inordinate number of people walking around with unleashed Staffordshire Bull Terrier type dogs so I feared the worst (and feared getting bitten as I rummaged around vegetation like a lunatic literally outside people's front doors!). I circumnavigated the whole estate twice checking likely areas then enquired in the estate office. Nothing doing. It looked as though the bird had simply vanished.
I went back to the original area, again confirmed with the council worker that I was searching the right bushes, and gave it one more thorough look, this time walking through the area and getting nicely soaked and scratched by wet thorny vegetation. It just wasn't there. At this point, now just after 3pm, I decided to head back home to recharge my phone, update the London Birders Wikipedia and Yahoo websites and re-phone Stephen to see if we could meet up later in the day and conduct a further search. There was no need.
The shearwater was found as I was leaving the site, tucked under an area of vegetation no more than three inches off the ground, but some 40 metres from the bushes where it was originally placed, resting on its belly and looking as though it was preparing to become a cat's dinner. I quickly retrieved it and it immediately began protesting at my intrusion by biting my hand and kicking out vigorously with its legs. The bird, although probably tired, hungry and certainly disorientated, seemed strong and in good condition, albeit a little dishevelled.
I slipped it into my field bag where it immediately settled down, tucked its bill under its mantle feathers and promptly want to sleep. It stayed asleep for the full 15-minute walk home, despite the sound of passing traffic, a pneumatic drill and obligatory emergency service sirens—this is central London, after all! On reaching home I transferred the bird into a cardboard box with a small dish of fresh water and placed it in the relative warmth and quiet of the bottom of my airing cupboard, where it slept soundly for a couple of hours.
I posted messages on BirdGuides, the London Birders Wikipedia sightings page and the London Birders Yahoo Group as to the current situation. Not being a driver, I tried to organise something with one of my fellow county birders to enable the bird to be released as soon as possible either out in the Thames Estuary or even on the Thames in Inner London (the Thames was considered the best place for a release as opposed to a reservoir, as it offered the shearwater a corridor directly out to sea, should it decide to head that way).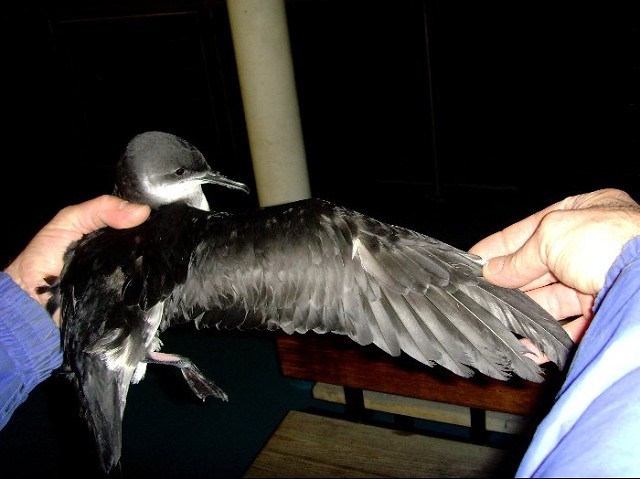 Manx Shearwater, Rotherhithe, London, Greater (Photo: Richard Bonser)
Eventually I had a call from the Chairman of the London records committee, Bob Watts, saying he'd be happy to hook up with me, agree on the bird's condition as 'good-to-go', take the shearwater off my hands and release it somewhere along the Inner Thames. Greenland Pier at Rotherhithe in southeast London was eventually selected as the release site. I was a little reluctant about transporting the bird to the site via the London Underground as I figured this might unduly stress it, but BW assured me it should be fine, he'd previously transported a stranded Guillemot in the same way some years back without any problems.
Time was of the essence if the bird wasn't to deteriorate, so off it went on its journey to southeast London.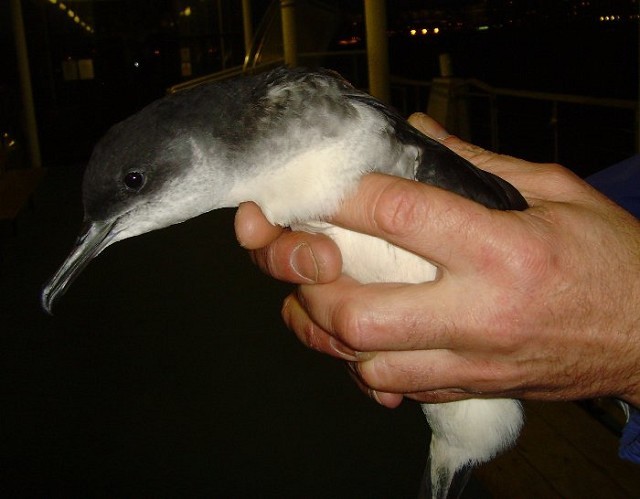 Manx Shearwater, Rotherhithe, London, Greater (Photo: Richard Bonser)
The bird was eventually released, after a decent inspection to check for any injuries I might have overlooked, at around 7pm from Greenland Pier, Rotherhithe, in front of BW, Richard Bonser, Nick Tanner, Dave Bradnum and one other birder. After a flurry of photographs were taken it flew down onto the Thames, gathered its senses, and started drifting strongly downstream (the right direction) on an ebbing tide, while picking at the surface of the water at tiny food items. All seemed well.
Its eventual fate is, naturally enough, unknown and one can only hope it made it back to the sea via the Thames Estuary—at least now it had a chance of doing so.
Thanks to Jerry at Birdline South East for his superbly quick call, without which the bird wouldn't have stood much of a chance of rescue at all, Bob Watts for collecting, inspecting and releasing the bird, and Richard Bonser for permission to use his pictures.