The first migrant Common Cranes to appear in the UK this spring were probably the three seen flying north over Herne Bay, Kent on February 27th. Another group of four was then seen coming in at Holland Haven, Essex the same day, and were probably the same four that later began a short stay near Maidstone, Kent until March 3rd. Another single flew west over Elmley, Kent on the 27th. The weather at this time was fairly mild with southwest winds. There was then a gap until March 9th–11th when singles were seen in Lincolnshire, Suffolk and Cleveland.
A switch to strong easterly winds in mid-March then drifted another major wave of Common Cranes into the country. On March 14th two moved northeast over Northumberland and may have been the birds seen the next day on the southern Moray Firth. On March 16th there were numerous reports, including one in Kent, four over Northumberland and Co. Durham, two in Lothian, three over East Yorkshire and Lincolnshire, one in Somerset, and at least three in Yorkshire/Derbyshire. A group of five moved SSE over Billingham, Cleveland on the 17th, with another single south over Redcar, Cleveland and several ones and twos were again seen in Yorkshire/Derbyshire. Three also moved over Minsmere, Suffolk on this date. On the 18th there was an unconfirmed report of an impressive flock of 24 was in off the sea at Redcar, Cleveland, while scattered ones and twos were again seen in Northumberland, Yorkshire, Cleveland and Lothian. On the 19th a group of seven flew over Spurn, Lincolnshire and were presumably the same birds as the eight reported over Gibraltar Point. Four were also seen off Pegwell Bay, Kent and singles were in Yorkshire and Lothian. Finally on the 20th a possible group of five were seen moving north over The Lodge, Bedfordshire.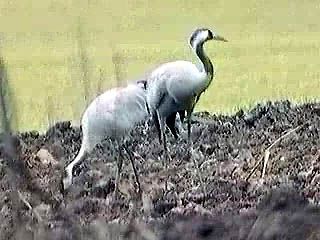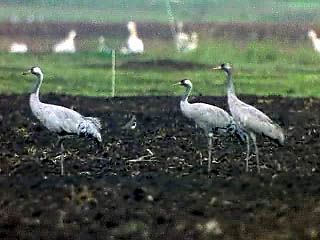 Content continues after advertisements
In total the influx so far has comprised about 90 birds, although some duplication is possible with this highly conspicuous species. Most were predictably concentrated in eastern England and Scotland, with the single bird in Somerset being the furthest south and west. It is interesting to note that some of the well-tracked groups were seen moving both north and south along the east coast, suggesting they were trying to find their bearings before heading back across the North Sea. Once again, similar to the Honey Buzzard invasion of 2000, it highlights how large migrating birds are readily drifted across the North Sea when the wind is blowing from the east.