Autumn 2019 was a curious season on Scilly for a number of different reasons, some of which you are about to find out. But to cover every single incident here would be to risk turning this article into a small book, though. A lot of different species turned up, from several different geographic zones in the northern hemisphere – a generous mix of birds from North America and Siberia, sprinkled with some Mediterranean seasoning.
However, barely a single one of them sat right out in the open, waiting to be admired – most simply dashed off soon after the initial sighting, or otherwise shied away for days on end, requiring deep reserves of patience to see them. One of the most elusive rare birds of the autumn was also one of the first to turn up: the Blue Rock Thrush, found by Ren Hathway on the Garrison, St Mary's, towards the back end of September.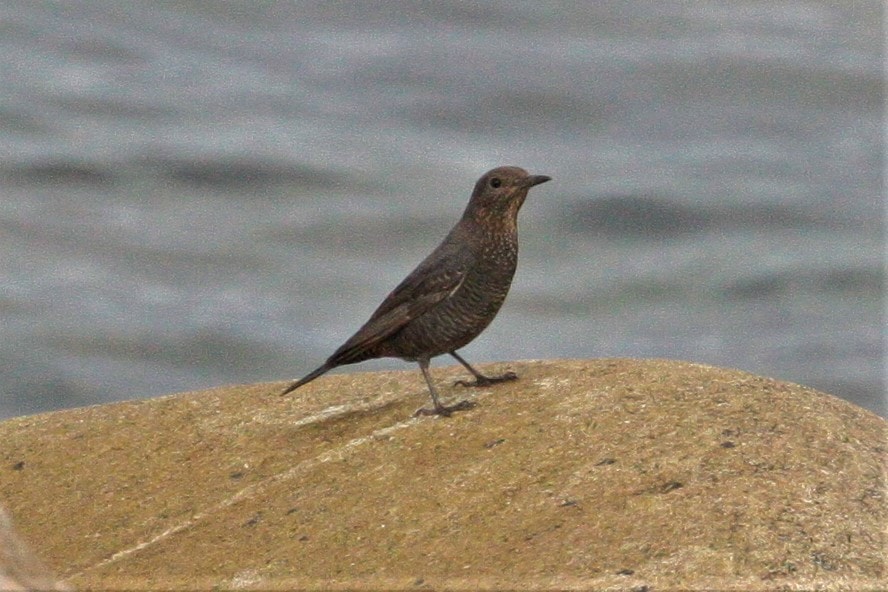 The Blue Rock Thrush on St Mary's proved frustratingly elusive during its five-week stay (Paul Freestone).
My eyes at the time – a hundred miles up the road in north-eastern Cornwall, waiting to come down to Scilly – were on a series of Atlantic lows coming across from Newfoundland, likely carrying North American passerines in their wake. A Blue Rock Thrush, from an entirely different point of origin, must have been as unexpected for the finder as it was for all the birders around the country whose hopes of hitting the ground running at the start of the forthcoming 'Scilly Season' were invested in the transatlantic weather to the west.
What a shame it ended up proving to be extremely difficult to see throughout the entirety of its protracted five-week stay – my own experiences of it were a couple of 10-second flight views on a day trip from St Agnes, three weeks after it had originally appeared.
Those weather systems forecast for the start of October were practically guaranteed to bring American landbirds to Scilly, and they did indeed, though unfortunately not in times or places that were conducive to a St Agnes-based birder like myself. In fact, the first two weeks of October produced at least five successive 'weather hits' from the Atlantic in the space of 11 days, increasing the chances of long-distance Nearctic vagrants being picked up this side of the water.
Blackburnian Warbler, Ovenbird and Upland Sandpiper turned up on nearby islands in north-west France – tantalisingly close to us. A Black-and-white Warbler was seen by non-birders on St Martin's and both Swainson's Thrush and American Buff-bellied Pipit were seen all too briefly by single observers on the main island of St Mary's. A Yellow-billed Cuckoo, also on St Mary's, was the first notable American bird to be seen on Scilly this year by more than just the first people to have found it! Even then, though, it took this author three day trips from St Agnes before he could finally say he had seen it …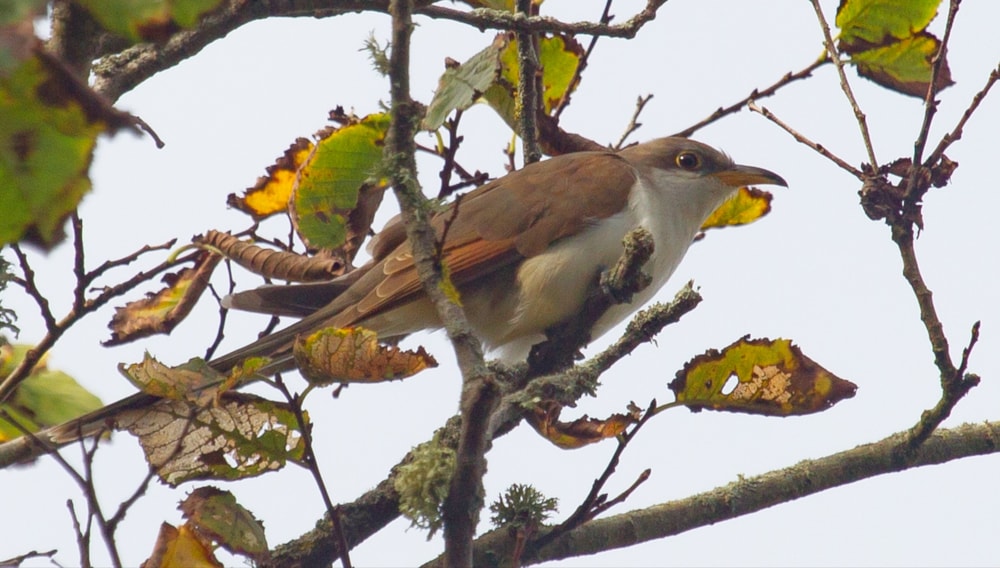 This Yellow-billed Cuckoo, also on St Mary's, was similarly hard to see, taking Graham three trips from St Agnes to connect (Chris Griffin).
That third trip for the cuckoo was turned into a long weekend on St Mary's for myself, Jamie Partridge and Laurence Pitcher. Our chosen patch of St Agnes had continued to prove unusually quiet in the first fortnight of the month, a famine relieved only momentarily by the appearance of a young male Blue-winged Teal late one afternoon. Even that had left for St Mary's the following morning, at the same time the three of us set sail across the sound.
After missing the cuckoo at the lifeboat station the day it arrived, and missing it at Lower Moors a couple of days later, this particular Saturday morning we managed to duck, weave and contort ourselves among the low branches and vines of the Dump Clump long enough to have 20 excellent minutes peering through a narrow gap to observe this unusually perky North American megastar, as it picked insects off the sallows.
Just a short walk around the corner, in Old Town churchyard, a Red-eyed Vireo – that had first been found on Peninnis three days earlier – gave itself up after a short wait. It was the first of four seen across the islands this October. After the vireo came a Spotted Crake at point-blank range in the tangled ditches of Shooter's Pool, Lower Moors, before a freshly-arrived, moulting juvenile White-rumped Sandpiper was seen on the high tide wrack beneath Halangy Village, completing a thoroughly satisfying day's birding and helping somewhat to redress the balance of the tragically birdless first two weeks on St Agnes.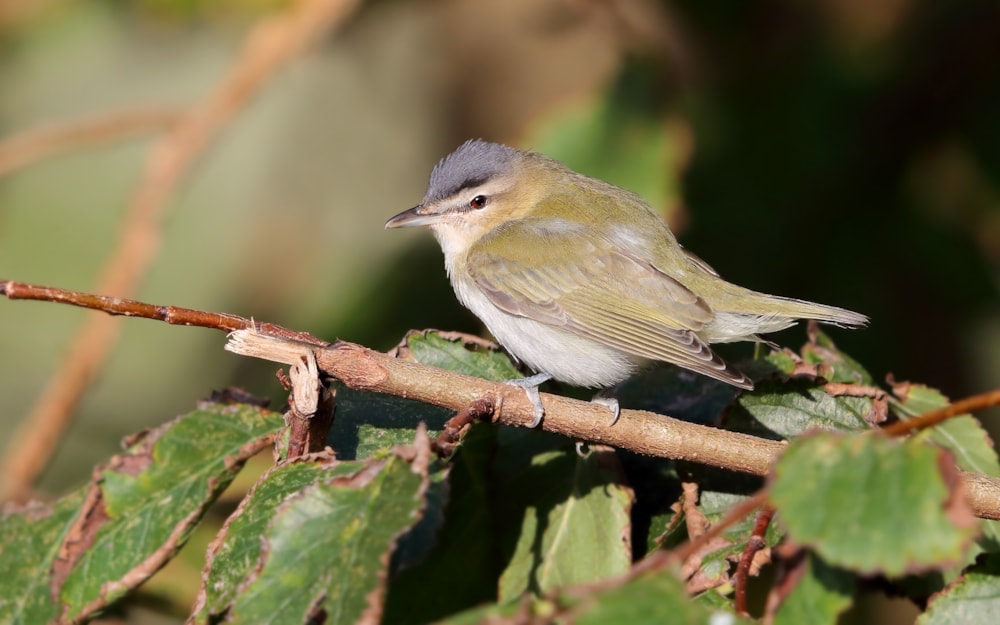 No fewer than four Red-eyed Vireos were logged on Scilly this autumn (Kit Day).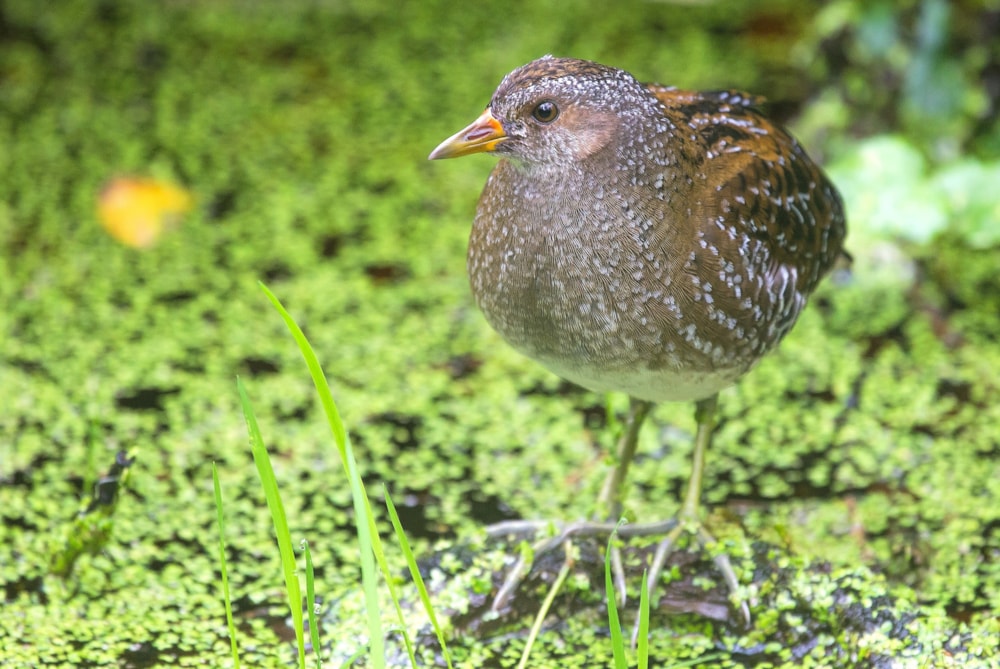 This showy Spotted Crake at Lower Moors, St Mary's, entertained many visitors to the isles during October (Chris Griffin).
While I was finally catching up with brief, distant views of Blue Rock Thrush on the Garrison next morning (now mid-October), the growing list of impressive birds added a further twist with the appearance of a young male Rose-breasted Grosbeak which, like the Black-and-white Warbler five days earlier, was on St Martin's. Having seen a hundred in Canada in the spring, I turned down the opportunity to join my friends in going to see it next day, spending a few more hours in the bank on St Mary's instead, seeking (unsuccessfully) to add to the cast. Typically, the grosbeak gave everyone the runaround for the five days it was seen, and some had to go back a second time to secure a sighting.
By the time the three of us got back to St Agnes on the Monday, a female Subalpine Warbler – another remarkably elusive bird – had turned up at Higher Town, though it had gone absent in the first 24 hours following its discovery. Determined to locate it myself, I had a day of catching the merest glimpses of it darting into dense cover. At the same time, an Arctic Warbler I'd seen for just a few seconds in our Rosevean Cottage garden with Laurence and Lee Amery evaded further sightings. The 'why is everything such hard work this year?' theme was still very much at play.
A wader, considered by some to be a Spotted Sandpiper, appeared on Browarth late one afternoon and the identity proved accurate after a stealthy pursuit by Jamie and Laurence the next morning. I had 15 minutes of very enjoyable views of it, all to myself, the first morning, but again, in keeping with the current nature of event (despite it being recorded for each of the next four days and despite looking for at least an hour on each of those days) I never saw it again.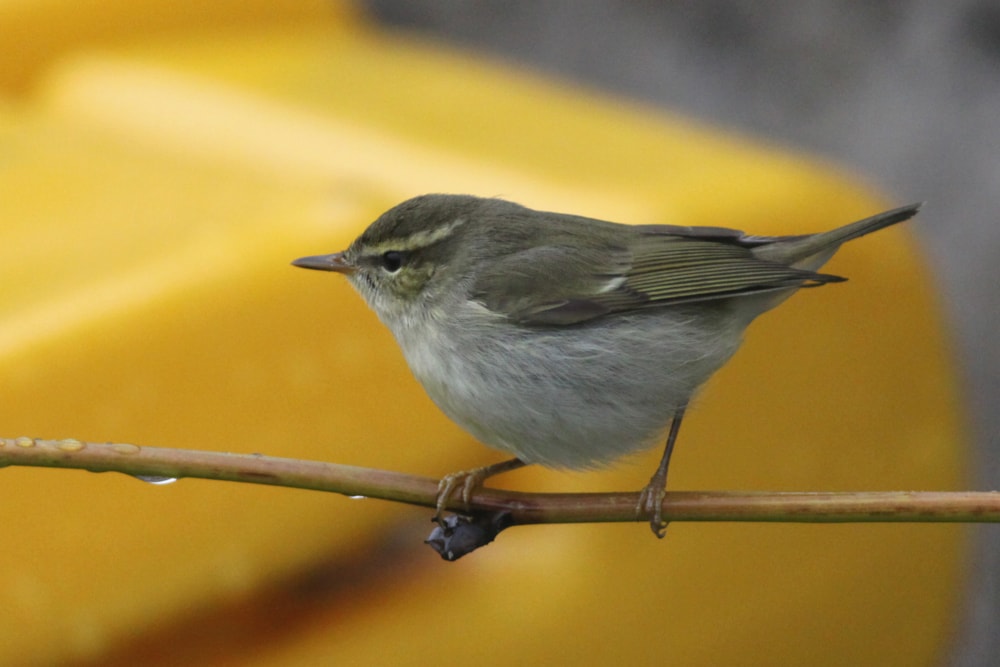 Graham found an Arctic Warbler, though annoyingly it only showed for 20 seconds (David Parnaby).
However, on its first morning, I did go on to finally manage 20 minutes' worth of excellent views of the Subalpine Warbler, feeding in the open at the edge of a long grassy field, for a fine Nearctic-meets-Western Palearctic double. Though not the prettiest example of its kind from photographs, in the field, there were subtle hints of lavender grey and pink to the head and underparts respectively that made it that much more attractive through binoculars than on a screen.
The transatlantic winds that had been so prevalent in the first half of October gave way to a slight touch of north-easterly by week three. With a Canadian sandpiper and a Mediterranean warbler still temporarily residing on the island, it was a great afternoon when the fourth Red-flanked Bluetail for St Agnes – and the ninth for Scilly – arrived. As always, this was one of the quintessential birds of the autumn. Found by artist Alan Hayden in the garden of the house I've lived in for the past 11 winters, it took an anxious two hours of searching before the 25 birders staying on the island stood in a large semi-circle and watched an excellent 15-minute performance, from an inimitable species that seems to epitomise the satisfaction of late autumn.
As I've said here before, usually the later it gets in the month of October, the more likely it is that birders on Scilly are guaranteed to see arriving migrants from the mainland. This is the season when thrushes and Chaffinches are at their most numerous, when Common Starlings sometimes invade in their thousands and when numbers of Common Chiffchaffs and Goldcrests can get into three figures across the islands.
This is also the time when what some people call 'birder's birds' are most up for grabs. Species like Richard's Pipit, Little Bunting and Pallas's Warbler, that were once considered rare enough to warrant a description being sent to the BBRC for analysis, have now been found to be annual visitors in some numbers and can reasonably be expected to be found by the active birder who still has the chance to get out in the field at this later stage of the year. With just a handful of us left on St Agnes, I tend to step up a gear and become a bit more active than I might be earlier in the month, when the island is saturated with active birders.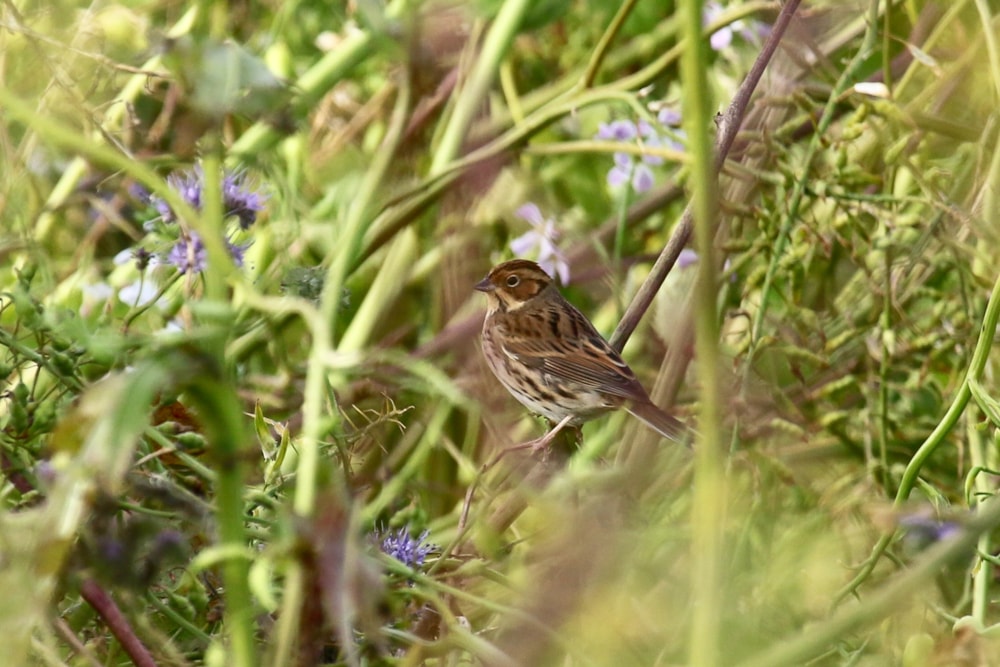 Little Bunting was one of several scarcities that Graham located in late October (Jonathan Farooqi).
This year, I picked up what might have been regarded as a satisfying collection of ex-BBRC birds – the only trouble was that the theme of the autumn, set in motion by the Blue Rock Thrush first disappearing into the distance the instant one clapped eyes on it, was very much upheld. In a week of weather that suggested building an ark might be more practical than going birding, I bumped into a Pallas's Warbler, a Greater Short-toed Lark and the expected Little Bunting and Richard's Pipit – none of which I saw for any more than a minute.
The one-day Pallas's going missing for six hours after I'd glimpsed it in the treetops of the Parsonage early one morning was particularly galling. Even when Kathy Young-Powell finally managed to relocate it in Barnaby Lane mid-afternoon, I still only got 20 seconds of viewing from underneath. A bird like that you want to see well and in decent light, if possible. These birds I mention were more like distant record shots for a photographer, rather than anything I could enjoy, hence the reason for choosing the word 'curious' at the start of this report. They will look good in print in next year's bird report, but they were largely forgettable episodes for me, lacking the intimacy and better views that linger in the memory.
Part 2 continues soon ...