I've been meaning to see one of Europe's most famous birds, the regularly returning Black-browed Albatross, ever since it first appeared on the German island of Heligoland in 2014. For the first few years this proved a near-impossibility, with the bird usually appearing on Heligoland in the middle of the working week and rarely staying more than a day or two, so I didn't even attempt the journey, let alone see (or dip!) the albatross.
During this time, the bird also made a couple of very brief appearances in Britain: at Minsmere, Suffolk, on 12 July 2015 and on Fair Isle, Shetland, on 28 May 2016. However, it refused to give British birders a proper chance to see it on home soil.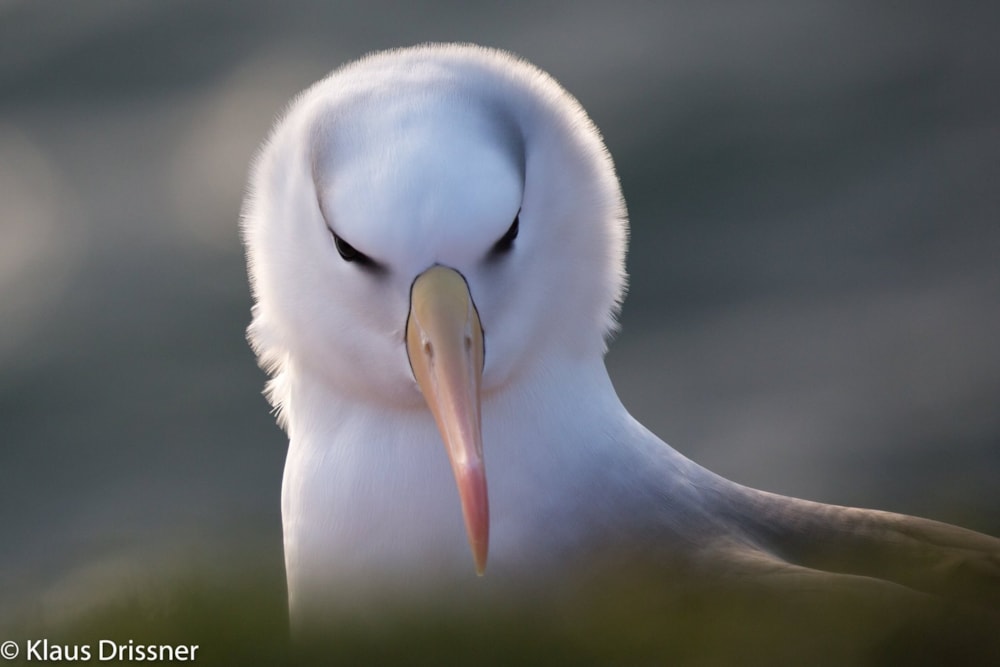 Though the Black-browed Albatross would show very well at times when it visited Heligoland, it was unpredictable and usually didn't hang around for long (Klaus Drissner).
In 2017, its habits altered somewhat, and it became a more regular sight on the slightly more accessible German island of Sylt, having visited there for the first time in 2016. Even then, it was often unpredictable and would only pop in for a day or two, often taking long excursions elsewhere … such as the Yorkshire coast, where it was seen at Bempton Cliffs on 13 May and 28 June, the latter visit coinciding with a leisurely northward cruise up the English and Scottish east coasts. Still, though, a truly twitchable opportunity didn't present itself to British birders, myself included.
However, several friends of mine successfully twitched the albatross on Sylt during summer 2017. I had quite a busy summer last year and once again the opportunity to visit the island didn't present itself. I vowed to make it a priority for 2018, and was particularly pleased to hear that the bird had returned to Sylt on 4 April. Almost immediately I booked cheap flights to Hamburg for the weekend of 28-29 April (£70 return, with a bag, on Ryanair), and the stage was set. Even if the bird was as intermittent as ever in its appearances, it was surely worth being on Sylt for a couple of late April days in the hope that it would call in at some point.
Fortunately, the albatross became far more reliable than ever, and it was on view immediately when I arrived at sunrise on Saturday 28th. It was sitting on the seawall and looking every bit as absurd as I'd hoped. A local told me that between its arrival on 4th and my visit, it had only been away from its favoured lake at Rantumbecken on three dates. Clearly there has never been a better time to twitch the bird, although it remains to be seen what it decides to do for the rest of the summer.
What quickly struck me about the albatross was its unerring interest in the local Mute Swans. Some of you may remember that the bird was seen with swans when it visited Minsmere in 2015, while reports of its regular appearances at Agger Tange, Denmark, in late summer 2016 often carried the 'with Mute Swans' caveat. Since then, several people have commented to me that it's always worth checking the swan flocks for this particular bird. I nodded, smiled, even laughed, but thought nothing more of it until I witnessed it myself.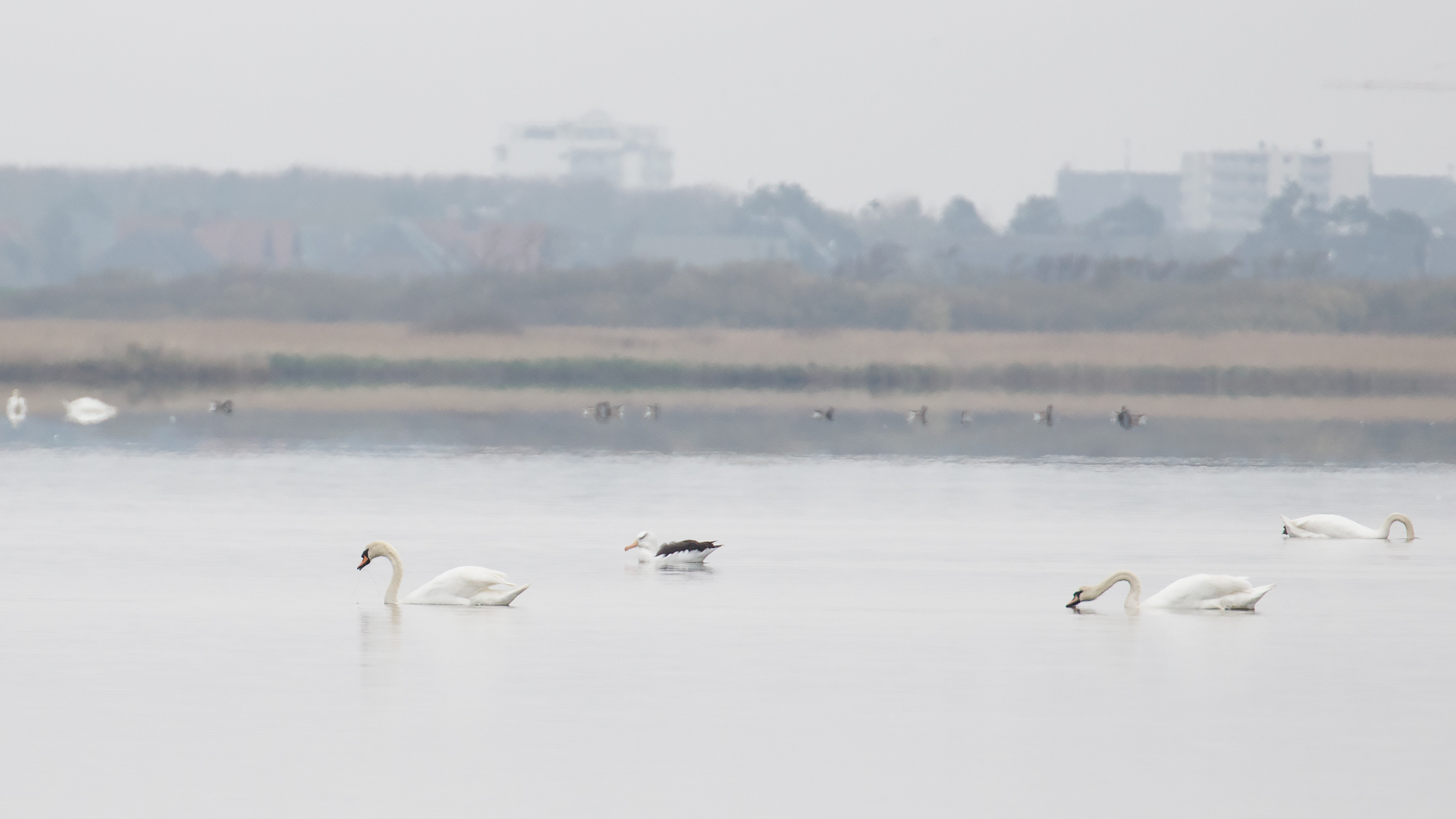 Black-browed Albatross swimming with Mute Swans at Rantumbecken, Sylt, Germany (Josh Jones).
Now I've seen it, I can only agree. This albatross really likes swans! However, I'm not so sure that the feeling is mutual. When the albatross gets up to exercise its wings at Rantumbecken, it will fly around for anything from a few minutes to the best part of an hour, but will almost always conclude by landing with a group of swans. Small flocks of these birds are scattered around the lake, which is a couple of kilometres across, and often the albatross will make for the largest congregation. As it comes into land, it's easy to see the Mute Swans starting to get a bit worried. They get defensive, raise their wings in an attempt to seem as imposing as possible, arch their necks and begin hissing. The poor old albatross is quite clearly only being sociable, yet its attempts at making friends are routinely given the cold shoulder.
Over the course of the morning, I watched the albatross fly from flock to flock, almost as if seeking friendship and acceptance. While not desperate, its persistence clearly demonstrated that it felt it belonged among the swans – whether it simply has a 'thing' for them, or genuinely considers itself one of them, is open to speculation. In theory, this is the time when it should be coupling up, and its antics, while not openly sexual, suggested that hormones were at work. When landing on the islands, for example, it would start rearranging sticks as if with half a mind on building a nest.
The Mute Swans, on the other hand, are still not used to the albatross, despite this being its third year of visiting Sylt. As birders will know, very few creatures have the ability to generate genuine nervousness in Mute Swans. Their sheer size means they are usually relaxed, although at times can be aggressive to other species. However, the consistent feeling is that they are confident, authoritative birds, knowing they are the top dogs in Europe with little to fear.
Maybe it's the albatross's bulk that intimidates them, or its unfamiliar appearance – or perhaps a combination of both. Every time the albatross got close to a swan, the latter would become noticeably nervous and edgy, clearly not sure what to make of this giant visitor from the Southern Hemisphere. The swan would usually start slowly swimming away, but the albatross would follow, generally resulting in the swan turning around, raising its back and hissing. Eventually, the albatross would get the message and either swim away or take to the air to find some other swan to 'bother'. Bizarre, fascinating and also rather amusing to watch.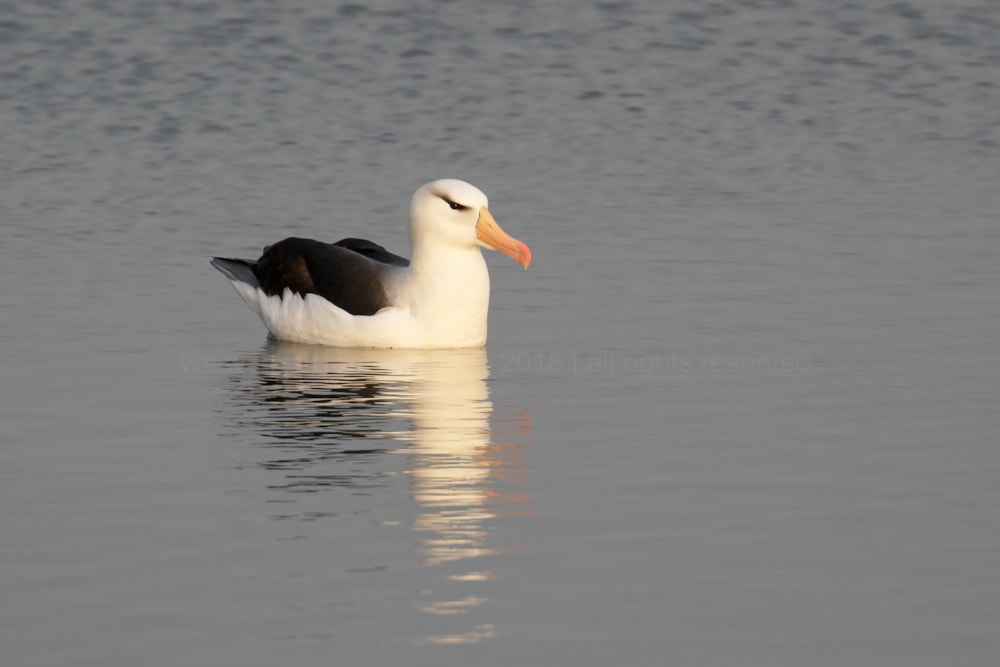 Black-browed Albatross, Sylt, Schleswig-Holstein, 28 April 2018 (Josh Jones).
My successful trip to Sylt got me thinking about future British appearances by this bird. It has now visited Bempton Cliffs twice, but there has been a noticeable shift in its behaviour between 2016 and 2018. Previously, it would most regularly visit Heligoland, where it would sit among the Northern Gannets, but it seems now that it much prefers Sylt and its Mute Swans for rest, recuperation and socialising – so far in 2018, it has only visited Heligoland twice, and both times briefly. Therefore, when this bird becomes more restless a bit later in the summer and begins to explore more widely (as it presumably will do; it's done the same since 2014), birders in eastern Britain should be just as vigilant looking for this bird on a coastal scrape or lagoon as on a seabird-filled cliff, particularly if the aforementioned lagoon has Mute Swans – they really do seem to be an attraction for this magnificent beast.
Should it not appear in Britain this summer, I couldn't recommend visiting Sylt highly enough. It's a very pretty island, popular with German tourists, and the birding is excellent. The mudflats and lagoons hold many thousands of waders, while spring and autumn passerine migration must be superb at times. There were also hundreds of Barnacle Geese, singing Grasshopper Warblers (Bluethroats also occur) and breeding Arctic Terns and Black-tailed Godwits.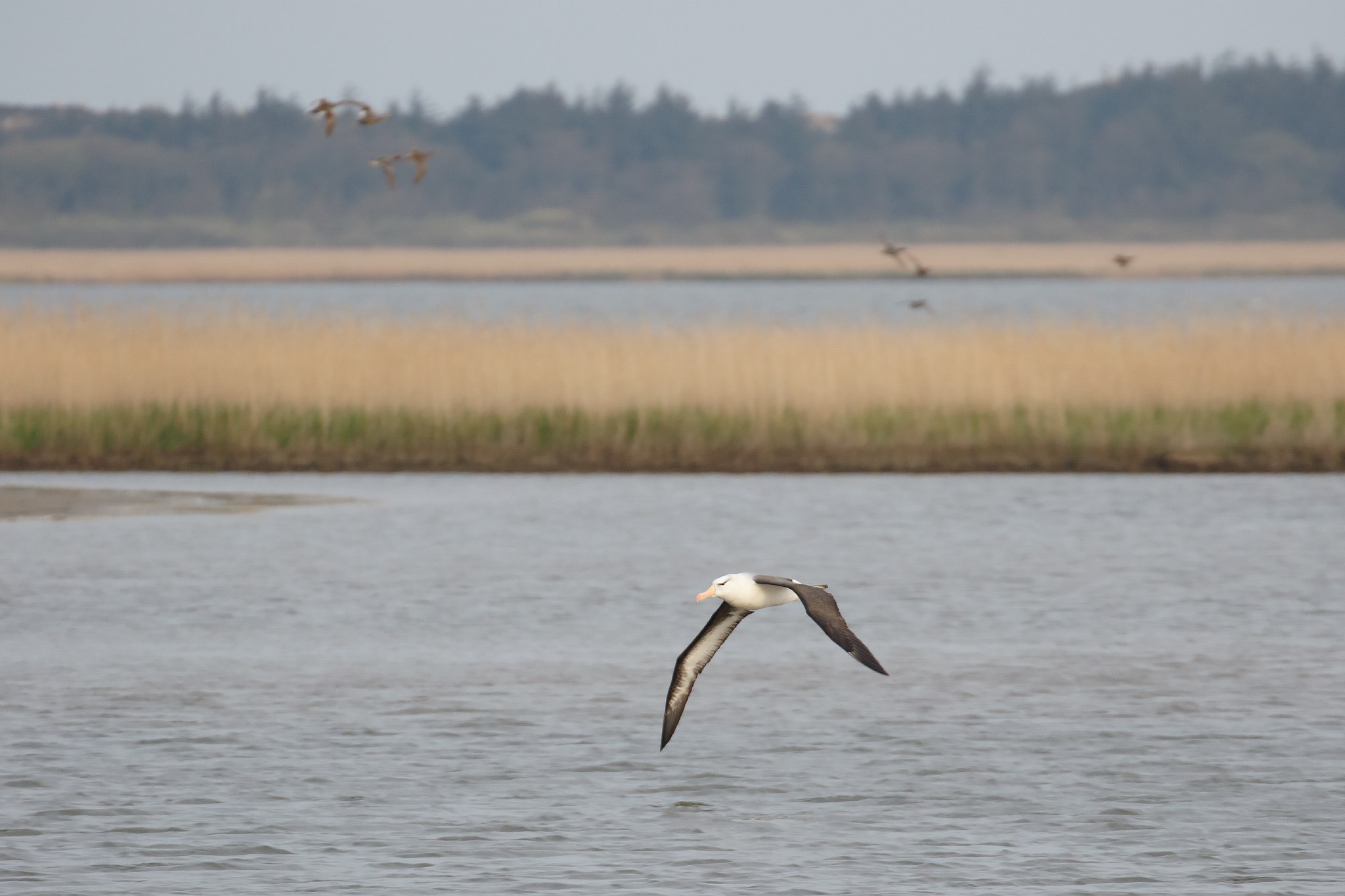 Black-browed Albatross, Sylt, Germany, 28 April 2018 (Josh Jones).