Birdwatch - March 2023
---
Issue Media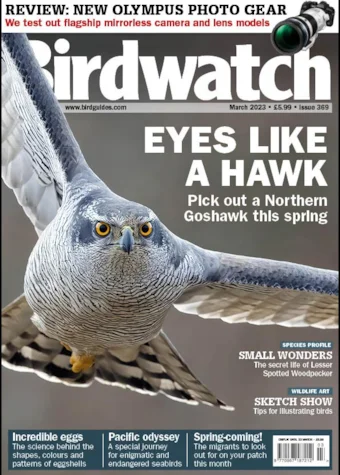 Issue Meta Data
Issue Number:

219

On Sale:

23/02/2023

Digital Edition:

£5.99

Print Edition:

£5.99 (plus postage)
Issue Summary
Finding Lesser Spotted Woodpeckers, identifying Northern Goshawks, the science behind eggshells and an introduction to illustrating birds all feature in the March issue of Birdwatch.
On Sale: 23/02/2023
---
Purchase Options
Print Edition: (plus postage) £5.99
Select Postage
---
Why Not Subscribe?
Ensure you never miss an issue of your favourite birding magazine by taking out a great value subscription.
---
What's in this Issue?
Searching for the aphid woodpecker
Lesser Spotted Woodpecker is becoming trickier to see in England. Species experts Ken and Linda Smith profile the current status of this charming bird and give tips on how you can find them this spring.
Understanding eggshells
Birds' eggs come in a huge variety of sizes and with an even more diverse array of colours and patterns. Dr Steven Portugal takes a closer look.
Field ID notes: Northern Goshawk
Ed Stubbs offers advice on how to find this impressive raptor in early spring and how to separate it from the more widespread Eurasian Sparrowhawk.
Exploring avian art
How do you go about illustrating birds effectively? Artist Miles Cluff discusses the process and how to get started.
Going low for waders
Teresa Frost of the BTO outlines the importance of WeBS Low Tide Counts for assessing populations of estuary birds.
Voyage of discovery
Seabird expert Bob Flood ventured to the Pacific in search of some of the world's rarest tubenoses.