Birdwatch
---
Issue Media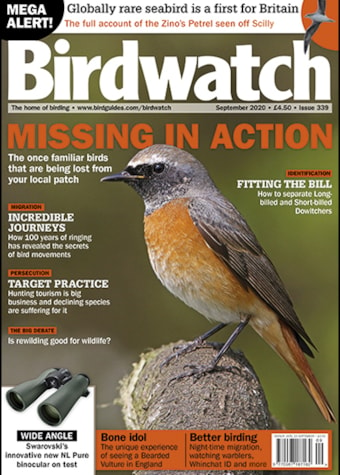 Issue Meta Data
Issue Number:

189

On Sale:

27/08/2020

Digital Edition:

£4.99

Print Edition:

£0.00 (plus postage)
Issue Summary
September 2020: find out about the birds missing from your local patch, the scandal of hunting tourism and Swarovski's new NL Pure binocular.
On Sale: 27/08/2020
---
---
Why Not Subscribe?
Ensure you never miss an issue of your favourite birding magazine by taking out a great value subscription.
---
What's in this Issue?
■ Remarkable recoveries
Ornithologists have been ringing birds in the UK for more than 100 years, providing numerous invaluable insights into the amazing feats of migration many species undertake every year. As autumn passage really gets underway this month, Ross Ahmed looks at some of the most impressive acts of migration revealed by the BTO's Ringing Scheme.
■ The long and short of it
Nearctic in origin, both Long-billed and Short-billed Dowitchers are rare vagrants to Western Europe, though one is more regular than the other. Very similar, especially in adult plumages, Julian Hough provides all the information you need to distinguish these sought-after waders should you be lucky enough to find one.
■ Killing time
We are witnessing a devastating loss of biodiversity, with many birds and other animals severely declining in numbers. Despite this, however, hunting tourism is big business and seemingly more popular than ever, both here in the UK and further afield. Natalino Fenech examines this worrying state of affairs and asks what can be done about it.
■ Woodland losses
Recent decades have seen declines in breeding species and perhaps also wintering birds in Epping Forest. Simon Papps looks at why this might be and asks whether others are seeing similar patterns elsewhere in the UK.
Plus: more thought-provoking comment from columnists Dominic Mitchell, Bill Oddie, Mark Avery and Lucy McRobert, our latest photo challenge, the team at BirdGuides provides round-ups of July's birding highlights from Britain, Ireland and the wider Western Palearctic, news, views and reviews, and your birding questions answered by our expert panel.