Birdwatch
---
Issue Media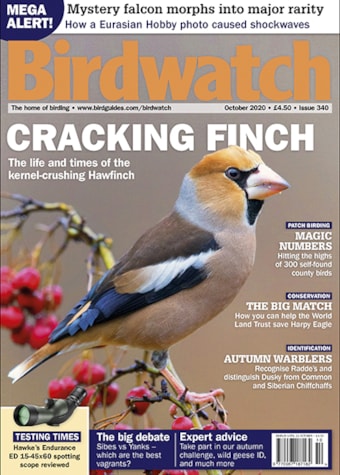 Issue Meta Data
Issue Number:

190

On Sale:

24/09/2020

Digital Edition:

£4.99

Print Edition:

£0.00 (plus postage)
Issue Summary
October 2020: everything you ever wanted to know about Hawfinch, finding 300 birds in your county, recognising autumn warblers and more!
On Sale: 24/09/2020
---
---
Why Not Subscribe?
Ensure you never miss an issue of your favourite birding magazine by taking out a great value subscription.
---
What's in this Issue?
■ 300 selfies
With migrants on the move and the high chance of rare or even vagrant species showing up, October is the ideal month to find your own birds in your local area. Graham Catley takes a look back at his self-found list for his home county, starting with a Hoopoe in '69 and ending with that all-important 300th this summer. But what was that 300th species?
■ Common and Siberian Chiffchaffs and Dusky and Radde's Warblers
Small, brown and typically skulking in the undergrowth, these very similar leaf warblers are on the move in autumn and now is the time to look out for them. Use our detailed identification photo guide to ensure you have all the skills to recognise each species in the field.
■ Cherry picking
The UK's largest finch, but also one of our hardest to see, Hawfinch is a stunning beast with an impressively large bill that it uses to crack open large seeds, especially cherry. The species is Red-listed in the UK, where its numbers are sadly declining. David Callahan profiles this elusive bird that is high on any birder's 'most-wanted' list.
■ Double the money
This year the World Land Trust will once again be running its Big Match Fortnight, a funding drive in which all donations are matched, doubling the amount raised. The WLT's Katie Ford-Thomas reveals this year's project and explains how you can get involved.
Plus: more thought-provoking comment from columnists Dominic Mitchell and Mark Avery, our latest photo challenge, the team at BirdGuides provides round-ups of August's birding highlights from Britain, Ireland and the wider Western Palearctic, news, views and reviews, and your birding questions answered by our expert panel.