Birdwatch
---
Issue Media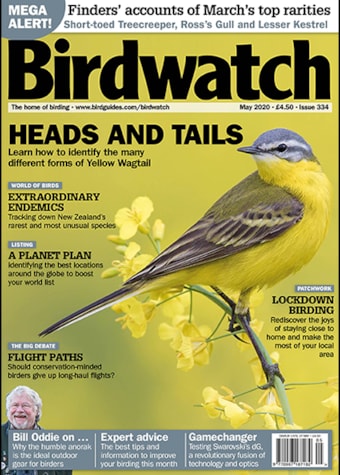 Issue Meta Data
Issue Number:

185

On Sale:

23/04/2020

Digital Edition:

£4.99

Print Edition:

£0.00 (plus postage)
Issue Summary
May 2020
On Sale: 23/04/2020
---
---
Why Not Subscribe?
Ensure you never miss an issue of your favourite birding magazine by taking out a great value subscription.
---
What's in this Issue?
The big stories
Finders' accounts of March's top rarities: Short-toed Treecreeper, Ross's Gull and Lesser Kestrel.
Identification: Heads and tails
Learn how to identify the many different forms of Yellow Wagtail.
Lockdown birding
Rediscover the joys of staying close to home and make the most of your local area.
World of birds
Extraordinary endemics: tracking down New Zealand's rarest and most unusual species.
The big debate
Should conservation-minded birders give up long-haul flights?
Comment
Mark Avery and Dominic Mitchell both address how COVID-19 is changing birding, while Lucy McRobert considers climate change.
Spring itinerary
Our county guide to Cumbria provides some great 'armchair' birding while we're all locked down.
Bill Oddie on ...
Why the humble anorak is the ideal outdoor gear for birders.