Birdwatch
---
Issue Media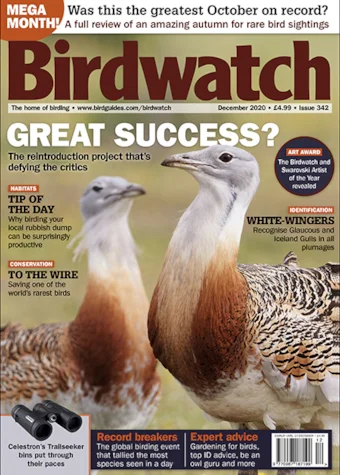 Issue Meta Data
Issue Number:

192

On Sale:

26/11/2020

Digital Edition:

£4.99

Print Edition:

£0.00 (plus postage)
Issue Summary
December 2020: Great Bustard in Somerset, separating white-winged gulls, and why you should be birding on rubbish dumps -- our December issue is on sale now! Great Bustard cover photo by Markus Varesvuo.
On Sale: 26/11/2020
---
---
Why Not Subscribe?
Ensure you never miss an issue of your favourite birding magazine by taking out a great value subscription.
---
What's in this Issue?
■ Bringing back bustards
Great Bustard was very much a part of British wildlife until the 1840s, when the species was lost in Britain due to hunting and changes in agriculture. The Great Bustard Group was set up in 1998 to explore the possibility of reintroducing the species, and earlier this year Ed Stubbs visited the group at its Salisbury Plain stronghold to see how successful the project has been.
■ Glaucous and Iceland Gulls
Gulls can be notoriously tricky to identify, with an often bewildering range of plumages, but that's no reason to shy away from them. These two 'white-wingers' are regular fixtures in Britain in winter, but can appear very similar. Josh Jones provides all the information you need in order to recognise both species in all plumages.
■ That's rubbish!
We're all staying a bit closer to home with our birding at the moment, so following on from Mike Alibone's suggestion for birding on building sites, Dominic Mitchell looks at why you should check out your local refuse collection site – he did find a first for Britain on one after all!
■ Birdwatch Artist of the Year
This year's Natural Eye, the annual exhibition of the Society of Wildlife Artists, is taking place both online and at London's Mall Galleries, with social-distancing measures in place. Find out which of the entries won the coveted Artist of the Year award and see a selection of our favourite artworks.
Plus: more thought-provoking comment from columnists Dominic Mitchell, Mark Avery and low-carbon birder Javier Caletrío, our latest photo challenge, the team at BirdGuides provides round-ups of October's birding highlights from Britain, Ireland and the wider Western Palearctic, news, views and reviews, and your birding questions answered by our expert panel.