Birdwatch
---
Issue Media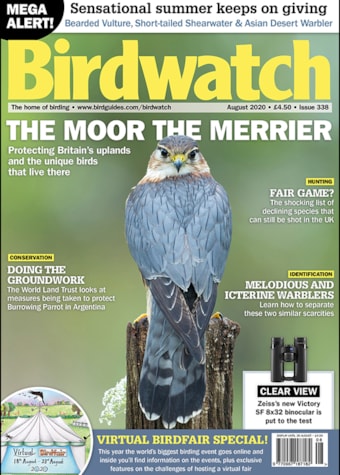 Issue Meta Data
Issue Number:

188

On Sale:

23/07/2020

Digital Edition:

£4.99

Print Edition:

£0.00 (plus postage)
Issue Summary
August 2020 VIRTUAL BIRDFAIR SPECIAL! Find out all about this year's unique online Birdfair
On Sale: 23/07/2020
---
---
Why Not Subscribe?
Ensure you never miss an issue of your favourite birding magazine by taking out a great value subscription.
---
What's in this Issue?
■ Up and away
The latest addition to the long-running and highly collectible Collins New Naturalist series has recently been published. Ian Newton takes a long-awaited look at the uplands and its birds, and in this exclusive article for Birdwatch, the author discusses these unique British landscapes and the multitudes of bird species that live, forage and nest on them.
■ Warbler watch
Greenish-brown above and yellowish below and often skulking in vegetation, Melodious and Icterine Warblers can be hard to distinguish, and adding Willow Warbler into the mix makes things even trickier. The last is Britain's commonest breeding warbler, while the first two are scarce passage migrants and make for a good find for any birder. Dominic Mitchell provides all the information you need to separate all three similar-looking species.
■ Open season
Grouse-shooting season opens this month – the 'Inglorious 12th' – with partridges following on 1 September and pheasants in October. However, it is a sad and worrying fact that several of the species that can be legally shot at this time are listed as Birds of Conservation Concern. Julian Thomas takes a look at this apparent failure of wildlife protection.
■ Virtually present
The coronavirus pandemic shut down activities across the world, but the organisers of both Birdfair and Hen Harrier Day have turned to technology in order to host their respective events. We provide a round-up of what's on offer from both.
Plus: more thought-provoking comment from columnists Dominic Mitchell, Bill Oddie and Mark Avery, our latest photo challenge, the team at BirdGuides provides round-ups of June's birding highlights from Britain, Ireland and the wider Western Palearctic, news, views and reviews, and your birding questions answered by our expert panel.