Birdwatch
---
Issue Media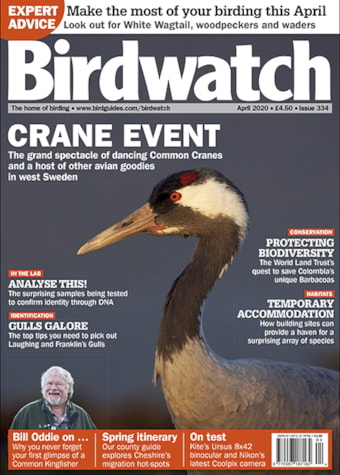 Issue Meta Data
Issue Number:

184

On Sale:

26/03/2020

Digital Edition:

£4.99

Print Edition:

£0.00 (plus postage)
Issue Summary
April 2020
On Sale: 26/03/2020
---
---
Why Not Subscribe?
Ensure you never miss an issue of your favourite birding magazine by taking out a great value subscription.
---
What's in this Issue?
The big stories
Astonishing stories from the wider Western Palearctic, including a regional second and the appearance of a lonely Siberian Crane.
World of birds
Dancing Common Cranes and a host of avian goodies to be found in west Sweden
Identification: gulls
Learn how to pick out Laughing and Franklin's Gull
Comment
Mark Avery asks if the struggling Hen Harrier will soon see a change in fortune in light of the many unofficial Hen Harrier Days due before the 'official' one in August. Whilst Dominic Mitchell contemplates trains, planes, automobiles and the value of responsible tourism by birders
Spring itinerary
Our county guide to Cheshire takes you to the best migration hot spots
Bill Oddie on ...
Why he'll never forget that first special glimpse of a Common Kingfisher