World Sparrow Day - 20th March
2b296cbb-cf6f-4cea-9d1c-6f3538c1cd49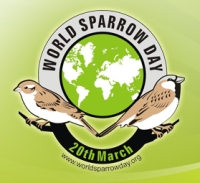 World Sparrow Day
(WSD) was celebrated on 20th March across the globe, raising public awareness about the decline of the
House Sparrow
and throwing light on the problems faced by the species.
The first World Sparrow Day was celebrated on 20th March 2010, with national and international organisations, NGOs, clubs, societies, universities, schools and individuals organising awareness programs.
World Sparrow Day also has a broader vision to provide a platform where people working on the conservation of the House Sparrow and other common birds can network, collaborate and exchange conservation ideas that will lead to better science and improved results. It aims to provide a meeting ground for people from different parts of the world to come together and form a force that can play an important role in advocacy and in spreading the awareness on the need of conserving common biodiversity or species of lower conservation status.

House Sparrow, Charmouth, Dorset (Photo: Gary Stewart)
The theme for WSD 2011 is 'Chirp for the sparrow! Tweet for the sparrow'. This is a call to spread the word to save the sparrow via everyday communication devices: mobile phone, email, blog, Twitter and every other possible platform. Ideas for what you can do to help are available on the WSD website.
Content continues after advertisements
To help celebrate World Sparrow Day, the BTO's Garden BirdWatch survey has provided new results of the fortunes of these birds in our gardens. The number of householders who have lost their House Sparrows between summer and autumn has doubled since 1995, supporting the theory that this is the crunch period. The BTO's Nest Record Scheme shows that brood sizes of House Sparrows have declined steadily since the 1960s, with a shortage of invertebrate food with which to feed young in urban areas thought to be an important factor. Food scarcity can also cause chicks to fledge in poorer condition, thereby reducing their survival prospects. With increased demand for off-street parking and so-called 'garden grabbing' (development of gardens for housing), feeding areas for urban sparrows have been reduced. Moreover, use of pesticides and planting of non-native evergreen vegetation are likely to have further diminished the availability of invertebrates for these birds.

The reporting rate of House Sparrows in English gardens is in chronic decline (graphic: BTO).
The results show big seasonal and geographical differences in the downward trend of this species. Overall, however, almost one in four British and Irish gardens that hosted a House Sparrow in 1995 no longer have any visiting. The decline has been most marked in England, with an average of 86% of gardens visited between 1995 and 1998, down to 66% over the past four years. Over the same period, however, only around one in 20 Scottish and Welsh householders have lost their House Sparrows, with 74% and 78% of gardens still occupied in each country, respectively. Preliminary results from gardens in Northern Ireland and the Republic of Ireland suggest that House Sparrows may be faring quite well there too.

The reporting rate of House Sparrows in Scottish gardens is also in decline (graphic: BTO).
Chris Packham, Vice-President of the BTO, commented: "World Sparrow Day brings into focus the evidence surrounding the decline of this iconic garden bird. By monitoring garden birds all through the year, BTO Garden BirdWatch participants have identified summer and autumn as the critical seasons during which House Sparrows are being lost. We need more people to join this Citizen Science project in order to keep a close eye on this much-loved species in future."
Tim Harrison of BTO's Garden BirdWatch added: "The precipitous decline of House Sparrows in England is illustrated starkly in London. Once famed for its large House Sparrow community, fewer than half of Greater London gardens were, on average, visited by this familiar bird in 2010 — a smaller percentage than in any other English region. Clearly, the factors that trouble this species vary in their strength regionally, and these new results highlight the importance of examining these differences more closely."