White-bellied Heron continues to decline
e275a408-8aca-47fa-bd1f-42ba027fbbbe
Conservationists are worried by the increasing disturbance of prime White-bellied Heron habitat in Bhutan.
White-bellied Heron, the world's second-largest heron, is one of the world's rarest birds and is classified as Critically Endangered. It is feared that fewer than 60 individuals remain, with an estimated 24 of these (plus five juveniles) in Bhutan, where it is patchily distributed. Elsewhere, it is found in northern Myanmar. It favours fast-moving mountain rivers.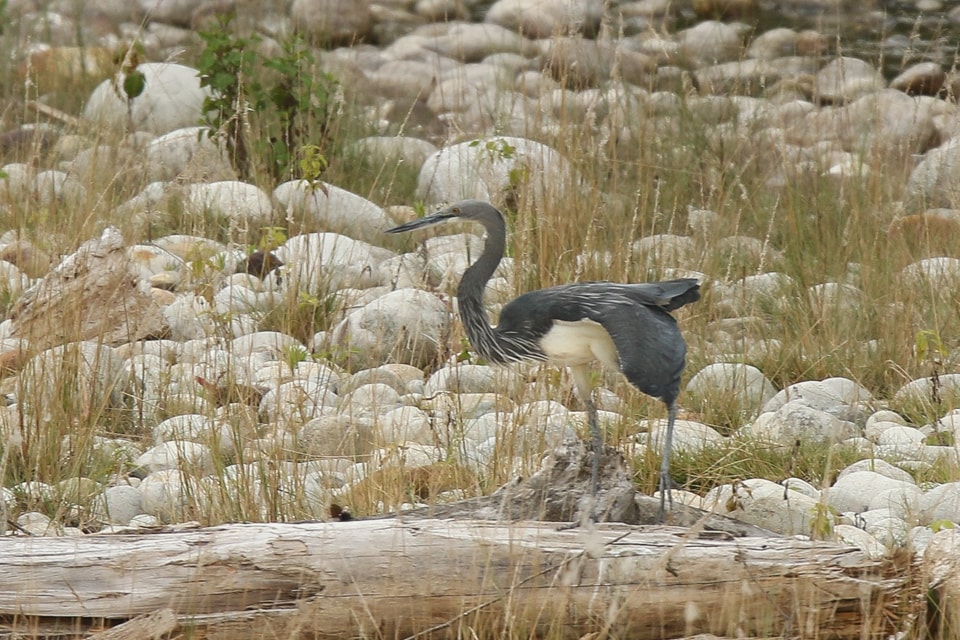 A White-bellied Heron photographed at Punakha, Bhutan, in 2015 (Brian Field).
The area of Phochhu was declared an Important Bird Area in 2014. However, researchers from the Royal Society for the Protection of Nature (RSPN), birders and rafting operators have all suggested that the heron's population at Phochhu and nearby Mochhu has declined over the years.
Hishey Tshering, a local birder, said that he saw up to five individuals in the area in 2001. "Now it is very rare to see even a single [White-bellied Heron] along the Mochhu. In 2016, there were three along the Phochhu. Today, we can see only one and that is also being continually disturbed."
Chief of communications and membership division with RSPN, Tashi Phuntsho, said that the heron was a secretive species that is generally intolerant of humans. "Disturbance from humans and loss of habitat undoubtedly attributed to their extirpation over much of their former range. Threats to these birds are further intensified by the growing tourism activities like rafting and kayaking along the important habitats. There are more than three rafting companies operating along Phochhu and Mochhu rivers in Punakha."
This situation has caught the attention of a group of birders in the country. Tshering Tobgay commented that the threats are being driven by anthropogenic causes. "We are getting late and it will be too late to wait for a few more years. There is a need for our support to bring back White-bellied Heron in Punakha to a stable number."
Content continues after advertisements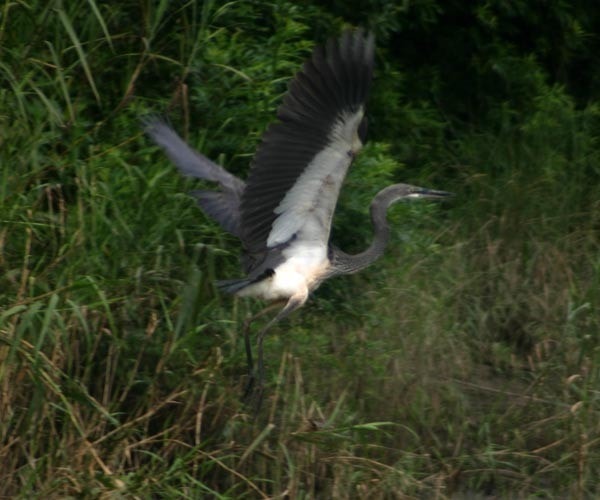 White-bellied Heron is a shy and elusive species that is particularly susceptible to human disturbance (Thet Zaw Naing).
One of the rafting operators in Punakha said that river rafting took place at Phochhu only by request from visitors. Furthermore, locals believe it is unfair to prohibit rafting activities, which form their livelihood, for the sake of a single bird. Rafters are asked not to stop for photography or other activities, but enforcing this is not easy in such a remote area. Furthermore, rafting companies have not been made explicitly aware of the actions required to ensure the bird's conservation.
RSPN monitors the species by collaborating with the community through the Local Conservation Support Group. The initiative has also helped reduce harvest of timber, collection of firewood, fishing and picnicking at the bird's feeding and roosting areas.
The executive director of RSPN, Kinley Tenzin, said that White-bellied Heron is an ambassador of a healthy river ecosystem. He added: "The extremely low population of White-bellied Heron along its habitat area is an indication that the ecosystem of the river and its surrounding is very unhealthy.
"If WBH goes extinct, it is an indication that the river and its surrounding ecosystem are also on the verge of collapsing. Therefore, conservation is not only about saving a particular species but eventually it is all about saving ourselves."