U-turn on Defra plan to control Buzzard numbers
0d4552ce-be9f-484e-9df6-2bede66aa30b
Update: 30th May 2012
Content continues after advertisements
The public steps up for Buzzards
The RSPB is pleased at the news that an outpouring of public concern for a much-loved British bird has encouraged Wildlife Minister Richard Benyon to drop proposals to license the destruction of Buzzard nests, as well as the capture of adult birds on shooting estates.
Martin Harper is the RSPB's conservation director. He said: "We're pleased the minister has listened to people's concerns and acted in the public interest by cancelling this project. This is a strong decision, reflecting the strength of the nation's desire to see Government protecting precious wildlife. The recovery of the Buzzard is being celebrated by the public after many decades of persecution. It is clear they don't want their taxes being spent on removing Buzzards, and the Government has to ensure that no bird of prey will be killed in the name of sport."
"We don't want anything to distract Defra from the pressing task of saving our threatened wildlife. It should be putting its limited resources into areas such as preventing the extinction of Hen Harriers in England. Government-backed research has already concluded that illegal persecution is limiting the populations of Golden Eagle and Hen Harrier. The RSPB believes there are well-tried non-lethal solutions to reducing impacts of Buzzards at Pheasant pens."
Original article
The RSPB is stunned by Defra's plan to allow the destruction of Common Buzzard nests and to permit Buzzards to be taken into captivity to remove them from shooting estates. The Society believes this intervention against one of England's best-loved birds of prey will set a terrible precedent and prove to be a costly and unnecessary exercise. The move by Defra followed lobbying by the Pheasant-shooting industry. Buzzards usually scavenge on animals that have already died, but they will sometimes take young Pheasants that are released for sports shooting.
The Buzzard was eradicated from large swathes of Britain following decades of persecution. Legal protection and a general warming of attitudes towards Buzzards and other birds of prey on the part of many lowland land-managers led to Buzzards recovering across the UK: a fantastic conservation success story. Martin Harper is the RSPB's conservation director. Criticising Defra's proposal, he said: "We are shocked by Defra's plans to destroy Buzzard nests and to take Buzzards into captivity to protect a non-native game bird released in its millions. Buzzards play a minor role in Pheasant losses compared with other factors like collisions with vehicles."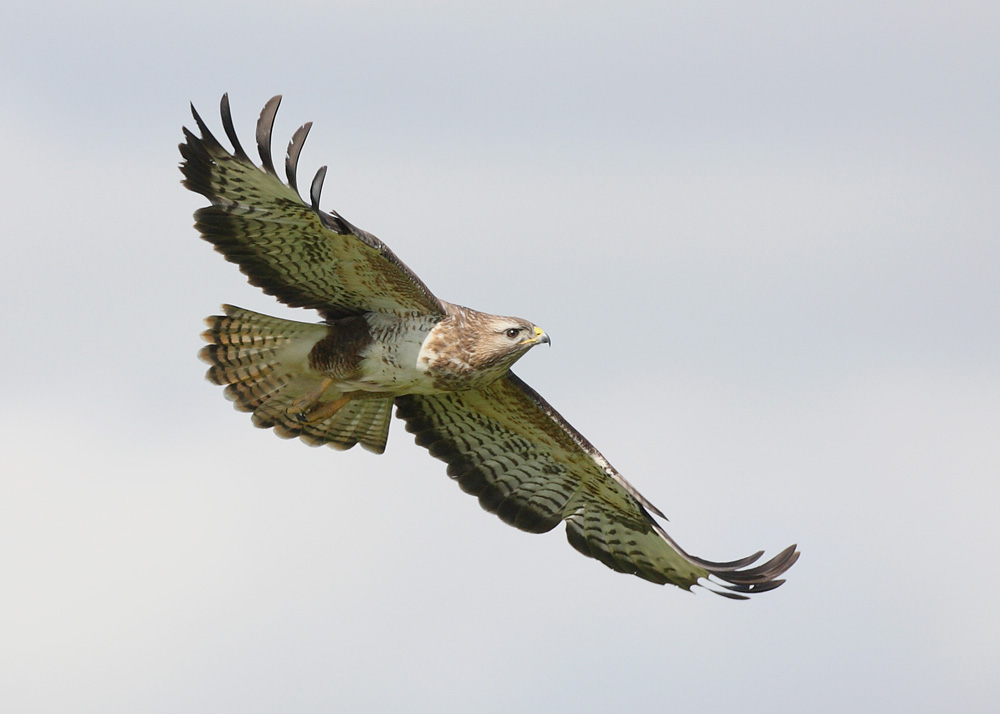 Common Buzzard, Gigrin Farm, Powys (Photo: Mick Southcott)
Pheasants are not native to the UK. Around 40 million birds are released every year for shooting. The impacts of this practice on wildlife have been poorly documented, but serious questions have been raised about the impact such a large injection of captive-reared birds might have on the predator–prey balance in our countryside. Buzzards will take young pheasants from rearing pens, given the opportunity, but the RSPB believes the issue can be managed without destroying nests or moving Buzzards. Measures include providing more cover for young Pheasants in release pens, visual deterrents to discourage birds of prey and providing alternative food sources.
Mr Harper added: "There are options for addressing the relatively small number of Pheasant poults lost to Buzzards. Destroying nests is completely unjustified and catching and removing Buzzards is unlikely to reduce predation levels as another Buzzard will quickly take its place. Both techniques would be illegal under current wildlife laws, and I think most people will agree with us that reaching for primitive measures, such as imprisoning Buzzards or destroying their nests, when wildlife and economic interests collide is totally unacceptable. At a time when funding for vital conservation work is so tight, and with another bird of prey, the Hen Harrier, facing extinction as a breeding bird in England, I can think of better ways of spending £400,000 of public funds. This money could work harder for wildlife, and I hope the Government will therefore put a stop to this project."
Mick Carroll of the Northern England Raptor Forum said: "Given that Buzzards are still recovering from past persecution and there is no evidence they are a significant cause of loss, this is a scandalous waste of public money." Nigel Middleton, Hawk and Owl Trust Conservation Officer for the Eastern Region, said: "We are totally against persecution of any birds of prey, and destroying the nests of Buzzards is tantamount to this. We believe that alternatives should always be sought to lethal control where the commercial interests of humans come into conflict with birds of prey."
From the Wildlife Trusts, Paul Wilkinson, Head of Living Landscape, said: "After years of persecution, people have welcomed the return of the Buzzard to our countryside. The Wildlife Trusts are seriously concerned that this conservation success story could now be undermined, and will strongly oppose any attempt to weaken the protection afforded to this species. The fact the Government is considering these plans runs entirely counter to its aspirations for the recovery and restoration of nature. With our native wildlife facing so many pressures, Government should draw a line through plans to bully the Buzzard."
You can download the Defra documents related to this story here.