Survey to show how wildlife fares when the heat is on
ad109f59-c278-4df4-a584-a6f538f36dff
The RSPB is asking the nation to stake out their gardens for an hour this week, for the UK's largest summer wildlife survey. And this year, as well as common garden birds, the wildlife charity is interested in creatures that are associated with water, such as frogs, newts and toads.
Thousands of people will keep their eyes peeled for wild visitors as part of the RSPB's Make Your Nature Count, running from 4th to 12th June. The RSPB is particularly concerned about how the early dry weather has affected wildlife and wants to highlight how important access to water is for many creatures. Some parts of the UK, particularly in the south and east, had the driest start to summer on record and the RSPB hopes the survey will encourage people to think about providing more water and building ponds or smaller water features.

Blackbird, St. Mary's, Isles of Scilly (Photo: Martin Goodey)
As well as asking about adult birds and chicks, the charity wants to know about frogs, toads, Great Crested Newts, Stag Beetles and even bats and snakes. It will be the first time the RSPB has asked people to survey some of these creatures and will help produce a snapshot of how the species are doing and how important our gardens are.
At this time of year, gardens are alive with young birds and the RSPB is also asking people to look out for Blackbird, Robin and Song Thrush chicks. Counting young birds will help give an indication of how important our gardens are for these birds to breed in, and how their fortunes change from year to year. This year the RSPB will be looking to see if the dry weather has had an impact.
Content continues after advertisements

Robin, Fressingfield, Suffolk (Photo: Jon Evans)
Richard Bashford, the RSPB's Make Your Nature Count manager, said: "It's a great time of year to sit back and enjoy your garden wildlife. This survey also helps the RSPB see which species are thriving and which might need our help. More immediately, since much of the UK missed out on the 'April showers' and it has been mainly dry since, we want to highlight how important water is and how you can help birds and other wildlife thrive in such conditions."
Over 70,000 gardens were surveyed last year involving nearly 100,000 people. Results revealed that almost a quarter of UK gardens are regularly visited by hedgehogs. Last year's survey also revealed that the Blackbird, recorded in 92% of all gardens, was the most frequent visitor, followed by the Woodpigeon on 80%. Just as the RSPB's winter survey, Big Garden Birdwatch, identifies trends among wintering bird populations, they hope that, in time, Make Your Nature Count will build a similar picture of the wildlife that visits gardens, and show how important they are for some of our breeding birds and summer migrants.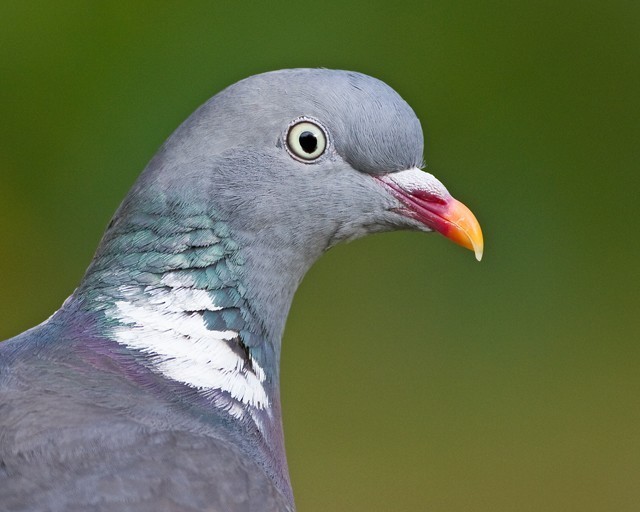 Wood Pigeon, Warrington, Cheshire (Photo: Andy Weir)
Richard added: "We hope thousands of people will step up for nature by donating a little bit of their time in June to take part in this simple survey which will help wildlife in the future. To take part, simply spend one hour during the week of 4th to 12th June, counting the birds and the other wildlife that visit your garden, and record the highest number of each species seen at any one time."
For further information about Make Your Nature Count visit the RSPB website. An online survey form will be available from 4th June 2011. Alternatively, ring 0300 456 8340 for a Make Your Nature Count survey form. The hotline number will be operational until 10 June 2011.