Sir David Attenborough presents Birdwatch art award
ff8d9831-0a76-49c9-b9b9-71ce741142a0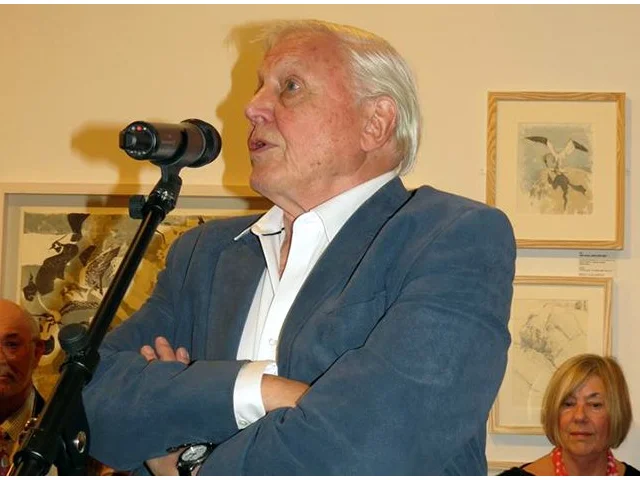 A dramatic and beautifully executed series of Short-eared Owl illustrations has earned talented Bristol-based artist Nik Pollard the coveted title of Birdwatch Artist of the Year 2013. The award – the most prestigious in the field of bird illustration and sponsored by Birdwatch magazine and Swarovski Optik – was presented by Sir David Attenborough at the 50th annual exhibition of the Society of Wildlife Artists (SWLA) at the Mall Galleries in central London yesterday (30 October).

It was the first time the award had been given to an artist submitting a body of work rather than a single piece. The four studies of the hunting owl, in ink, watercolour and wax, were subtly abstract in form yet perfectly captured the character and behaviour of the species.

The judges – Dominic Mitchell (Birdwatch), Peter Antoniou (Swarovski Optik), Chris Rose (SWLA) and Andrew Stock (SWLA) – had no hesitation in selecting Nik's work as their choice from an impressive field of entries. A selection of the most outstanding works on display at the exhibition, including the winner, will feature in the next (December) issue of Birdwatch (click here to order your copy).

Sir David presented the award and other prizes after opening proceedings with an impassioned speech on conservation and the importance of nature to a packed house. Highlighting the fact that wildlife faced its greatest extinction threat since the age of the dinosaurs, and that more than half of the human population was now urbanised, he emphasised the importance of maintaining a connection with nature: "If you lose that touch, that curiosity, that delight in the natural world, you have lost one of the most precious of all humanity's possessions." He added that art helped convey "not just the appearance of the natural world … but something special about life".

• Watch a video extract from Sir David Attenborough's speech.
• View images from the Birdwatch Artist of the Year Award at the SWLA's 50th Exhibition.
• Visit the show: from 31 October to 10 November 2013, 10 am-5 pm, at the Mall Galleries, The Mall, London SW1A 2BJ (tel: 020 7930 6844; www.swla.co.uk).
The first in Nik Pollard's series of four Short-eared Owl paintings, which garnered
the artist the prestigious Birdwatch Artist of the Year 2013 award.
Content continues after advertisements