Seabird declines must stop say conservationists
f7b73cbf-5ed9-45a4-9efc-e22059c57ca2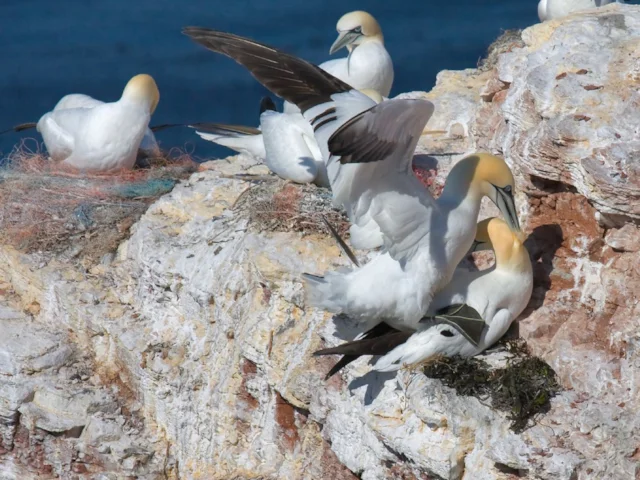 The RSPB and Scottish Seabird Centre have called for more research to be taken into potential seabird declines after a wind farm development has been proposed on the Firth of Forth.
Environmentalist Jean-Michel Cousteau has also backed the conservation charities' pleas for research and the reconsideration of certain offshore wind farm projects. A judicial review has been lodged by RSPB Scotland into the Scottish Ministers' decision to grant consent for four offshore wind farms off the Firths of Forth and Tay. The development on the Firth of Forth will create 335 large wind turbines.
The
Scottish Seabird Centre
is a charity committed to inspiring people to appreciate and care for Scotland's wildlife and natural environment. The Centre has strong concerns that insufficient research has been undertaken into the estimated annual mortality of seabirds as a result of the operation of the proposed wind farms.
The Firth of Forth is of international importance for seabirds. Bass Rock is the world's largest colony of Northern Gannets, with over 75,000 currently occupied sites, while Isle of May NNR has the largest Puffin colony on the east coast, with around 46,000 occupied burrows.
However, it is now realised that the proposed wind farms will kill seabirds on a regular basis. Some estimates suggest that over 2,500 seabirds,
including Puffins and Northern Gannets
, will be killed annually from being hit by the blades of the turbines. However, other estimates suggest that total seabird mortality will be even higher.
Tom Brock OBE, Chief Executive of the Scottish Seabird Centre, said: "To help reduce climate change, we recognise the need for renewable energy developments at appropriate locations. However, we are extremely concerned about the potential impacts that a development of this scale will have on the large number of internationally important seabird colonies in the vicinity.
"Key decisions are being made when there are significant [gaps in our] knowledge; this is something that must be tackled head-on. It is essential that relevant research is undertaken as a priority to ensure that these important decisions are evidence-based and the risks to Scotland's seabirds are minimised."
Multi-award winning environmentalist, Jean-Michel Cousteau, the son of ocean explorer Jacques, has undertaken four decades of pioneering work around the world's oceans, and is backing the Seabird Centre's call for further research. He said: "For many of us who have dedicated our whole lives to protecting our planet and seek solutions to deal with climate change and renewable energy, we look for progress to make a difference for humans and all species. But not all efforts are equally progressive. A renewable energy 'solution' as proposed in Scotland at the Firths of Forth and Tay wind farms comes at the potential expense of critical seabird populations. This is not progress. It is not a solution. It trades off one problem for another that is unacceptable.
"For every action there is a reaction and that is what is happening here. People protect what they love. And, the seabirds of the Scottish coast are truly loved."
Content continues after advertisements