Scottish Short-eared Owl tours three countries in two years
e49c28ce-dd38-4a64-9b89-fc24f3dbf914
Satellite data from a Short-eared Owl tagged in Stirlingshire, Scotland, has revealed the nomadic lifestyle of this charismatic species.
The bird, a female, was tagged at the nest in Stirlingshire in May 2017, before moving north to Perthshire in July. During March 2018, she toured as far north as the north coast of Scotland, before returning to Perthshire in the summer to nest in April.
Amazingly, after nesting in Perthshire, she crossed the North Sea on 18 May 2018 before breeding again, this time in Oppland, Norway, in June. A lengthy autumn return journey then followed in October, when she overflew Britain, reaching Co Galway, Ireland.
She gradually tracked south and east, first stopping in Co Cork in November 2018 before lingering in Devon in February and March 2019. She slowly reoriented north and east during spring, with her satellite being logged in Cambridgeshire and Norfolk during April. She departed the latter county, at Bacton, to make a North Sea crossing at 8 am on 26 April, presumably with a view to heading back to Norway.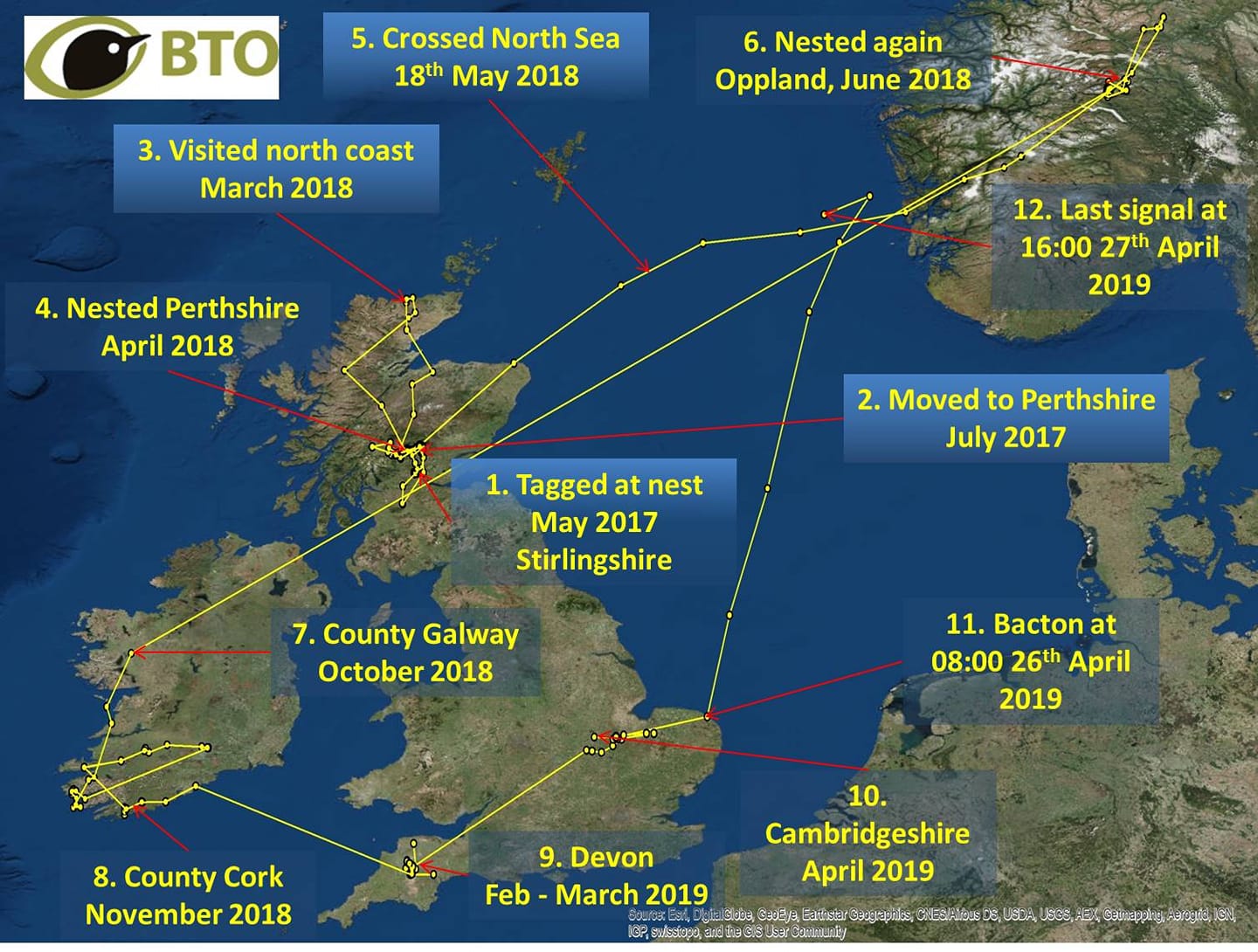 The female Short-eared Owl covered remarkable ground in a mere two years (Neil Morrison / BTO).
Sadly, however, her last signal was received the following day at 4 pm. Unfortuantely, it seems likely she perished at sea off the south-west coast of Norway, falling just short of making landfall.
Despite the sorry ending, the data offers a remarkable insight into the long journeys of a Short-eared Owl in just two years and goes to show how their distribution fluctuates with food availability and other conditions.