RSPB Frampton Marsh – wetland creation around The Wash
938faefb-25db-4745-9298-b8fa60da9f04
When I first arrived at Frampton Marsh back in August 2005, I was greeted by a vast expanse of saltmarsh on the Wash side of the seabank and an equally vast expanse of monoculture arable on the landward side. The occasional flock of Golden Plover used the fields in winter and a few Corn Buntings and Skylarks eked a living along the ditches. However, an ambitious wetland creation project was about to be undertaken and things were about to change for the better.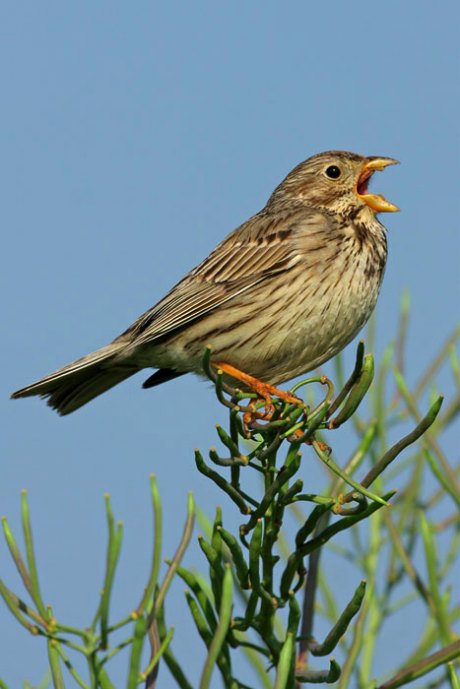 Corn Bunting (Photo: Neil Smith)
Located 8 km south east of Boston, the reserve is split into three sections. The saltmarsh was bought by the RSPB in 1984 for the benefit and protection of breeding Redshank, as this site supports one of the densest populations of these birds in the country. On the inland side of the seabank, the fields north of the road known as Roads Farm were purchased by the RSPB with wetland creation in mind. The land south of the road is known as Marsh Farm and is managed by the RSPB on behalf of the Environment Agency.
From the reserve office, a rustic farmhouse near the reserve, we wardens sat huddled over maps of the fields, drawing ditches, scrapes and a reedbed in our very own "design a fantasy reserve" competition. We were keen from the start to include as much habitat as possible for passage birds, and therefore birders, as well as the usual classic reedbed and wet-grassland specialists. We also needed to factor in such things as hides, footpaths and that most essential of reserve facilities, a toilet.
Working in partnership with the Environment Agency, 94 hectares of arable fields at Marsh Farm were drilled with a wet grassland seed mix. Several kilometres of shallow ditches were then excavated to distribute water to all parts of the site, and a 25,000m3 reservoir was built to supply these ditches with water. During the winter of 2005/6, we led a mainly amphibious lifestyle, installing sluices to back water up in the new ditches and building new culverts to aid travel around the site.
The birds certainly appreciated the efforts, and in 2006 breeding Skylarks on this plot of land had increased to 33 pairs from three pairs in 2004. It would take another year for our first Lapwings to nest here, but in 2009 there were 15 pairs tumbling and yowling over the fields. Our other major successes so far have been 16 pairs of Redshank and a single pair of Yellow Wagtails. Just as appreciated, however, was the Great White Egret feeding in there in early November. Our first flock of Brent Geese also chose mid-November to come onto the grassland, and even though there were only 12 of them these pioneers were almost as appreciated as the egret!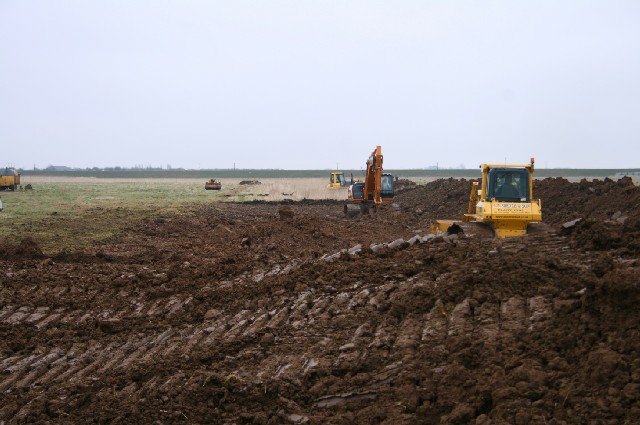 Breaking land drains and creating reservoir bund (Photo: Paul French)
Meanwhile, work marched ever onwards with the Roads Farm developments. This area was where the major plans were, and it was an emotional day in February 2008 when the first bulldozers moved in to create the reedbed. Previously an area of set-a-side, it quickly resembled a battlefield. The complex plan involved the digging of several deep pools linked together with deep channels. The ground in-between needed to be of a relatively uniform height, but with enough varied micro-topography to ensure that when reed grew on it some areas would be wetter than others. Much research into the requirements of Bitterns has been undertaken in Britain, and the full weight of this research was thrown into the design of this reedbed. The length of deep channels and size of the pools have been calculated to give us the greatest degree of valuable "edge" habitat, as it is this interface of reed and water that is the crucial factor in turning a monoculture reedbed into a thriving and dynamic habitat. At 19 hectares in size, it is easily big enough to support breeding Bitterns and other reedbed specialists in due time.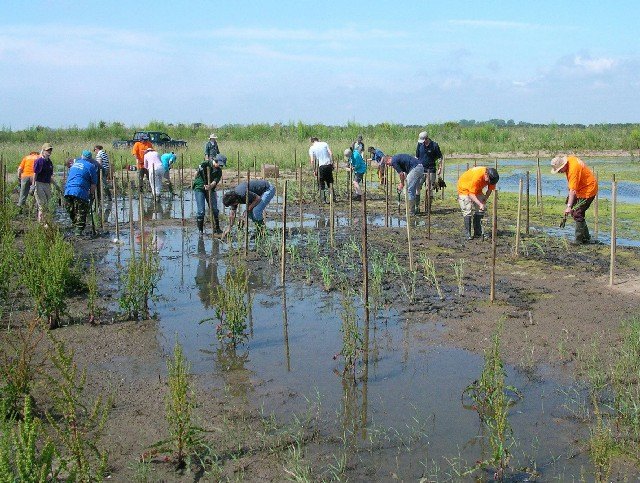 Planting reeds (Photo: Paul French)
In a similar fashion, we created a 21-hectare freshwater scrape next to the reedbed. Learning the lessons of other sites, we decided to compartmentalise our scrape into three, and built in the ability to control water levels separately in all three scrapes. As many birders will be aware, these habitats are at their best in the first five years of life, and quickly lose their productivity after this. However, by drying out the scrape for a year, you can effectively reset the clock, and by drying out our three scrapes on rotation, we should be able to provide at least two highly productive scrapes in any given year. A host of islands in the scrapes should attract breeding waders, and three pairs of Little Ringed Plovers in our first year illustrate the potential nicely.

Visitor Centre (Photo: Neil Smith)
We tried not to forget people too, and our aim was to make this as birder-friendly as possible. The visitor centre overlooks the reedbed, providing excellent views of this wetland. It's heated and offers hot drinks and snacks, as well as the all-important loo. Three hides overlook the reedbed and the scrapes, and we tried to design the habitat around them. This means that birds should be relatively close, affording great views. Saying that, the reserve is still easily big enough to give that wilderness feel.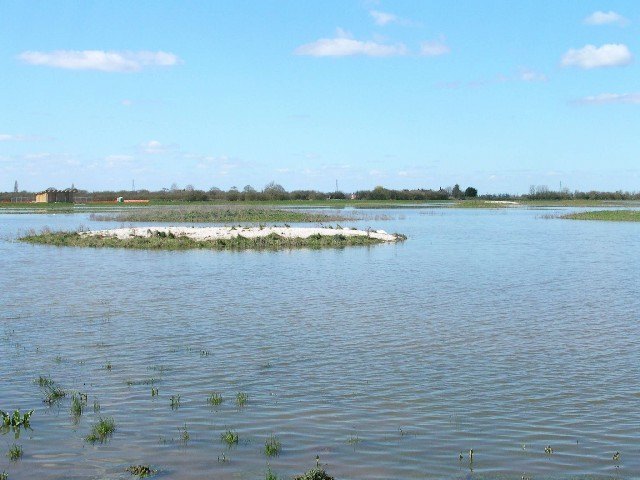 The view over reedbed 3 (Photo: Paul French)
So, what of the birds? In this, our inaugural year, we have recorded an impressive 163 species on or over the new wetland. As water levels increased over the winter, so duck numbers also increased. A family party of six European White-fronted Geese moved onto the reedbed from their early-winter home on Marsh Farm, and several flocks of Whooper Swans totalling at least 100 birds decided to stay for several days.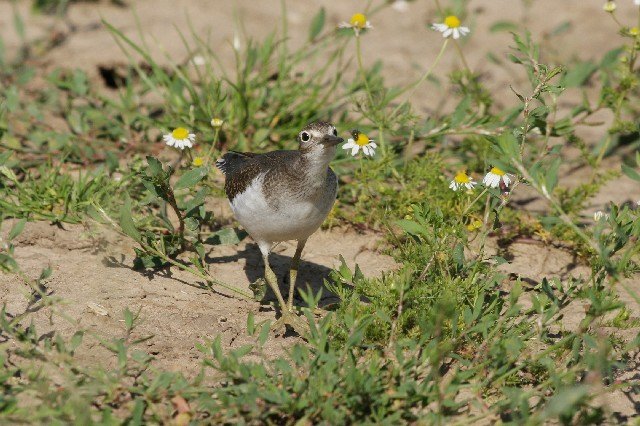 Common Sandpiper (Photo: Neil Smith)
In the spring, at least three drake Garganey stopped over, and led to two pairs breeding on the reserve for the first time. Wader passage was much appreciated, and the spring highlights were a female Red-necked Phalarope and at least one Temminck's Stint. Two Spoonbills dropped in briefly and, with a flock of Black Terns being present for several days, the reserve felt more like the Mediterranean than Lincolnshire at times. The unexpected highlight of the spring was the late arrival of a nesting colony of Sand Martins. After several weeks of windy weather, hirundines had been feeding frantically over the reedbed. In mid-June, we noticed the first hole had been dug in our artificial sand bank, and by the end of July there were 67 nests. Other nesting highlights included 18 pairs of Avocets and 28 pairs each of Lapwings and Redshanks.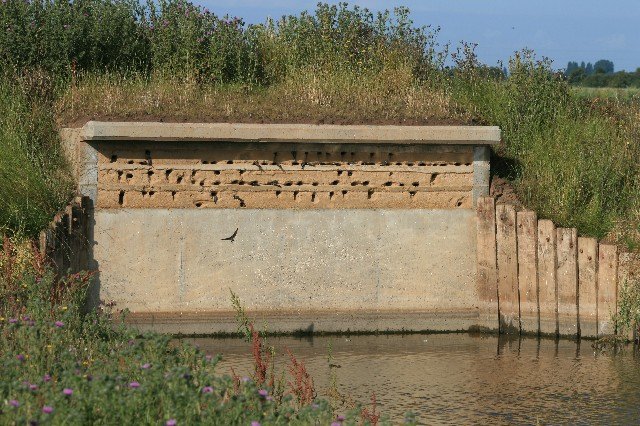 Sand Martin colony (Photo: Paul French)
The autumn has only just finished, and if future autumns are like this one then we are in for a yearly treat. August dawned with a Pectoral Sandpiper, and then Lincolnshire's first twitchable Collared Pratincole called in for two days. Two Common Cranes failed to stop, but given the fact they are now breeding in the Fens, perhaps we can expect regular visits in future? Its not every day that you flush a Spotted Crake with a tractor, but being a warden does have some benefits, and the crake didn't mind too much as it stayed around for at least a week afterwards. A flock of 14 Wood Sandpipers was a nice bonus and hopefully an indication of future wader numbers. September was quieter, but we still managed to pull an eclipse drake Blue-winged Teal out of the hat.
With our first full year of operation nearly over, and all of the major habitat creation done, it's now time to look forward to what the future may bring. Bitterns and Bearded Tits can be taken for granted as future colonists, but what else might arrive in time? Cetti's Warblers are increasing rapidly in the county, and will occur soon enough, while our first drumming Snipe was heard this year. To attract a breeding population of these back into Lincolnshire would be fantastic. Other waders that could join them include Black-tailed Godwit and, given sustained climate change, maybe even Black-winged Stilt. The future is very much unknown at the moment, and only by providing these kinds of habitats can we ensure that the birds and other wildlife that depend on them will be able to cope with whatever changes befall them.