Rescued Dorset eagle perishes in care
d3a2740f-89e3-4e52-9575-4b0794ea29fd
A large bird of prey found exhausted on the beach at Hengistbury Head, Dorset, on 5 October transpired to be a major British rarity, although it sadly died in care two days later.
Initially assumed to be a Western Osprey on the basis of its extensively pale plumage and pale eye, birders quickly realised its true identity – Short-toed Snake Eagle – when they came across the images posted on social media.
Mark Holloway, of Bournemouth, Christchurch and Pool Council, was at Hengistbury on 5th and shared his take on the day's events: "On Monday 5 October at midday a couple of members of the public were walking along the beach at Hengistbury Head, Dorset, following the passing of Storm Alex, and discovered an 'eagle-like' bird on the south-facing beach. The bird was in a state of shock and so they put it on one of the rock groynes to see if it would recover. It became apparent that it was not going to move so they brought it to the Hengistbury Head Visitor Centre some 500 m away.
"It was kept in a box in a quiet corner and it was at this stage we were convinced that the bedraggled bird was a Western Osprey (having watched ospreys migrating through Christchurch Harbour the week before). Little did we know that it would turn out to be a Short-toed Snake Eagle!
"It was cared for by one of the Hengistbury Head Rangers, Phil Wetherell, who transported it to the rescue centre in nearby Ringwood."
With the bird in poor condition, it was taken into care shortly after being found and transferred to Moyles Court Wildlife Rescue for treatment. Unfortunately, though, it was in an extremely bad way and sadly perished on 7 October.

The Short-toed Snake Eagle was found soaked and exhausted on the beach at Hengistbury Head, Dorset, around lunchtime on 5 October (Mark Holloway).
Short-toed Snake Eagle breeds widely from Iberia east through the Mediterranean, Middle East, and into Central Asia. It is, however, an extremely rare vagrant to Britain, with just three previous records.
The first was a famous juvenile that toured the Isles of Scilly between 7 and 11 October 1999, and was seen by hundreds of birders in a memorable Scilly spell that also produced Siberian, White's and Blue Rock Thrushes. Then, in 2011, one overflew Dawlish Warren and Orcombe Point, Devon, on 11 October, but wasn't twitchable.
The third was also the most-seen of the previous records: having first turned up at Wareham Forset, Dorset, on 31 May 2014, it then spent several days in the New Forest in June, before moving to East Sussex for the latter part of that month and into July. It made an appearance in Surrey on 12 July and then on the Norfolk-Suffolk border at Santon Downham on 19-20 July.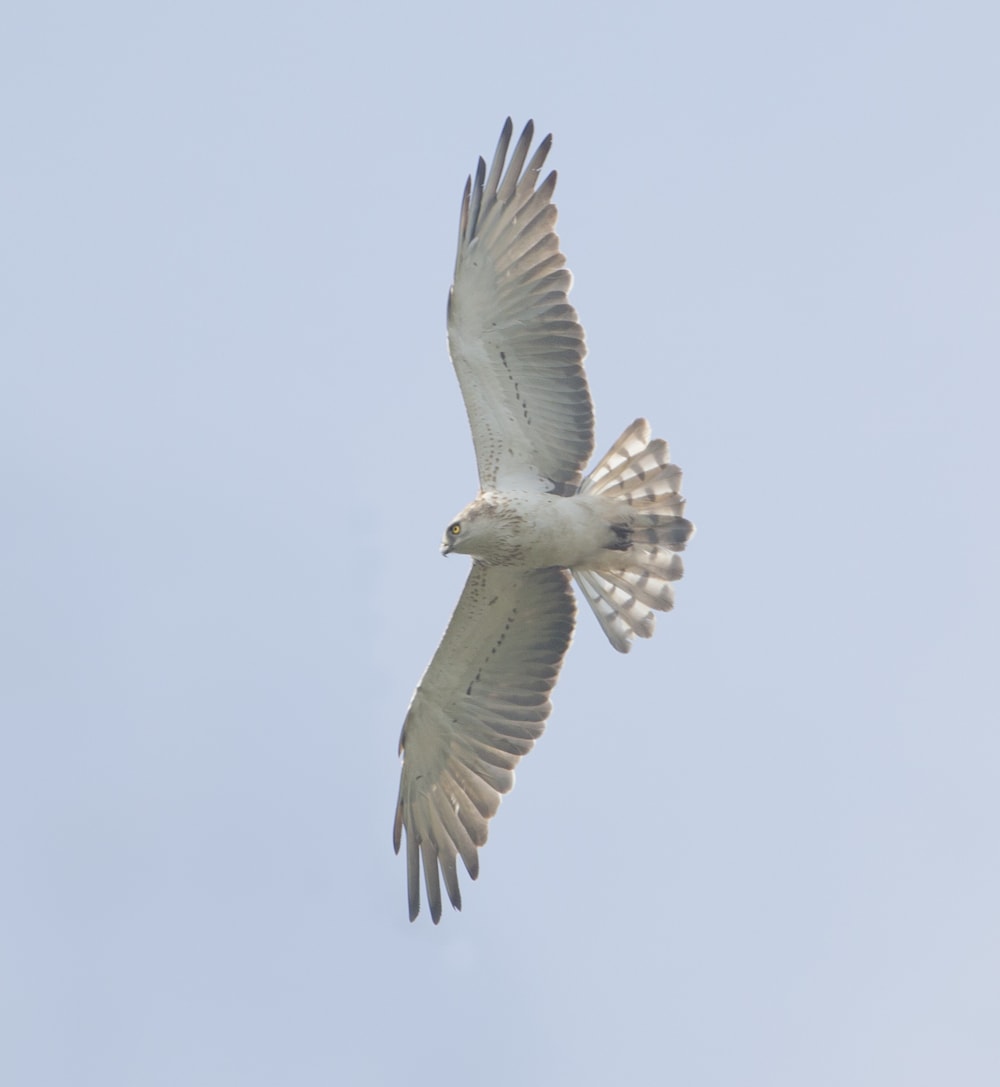 Short-toed Snake Eagle at Morden Bog NNR, Dorset, on 1 June 2014. This bird toured several counties and was seen by many hundreds of birders (Kevin Du Rose).