Record high tide at Slimbridge WWT
a1bc9cc2-dfd0-4c57-af76-9aeb8d22b87d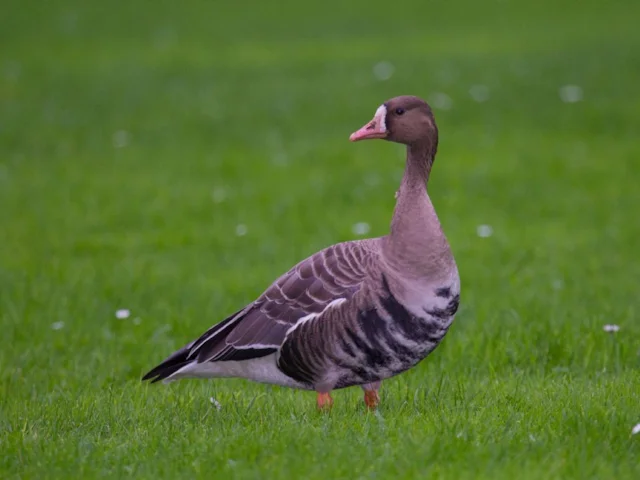 The River Severn estuary alongside the Wildfowl and Wetlands Trust (WWT) at Slimbridge has risen to its highest level since 1982.

The unusually high tide expanded the width of the Severn Estuary considerably, with waters reaching out an extra half-mile, right up to the bank that defends the WWT's buildings and waterfowl gardens against extreme events.

However, the water stopped rising nearly two metres below the top of the bank, which meant hundreds of visitors to Slimbridge Wetland Centre had the chance to see thousands of wild birds up close, like the Shelduck, White-fronted Geese, Dunlin, Eurasian Wigeon and Curlew which are benefitting from a temporary increase in their watery habitat. There's a high number of birds around Slimbridge Wetland Centre at the moment – about 50,000 in total – including near-record numbers of European Golden Plover, with about 4,000 in view.





Slimbridge is often referred to as the birthplace of modern conservation, being where the late Sir Peter Scott based his research into migratory birds and opened a visitor centre in 1964 to give people the chance to get close to British wildlife.

Reserve Manager Dave Paynter said: "We were a bit wary this morning as the river channel swelled to become sea and was actually higher than us, with just the defensive bank in between – but it soon became clear the defence would hold. We've had some of the best wildlife-watching conditions imaginable, with flocks of thousands of Northern Lapwing circling around us. WWT is all about wetlands, which aren't just important for wildlife but also for people, because they protect us from flooding. In our case, the wetland strip along the River Severn absorbs most tidal flooding, so the defensive wall is only needed very occasionally."

Writer Giles Diggle, one of the day's visitors at Slimbridge, said: "It's been quite lively out there today. There's been a full spectrum of weather patterns, so visibility has been quite good at times and led to some spectacular sights. There's also been a Peregrine Falcon hunting over the reserve which has caused lots of activity."

High tides are expected again tonight and early tomorrow morning, but they're not expected to rise significantly higher, so Slimbridge is aiming to remain open so that people have the chance to see the large numbers of birds in these conditions.