Record-breaking butterfly count launched by Sir David Attenborough
2b447c44-46ed-4a78-9ebd-5ac81e47de3f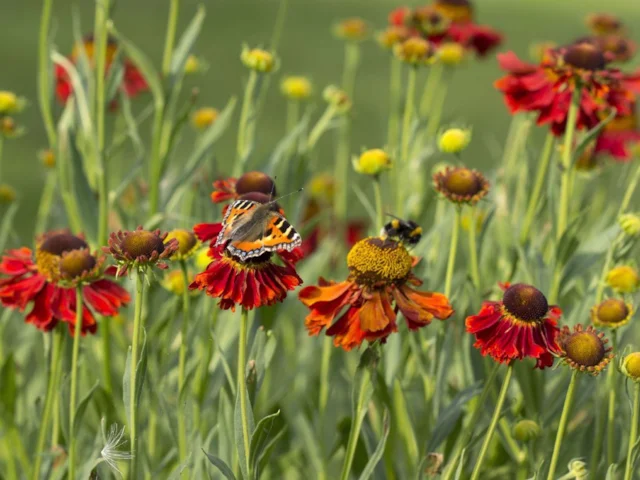 Sir David Attenborough has launched the 2014 Big Butterfly Count at the
London Wetland Centre
, and the Wildfowl and Wetlands Trust (WWT) is inviting the public to help count a million butterflies.
While bird activity experiences a lull in mid-summer, the attentions of many birders swing towards insects, in particular dragonflies and butterflies. Interest in the latter can be put to good work this year by joiining in with the WWT's annual survey. Every year, the WWT helps another conservation charity, Butterfly Conservation, to encourage as many people as possible to count butterflies, at the same time helping researchers find out how our much-loved native species like Small Copper are faring. Last year, 800,000 butterflies were counted by 46,000 volunteers, so this year Sir David is hoping that, together, we can break that record and count more than a million.
WWT Vice President and Butterfly Conservation President Sir David said: "Every single person taking part in the Big Butterfly Count this summer can produce a statistic that is of real value, as their records help build a picture of how butterflies are faring and how we can best conserve them."
Sir David also praised the pioneering spirit of Sir Peter Scott, founder of the WWT: "Wetland Centres are a British innovation, pioneered, masterminded and invented by Sir Peter Scott, one of the 20th century's greatest naturalists. They are fantastic and bring people and wildlife closer together than anywhere else I can think of. They're something this country should be very proud of."
Butterflies are a key indicator species of the health of our environment – if they're struggling, then birds, bees and bats are struggling too. Butterfly numbers have improved after a terrible 2012 but are still below average.
Three quarters of Britain's butterflies are in decline
, including Common Copper, and a third are in danger of extinction.
For the duration of the Big Butterfly Count, you can collect a free spotter sheet when visiting WWT reserves to help you have a fun day out and do your bit for our beautiful butterflies. You can also download sheets at
wwt.org.uk/bigbutterflycount
.
The WWT saves wetlands worldwide,and these critical habitats are disappearing at an alarming rate. They also act protect and save severely threatened wildlife, such as the Madagascar Pochard, a species given a more secure future thanks to our decades of experience in conservation breeding. WWT researchers have been monitoring wildlife in Britain for more than 60 years, observing changes and finding solutions. The WWT manages over 2,600 ha of wetlands across the country which between them support over 200,000 waterbirds.
Content continues after advertisements