Puffins set to benefit from Heritage Lottery Fund grant
3a80e95c-02af-4513-a302-1bed6c7cad75
An RSPB Scotland project to aid conservation efforts for Puffins has been awarded £49,800 by the Heritage Lottery Fund.
Puffins are one of our most charismatic and recognizable seabirds. However, their numbers have plummeted across Britain and Europe in recent years, leading to the species being declared Vulnerable to global extinction. Warming seas, caused by climate change, are having a negative impact on the species' food sources, and declines of 50–79 per cent have been estimated by 2065.
The grant will support the innovative 'Project Puffin', which aims to combine the latest technology with citizen science to tackle three of the biggest challenges hampering conservation efforts for these charismatic birds: discovering more about what Puffins feed their chicks, where they go to find food and how their numbers are changing.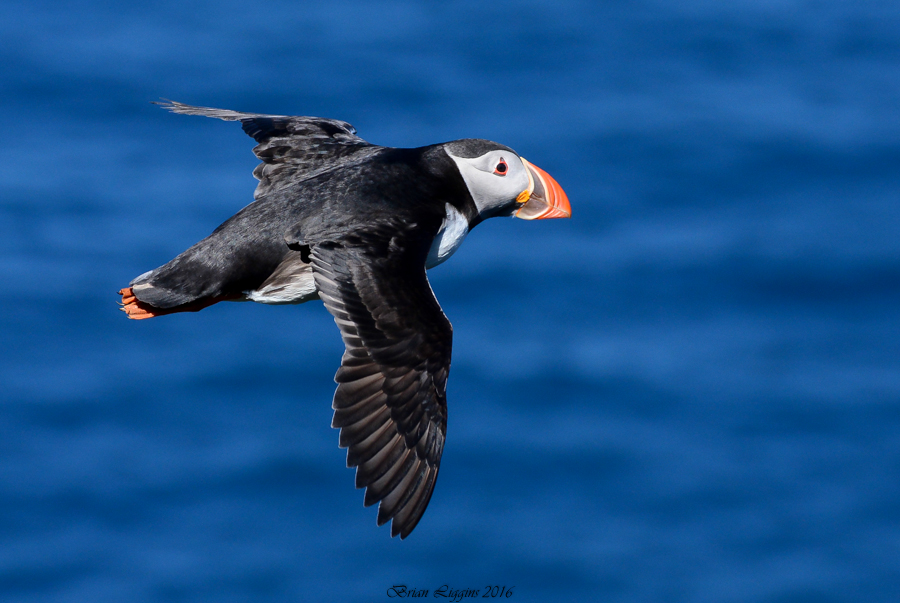 Puffin, Hermaness NNR, Unst, Shetland (Photo: Brian Liggins)
In excess of 80 per cent of the British and Irish Puffin population breeds in Scotland, and much of the project's work will focus here. Counts will take place at a number of colonies, many of which have witnessed an alarming reduction in size. The counts are urgently required to measure the extent of this decline accurately and to assess how Puffins are currently faring.
GPS trackers will be carefully fitted to Puffins at two sites in Scotland. During the summer these 31 tags will provide information on where parent Puffins go to fish to feed their chicks. This will then be combined to generate maps of their offshore feeding areas during the tracking, and also detail what conditions they need to feed. A similar initiative was carried out in summer 2016 and was covered in this BirdGuides article.
Further information on the diet of Puffins will be gathered through the citizen science aspect of the project, taking place while adults are feeding their chicks during June and July. Visitors to Puffin colonies across the UK and Ireland are asked to take photographs of the birds with fish in their bills. The project will provide clear guidelines for this to ensure Puffins, which are very sensitive to human presence around their burrows, and other wildlife are not disturbed, and so that the photographs provide the most useful data possible. An online portal will be set up to submit the photographs to; these will build a picture of what the chicks are being fed.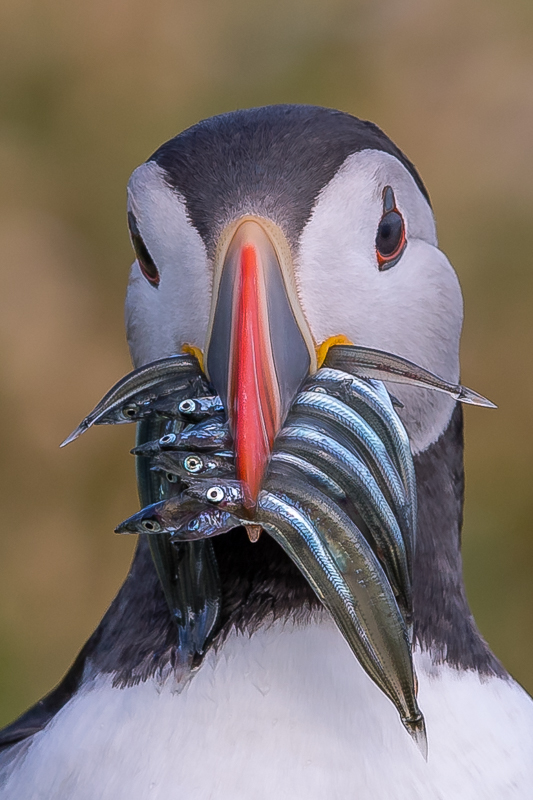 Puffin, Isle of May, Fife (Photo: Dave Williams)
Ellie Owen, who leads on the RSPB's seabird tracking work in the UK, said: "Puffins are wonderful birds that are in desperate need of help to ensure the long-term survival of the species here. We're immensely grateful to HLF for funding this vital work.
"Across the country there is great affection for these birds and this project will give people the chance to get involved with the work being done to save them. The project's webpage will feature regular video blog updates from the team, people will be able to see where Puffins have been tracked to, what information has been gathered on what they are eating, follow the stories of individual birds, and hear first-hand experiences from our Puffin counters.
"In the future we expect the project data will advise government on the best ways to protect Puffins at sea. It's devastating to think that our coastlines may no longer be brightened up by these birds coming into land furiously flapping their wings with their orange legs outstretched. RSPB Scotland is doing all it can to conserve this species and this project is crucial to our ongoing effort to turn Puffin fortunes around."
Lucy Casot, Head of HLF Scotland, said: "Our natural heritage is a most precious resource and, thanks to National Lottery players, HLF grants have helped to protect an amazing range of landscapes, habitats, and species of plants and animals. HLF is delighted to support Project Puffin that will stimulate people's interest in the natural world and so help them conserve it for future generations."