Photographers convicted for White-tailed Eagle disturbance
0cce9c34-3aab-4e8c-b840-62e99a54d018
Two photographers have been found guilty of disturbing a pair of nesting White-tailed Eagles on the Isle of Mull. Yuli Panayotov, 32, from London, and Ivaylo Takev, 36, from Norwich, were charged at Oban Sheriff Court with disturbing the breeding birds of prey near Killechronan in May 2010. The pair were fined a combined total of £1100.
The court heard how police were alerted to the pair after a number of witnesses had spotted both the adult birds circling over the nest and alarm-calling. It later emerged Panayotov and Takev had erected a photography hide a short distance from the nest. Speaking following the conviction, Sheriff Douglas Small remarked that the pair had disregarded warnings from RSPB Mull Officer Dave Sexton and local holidaymakers.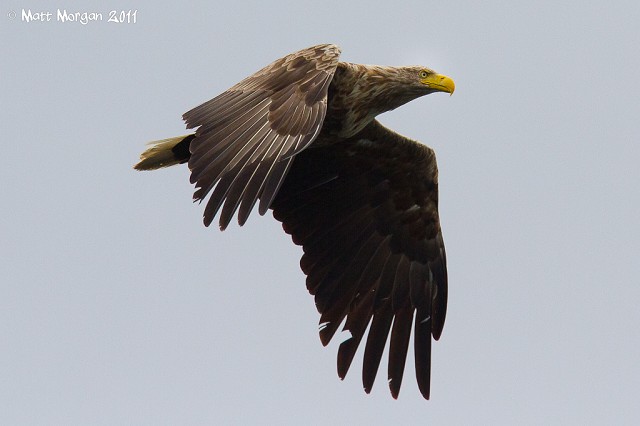 White-tailed Eagle, Mull, Argyll (Photo: Matt Morgan)
White-tailed Eagles have been the subject of a successful reintroduction to Scotland, having become extinct early in the 20th century. Their presence on Mull is a significant tourist attraction, bringing £5m to the local economy every year. The species is afforded the highest level of protection of any British bird, due to both its rarity and also its sensitivity to disturbance, particularly during the breeding season. Speaking following today's conviction Bob Elliot, Head of Investigations at RSPB Scotland, said: "We welcome this result as it sends out a clear signal that wildlife crime will not be tolerated and we thank the Procurator Fiscal and Strathclyde Police for their work on this important case."
Dave Sexton, RSPB Scotland's Mull Officer, added: "Mull's economy depends to a large extent on wildlife tourism and we welcome thousands of responsible, law-abiding visitors who respect and enjoy the wildlife they've come to see.; but unacceptable behaviour from people who think they are above the law and choose to disturb protected wildlife like the eagles will not be tolerated — wildlife photographers in particular need to take note."