Ouse Washes RSPB reserve gets new visitor hub
f019e69c-54f3-4b54-9038-0cb5e0e3ce14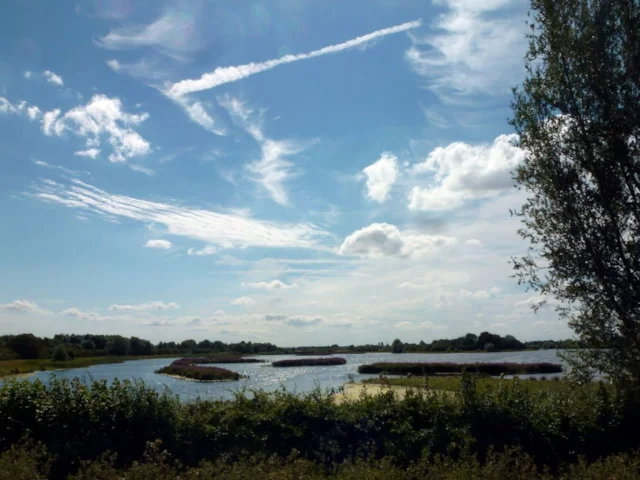 The RSPB is celebrating the completion of a new visitor centre at its Fen Drayton Lakes nature reserve in Cambridgeshire.
The shelter and a new viewing area near Swavesey are adjacent to the Cambridgeshire Guided Busway, providing visitors and passing commuters elevated views across Elney Lake towards the villages of Fen Drayton and Fenstanton, and were funded by a generous grant of £31,670 from the Mick George Community Fund.
The shelter provides a welcome point and meeting place for the reserve, and an area for people to gather while planning their visit. Maps, wildlife information, news and self-guided family activities are all available at the custom-built, green-roofed oak structure. It also provides a base from which RSPB staff and volunteers can meet and greet visitors.
Dave Hoccom, Area Manager for Bedfordshire, Cambridgeshire and The Fens, commented: "We are delighted to now have this new focal point at the heart of the reserve from which we can welcome our visitors and we are grateful for the support from Mick George Ltd to allow us to [complete] this project. This is a significant step in the development of the reserve as a key attraction in the local green ... network, and place where local communities can explore
the landscape and wildlife of the Great Ouse
."
Jon Stump, Finance Director at Mick George Ltd said: ''The nature reserve is an integral part of the local landscape, enjoyed by children and families for recreation as well as keen conservationists, all of whom will benefit from the new hub. We're pleased to have been involved in the project ... I think all would agree it is a welcome addition and the carefully designed structure adds to the picturesque setting. It was good partnering the RSPB ... in giving something back to the local community.''
The project forms part of the wider Ouse Washes Landscape Partnership Scheme, funded by the Heritage Lottery Fund. This partnership brings together a range of organisations working towards strong community involvement and providing long term social, economic and environmental benefits to this rural area.