New Mull eagles on show
7fd11f20-1d6a-49d8-b202-06bd721320d9
A new eagle pair is set to wow visitors as the renowned Mull Eagle Watch sets up home in a new location. For the first time, the popular Mull Eagle Watch 'Date with Nature' project will come from Forestry Commission Scotland's Glen Seilisdeir forest instead of the traditional Loch Frisa site, allowing the public to follow the breeding season of another White-tailed Eagle couple. The male eagle named 'Fingal' and his mate, the female known as 'Iona', first paired up in 2002, and have since successfully fledged seven young and are currently being protected as they incubate their new clutch of eggs.
Dave Sexton, RSPB Mull Officer, said: "Whilst Skye and Frisa, our resident Loch Frisa pair, hopefully get to enjoy some well-earned time off with the family, we thought it would be a great opportunity to find out more about the other White-tailed Eagles on Mull. Fingal, originally-wing tagged 'Blue 9', was reintroduced to Scotland from Norway in 1997, while his mate Iona (wing-tagged 'Green T') is a wild-bred bird from the Isle of Skye and so far they've made a good contribution to Scotland's growing White-tailed Eagle population. They are currently taking turns to incubate their latest clutch and all being well we'll hopefully welcome their next generation of young next month."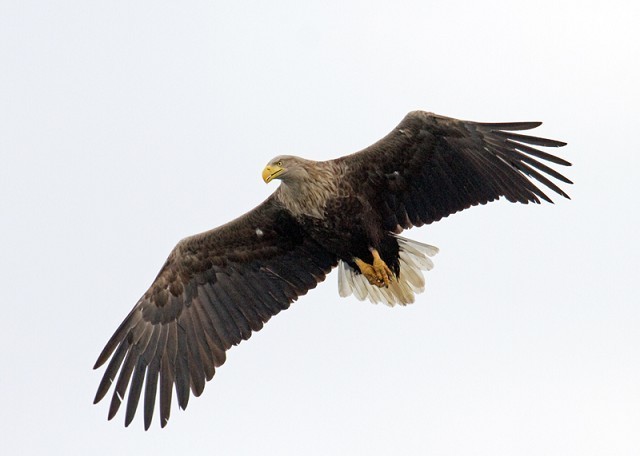 White-tailed Eagle, Mull, Argyll (Photo: Marcus Conway — ebirder)
Content continues after advertisements
Since its creation in 2000, the Mull Eagle Watch 'Date With Nature' project has offered visitors unrivalled views of nesting White-tailed Eagles and has featured in many TV programmes. Wildlife cameraman and presenter of this week's BBC One series Land of the Lost Wolves Gordon Buchanan said: "The Mull Eagle Hide has become a must-do visitor attraction on Mull and this year it's going to be more exciting than ever at the all-new location in Glen Seilisdeir. I've actually filmed there for the BBC's Eagle Island film and it's a fabulous place for seeing golden eagles, red deer, buzzards, hen harriers and of course the awesome White-tailed Eagles. You've just got to visit! I wish the Mull Eagle Watch team the best of luck in their new home."
Mike Cantlay, Chairman of VisitScotland, said: "Scotland's varied and exciting range of wildlife is one of this country's key selling points, particularly with next year being the Year of Natural Scotland. The new Mull Eagle Hide gives visitors a unique experience and the new location in Glen Seilisdeir offers intimate views of the nesting White-tailed Eagles. This will further secure Mull's reputation as a premier wildlife-watching site and the thousands of visitors to the new Eagle Hide will help support the local economy by £5 million a year."

White-tailed Eagle, Mull, Argyll (Photo: Ron McCombe)
The new pair and nesting attempt will be monitored by CCTV and protected 24/7 by the watchful eye of the Mull Eagle Watch, a partnership project involving Strathclyde Police, RSPB Scotland, Forestry Commission Scotland, SNH, Mull and Iona Community Trust and local volunteers. The brand-new hide at Glen Seilisdeir will be opened on Friday 6th April by Mull native Caroline McKay, who will be stopping by on her 127-mile run around Mull in support of RSPB Scotland and The Hebridean Whale and Dolphin Trust. More details about the Mull Eagle Watch and the Date With Nature project can be found at http://www.rspb.org.uk/datewithnature/sites/mull. To book a trip to see Fingal and Iona this year, please call VisitScotland in Craignure on 01680 812 556.