Mixed year for Black Grouse
d73e0346-1bd9-47db-bd75-fece098e232d
Black Grouse experienced mixed fortunes on RSPB nature reserves in 2008, with declines in Scotland but increases on southern reserves. Scotland is still the stronghold of the Black Grouse population in the UK.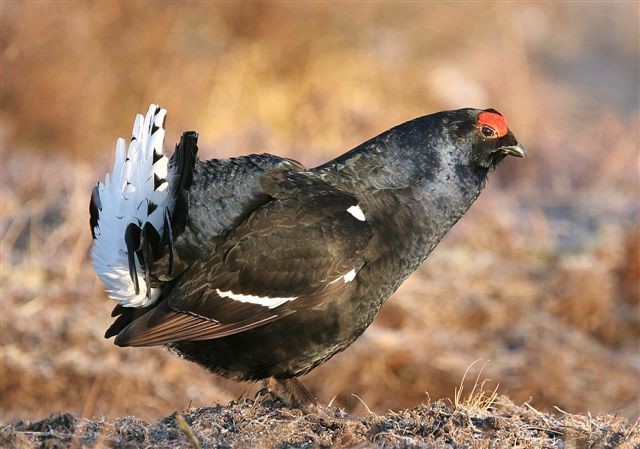 Black Grouse, undisclosed site, Highland (Photo: James Wood)
It is thought that the wet weather in many parts of the country in June 2007, when chicks hatch, led to declines in 2008. Counts of male birds at lekking sites — where they engage in an extraordinary morning courtship display to attract females — were down at most sites that were monitored in 2008.
Once a common sight throughout Britain's upland birch, pinewood and moorland areas, Black Grouse have declined at an alarming rate; in the 1970s there were estimated to be 25,000 lekking males and this had decreased to just 5,000 by 2005. The birds are now on the UK's Red List of bird species of conservation concern, and the subject of a Biodiversity Action Plan (BAP).
At RSPB's Corrimony reserve in the Highlands the number of lekking males dropped slightly from 57 to 53. Abernethy nature reserve in the Cairngorms — the largest remaining expanse of ancient Caledonian pine forest in the country — saw numbers fall more sharply, from a peak of 90 in 2007 back down to 73 lekking males, just one more than in 2006. A smaller lek at RSPB's Inversnaid Reserve on the northeast shore of Loch Lomond remained relatively stable, increasing from three to four displaying cocks. This corresponds with population increases on neighbouring ground following habitat management work on land owned by Forestry Commission Scotland.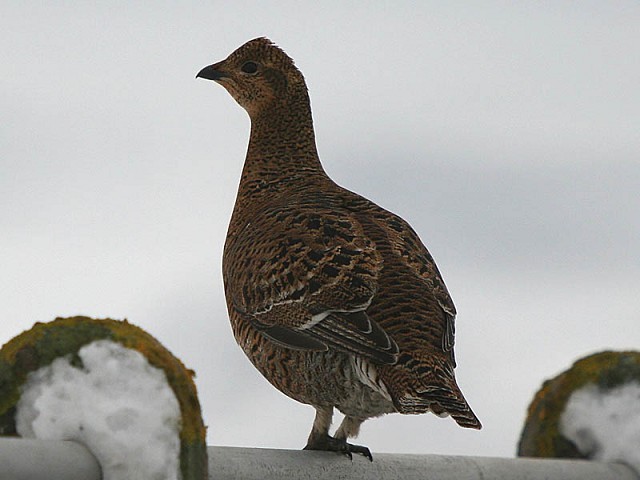 Black Grouse, undisclosed site, Durham (Photo: Mark Newsome)
On RSPB reserves in England and Wales the birds experienced better fortunes. At Geltsdale Nature Reserve in the north Pennines, the number of lekking cocks increased from 17 to 22, against a wider trend of declines across much of the rest of the north Pennines. At RSPB's Lake Vyrnwy Reserve in Wales the number rose from 18 to 20 cocks.
Content continues after advertisements
It is believed that these short-term Scottish population declines are largely due to the extremely wet early summer months of 2007. As a result, fewer chicks survived, resulting in a smaller population in the spring of 2008. Black Grouse chicks in the Scottish Highlands hatch in the second half of June and are known to be extremely vulnerable to the effects of wet, cold weather in the first two weeks after hatching.
Together with recent declines in both the quality and quantity of the birds' preferred habitat, this means that targeted conservation work to help improve its chances of survival is urgently required. Changes in habitat and land use have been the main cause of long-term declines of Black Grouse. In recent decades the maturation and canopy closure of commercial forestry plantations, which have provided suitable habitat in the early years following planting, is likely to have driven these declines in many areas.
Duncan Orr-Ewing, head of species and land management at RSPB Scotland, said: "Black Grouse conservation work involves tremendous co-operation between RSPB, SNH and the Game and Wildlife Conservation Trust, and Forestry Commission Scotland, as well as private landowners. However, positive management on the ground is still required to help conserve this species. The support of The Famous Grouse provides critical funding to help achieve this goal."
Halting and reversing the ebb in Black Grouse numbers presents a major conservation challenge, requiring sustainable solutions including native tree planting and large-scale creation of open woodland habitats, and the restoration of boggy areas in order to create forest-edge habitat of a diverse structure. RSPB recently entered into a unique partnership with whisky brand The Famous Grouse to help the species, with the company donating money to conservation work from the sales of its new whisky, The Black Grouse. The new whisky is a blend of The Famous Grouse mixed with Islay malts to create a rich smoky, peaty taste. For every bottle sold a donation of 50 pence will go directly to the RSPB to fund urgently required conservation work on up to 85,000 acres of land in Scotland, England and Wales.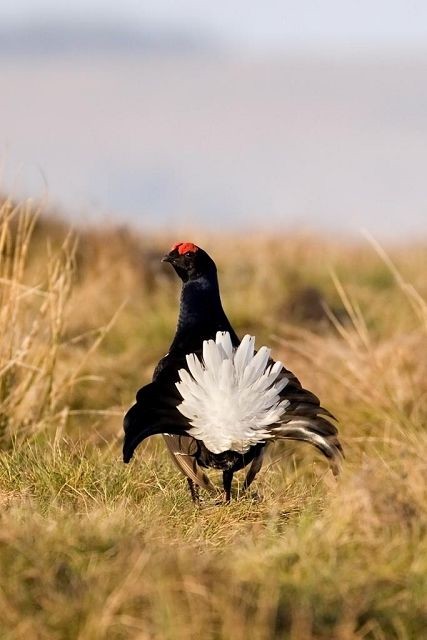 Black Grouse, Helensburgh, Argyll (Photo: David Palmer)
Gerry O'Donnell, director of The Famous Grouse, said: "These latest figures show that there is a clearly a lot of conservation work required to halt the decline of these beautiful birds. With funds from the sales of our bottles being directly invested in conservation work across four reserves throughout the UK we hope to make a significant contribution to these efforts. We have always been very proud of our Scottish heritage and so it seemed only right that we helped to turn around the fortunes of the bird our whisky is named after."
He added: "We know it will not happen overnight, but we hope that this provides people with a great reason to enjoy a dram knowing that this money is being invested in conservation work which will not only help the Black Grouse but many other species of wildlife."
We blogged about Black Grouse Whisky last year. You can watch the advert
here
.