Merry Christmas from BirdGuides and Birdwatch!
38b95717-8af6-4860-860e-bd3aafda6884
With Christmas just a few days away, we'd like to extend our warmest wishes to all our subscribers, contributors and readers for the festive season, and hope that the Christmas and New Year period proves particularly bird-filled.
It's great to look back at what has been another terrific year for rare birds around our isles. Who can forget Britain's first Red-winged Blackbird on North Ronaldsay in the spring – and indeed the eye-watering male Siberian Blue Robin on the same island in early October? Many were able to enjoy the wintering Blue Rock Thrush in Gloucestershire until early April, Britain's second Amur Falcon in Cornwall in July, the Cedar Waxwing on St Agnes in October and the well-watched Eurasian Scops Owl in Co Durham. And then, of course, there was the massive Hawfinch invasion of late October and November ... a more fitting summary of the year's top birds will appear on the website in due course.
We'd like thank our loyal customers and contributors for their support in 2017. Without you providing us with your bird news, photos and videos, the site wouldn't be the vibrant birding hub that it is – thank you!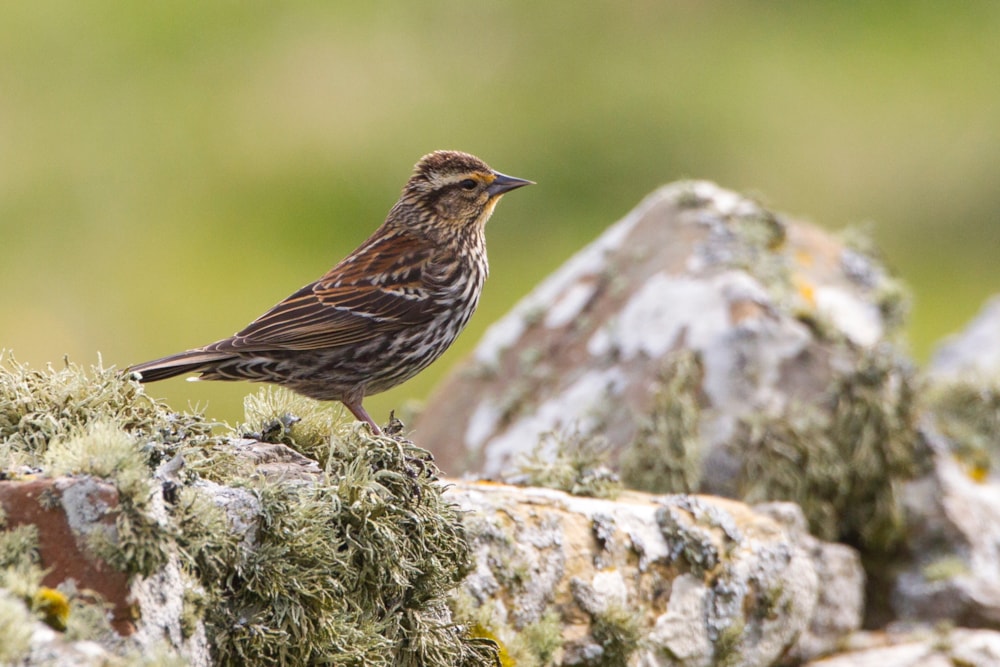 Britain and the Western Palearctic's first Red-winged Blackbird was one of 2017's star birds (David Monticelli).
2017 has been a year of great change at BirdGuides.com. The website relaunch in July was the culmination of almost two years of planning and production by a small, hard-working team of birders and technicians. With an ageing site that was falling apart at the seams and becoming increasingly difficult to maintain (let alone improve), major works were essential for us to remain relevant and competitive in the late 2010s and into the next decade. It also allowed us to dovetail BirdGuides and Birdwatch more seamlessly and offer you Bird News Ultimate, our stunning-value, high-end subscription package that includes the print edition of the magazine, as well as enhancing our online news, articles and reviews sections, modernising our online store and significantly improving our ever-popular online galleries. And the work isn't over – there will be further improvements to look forward to in the months and years ahead.
As well as the old website format, 2017 also saw us bid farewell to our longest-serving employee, webmaster Dave Dunford. Dave's phenomenal efforts over the years are one of the main reasons that the BirdGuides website is the resounding success that it is today. We're truly grateful for what Dave achieved in 17 years with the company, and would like to extend our sincere thanks to him for his efforts, not least in helping oversee the website rebuild process.
As ever, our bird news service will continue to run uninterrupted throughout the festive fortnight, bringing you the latest bird news from around Britain, Ireland and the Western Palearctic from 08:00-23:00 each day. If you're out in the field and have some notable bird news, please do let us know either by calling us on 0333 577 2473, emailing sightings@birdguides.com or by using our online submission form.
Furthermore, the website will continue to be updated with top-quality birding content over the festive period – be sure to visit BirdGuides.com and scroll down to the News, Articles and Reviews sections to catch up with new posts.
The BirdGuides and Birdwatch office in London will be closed from 17:00 on Friday 22 December until 09:00 on Tuesday 2 January. However, the sales team (01778 392027) will remain open for subscription renewals (with the exception of Sundays plus Christmas Day, Boxing Day and New Year's Day) and you can still renew online. We will also be answering emails intermittently over the Christmas period, but do ask for your patience at this time.