Mediterranean countries co-operate against illegal bird killings
bdaf5282-13e1-4dd7-9404-e966b580ff97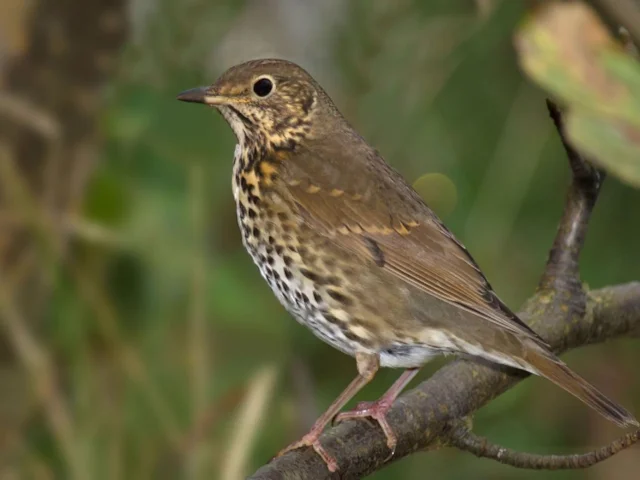 Italy, Spain and Greece have joined forces to change the culture that supports the illegal trapping and shooting of migratory birds.
In most countries the Illegal killing of protected wild birds would seem uncivilised and the methods used barbaric, so you might be surprised that it is still quite common in some regions of Italy, Greece and Spain. Leaving is Living is an ambitious three-year campaign run by LIPU (BirdLife in Italy), SEO/BirdLife (BirdLife in Spain) and HOS (BirdLife in Greece) to raise awareness and change local attitudes about this serious subject.
The extent of the illegal killing in some areas of Italy, Greece and Spain is simply unacceptable in this day and age, says BirdLife International. Some people consider it a minor crime, others say it's a tradition, and there is even some political support because of votes at local and regional levels, and in some cases it even seems to be about 'macho pride'. The issues are different in each country but the overall message is the same: that education and awareness are the keys to stopping the crimes from occurring.
How can old attitudes that run deep in culture and society be changed, then? The first step in is awareness, then acceptance and, finally, willingness to change.
In Sardinia (Italy), as in many of the Mediterranean regions, the main challenge is the illegal trapping of migrating and wintering birds. This practice has a long history and is rampant in south-west Sardinia, although it has been banned since 1939. Migrating and wintering birds – especially Blackbird and Song Thrush – are caught with various illegal devices: snares, traps and nets, along with many protected species, as well. The 300 or so active trappers are locals who follow a long standing tradition. It is believed that about 300,000 birds are killed illegally there every year. The captured birds, or grive as they are locally called, are then sold to local restaurants or are offered as gifts for special occasions.
In Greece, illegal killing takes place during spring migration and is a practice especially engrained in the local culture of peoples inhabiting the Ionian Islands, one of the most significant migratory corridors in the country. Surveys indicate that during spring, the numbers shot by guns in these islands may reach 15,000 per day.
European Turtle Dove, whose conservation status in the EU is classified as 'unfavourable', is the main species targeted, but several migratory raptors and herons have been shot as well. Despite the fact that illegal killing during spring is controlled in the Ionian Islands, and seven arrests were made in 2010, no person caught red handed has yet to receive a fine or punishment.
In Spain, one of the most widespread illegal bird killing activities is parany. A parany is a tree pruned to have tall branches and then set up with rods that are coated with a very sticky lime substance. Illegal electronic calling devices are then used to lure birds to the parany. The bird's wings then become glued and stuck to the rods, or then fall to the ground where they are killed by poachers. This activity contravenes Spanish laws and the EU Birds Directive due to its wholesale, non-selective nature.
Each autumn, hundreds of thousands of protected birds are trapped and killed by up to 6,000 poachers in more than 2,000 illegal paranys throughout the regions of Castellon, north of Valencia, and Tarragona. The highest numbers caught are thrushes, but many other species including Robin, Blackcap and Common Redstart are also killed. Overall, a huge number of wild birds (on average 120,000 to 430,000, but in some years up to 2 million) are killed illegally each year in Spain, including rare and protected species.
The Leaving is Living campaign is wide in scope and is taking action to fight the practice of illegal bird killings in Italy, Greece and Spain at national and international levels. It is targeted at decision makers, local authorities, hunting groups, local communities, the general public, and in particular, the young.
A main objective is to raise awareness among key stakeholders along the migration routes of each species, to teach them about the effects of the illegal killing of birds on local and European biodiversity. A second goal is to change socio-cultural attitudes in younger generations. A third priority is to support law enforcement through increased awareness and better co-ordination among law enforcement authorities.
So far BirdLife estimate that about 33 million people have been reached via social media, radio, newspapers and television. Several hundred children in the hot-spots have met with environmental educators explaining the importance of wild birds for biodiversity, while hundreds of law enforcement agents have been informed about the seriousness of the crime.
You can read more about the Leaving is Living campaign at:
http://www.leavingisliving.org/life/pdf/leaving-is-living-pdf.pdf
.
The theme behind 2015's Champions of the Flyway event is fundraising to help end the illegal hunting of birds in Cyprus. Just like last year, there is a Birdwatch-BirdGuides Roadrunners team competing, and you can find out more and donate by visiting the team page at
www.champions-of-the-flyway.com/birdwatchbirdguides-roadrunners
, or clicking on the Justgiving logo below. The intense 24-hour bird race trakes place in Eilat, Israel, on 25 March, and pledges of sponsorship can be registereed right until the day before.
Content continues after advertisements