Marine Act will not protect seabirds
b3422339-40b3-4310-af05-91f07f1d22a2
The RSPB has learned that the UK Government's new Marine Conservation Zones will offer virtually no protection to seabirds. While other wildlife and their habitats will be protected by law, the waters used by hundreds of thousands of birds will remain at risk from damage and exploitation.

Guillemot, Farne Islands, Northumberland (Photo: kevin Du Rose)
Kate Tanner, Marine Policy Officer at the RSPB, said: "This decision seems utterly incredible. We were delighted when the Marine Act became law last year after more than a decade of campaigning by the RSPB and other conservation organisations. It seemed our seas and the wildlife they support would finally get legal protection from a network of new Marine Conservation Zones. To find out seabirds will not be properly protected will come as a huge blow to our many members who campaigned so hard in the belief that birds would benefit."
The UK Government has committed to putting a network of MCZs in place by 2012. In England, the job of identifying areas of sea to be designated falls to regional panels, which will make their decisions based on guidance from Natural England and the Joint Nature Conservation Committee. This guidance has just been published and lists those species and habitats that should be taken into account when identifying MCZs. There are no seabirds on the list.
Kate Tanner said: "The Government seems to think our seabirds will be covered by the European network of Special Protection Areas. Well, there are two big problems with that. First, we don't have a network of marine SPAs in the UK. We were meant to have a complete network of them back in 1981. Almost 30 years later we have just one, with plans for two more announced last year. Second, even if we get a proper network of marine SPAs, they will only offer protection to waters used by internationally important numbers of seabirds or which support internationally important seabird colonies."
Content continues after advertisements
"Waters vital to the survival of colonies that are smaller but of [only] national importance will not be included. If they are not covered by MCZs either then they will have no protection at all. How can any move to protect marine wildlife not include the full range of important seabird sites? It threatens to make a nonsense of the whole process."
While most of the UK's seabird colonies on land enjoy legal protection, there is no such protection for the waters adjacent to the colonies where the birds bathe and preen to maintain condition, or for their feeding grounds further out to sea. The RSPB has produced a map of sites believed to be vital to nationally important seabird colonies. Any future network of sites protected by European law would not cover these areas.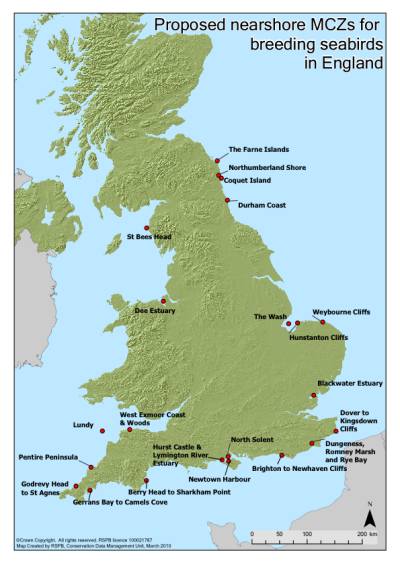 Nationally important seabird colonies (Map: RSPB)