Malham Cove Peregrines receive their 200,000th visitor
7b14cac9-225d-4840-9b40-e1b7dd79cf55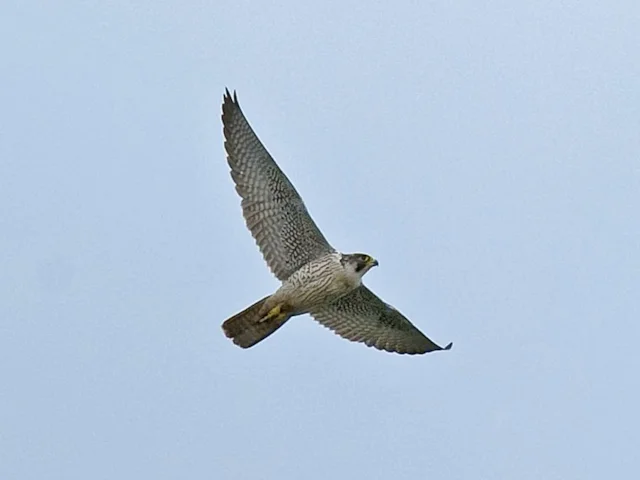 The famous Peregrine Falcon nest in Malham Cove in the Yorkshire Dales has now been visited by 200,000 people, says the RSPB.
The Peregrine Falcon viewing scheme at Malham Cove – a partnership between the Yorkshire Dales National Park Authority (YDNPA) and the RSPB – has welcomed its 200,000th visitor since it began in 2003. Visitors to the Cove are able to see a good range of upland bird species, but it is the nesting birds of prey that are the star attraction.
Project staff and volunteers have been on hand in all weathers with telescopes to show people the spectacular raptors, as they raise their chicks. With four chicks raised to fledging this season, it has been another successful year.
John and Lindsey Eccles from Aberdeenshire and their children Cameron, Michael and Andrew came along to the viewpoint at just the right time for one of them to be the 200,000th visitor, and they were given a goody bag or two of gifts. "We've had a fantastic day out in the National Park, and then to come to the viewpoint and see the Peregrines and get a gift is the icing on the cake," John said.
John and Lindsey Eccles and their children were the 200,000th visitors to the Peregrine Falcon watchpoint at Malham Cove - or, at least, one of them was!
Photo: Yorkshire Dales National Park Authority.
Authority Wildlife Conservation Officer Ian Court said: "It's a huge achievement to reach this landmark figure and we are really pleased, especially as 2014 marks the 60th anniversary of the creation of the National Park itself.
"The popularity of these birds has never waned. As well as first-time visitors, many people have made several visits to the cove during the season and come back year after year to keep track of their progress. The figure includes more than 35,000 children who have stopped to see a Peregrine Falcon, many for their first time."
Kate Struthers, RSPB Yorkshire People Engagement Officer, said: "It's fantastic that there have been 200,000 visitors to the Malham viewpoint. The birds have had an incredible year and provided such a spectacle, with food passes and aerial displays really adding to the visitor experience that keeps bringing people back."
The viewpoint will remain open from today, Saturday 18 July (closed Thursday and Friday), until 3 August, so visitors still have an opportunity to see the birds this season.
As well as the falcons, Green and Great Spotted Woodpeckers are frequent visitors, along with House Martins, Common Redstarts, Swallows and Little Owls.
Volunteers at the viewpoint provide weekly updates on a special National Park Authority website at
www.malhamperegrines.org.uk
and the birds are featured on Twitter using @malhamperegrine and on the Malham Peregrine Watch Facebook page.
Content continues after advertisements