Lost pufflings rescue
f06761ba-0dc4-4084-81d0-e4eb8345b5e9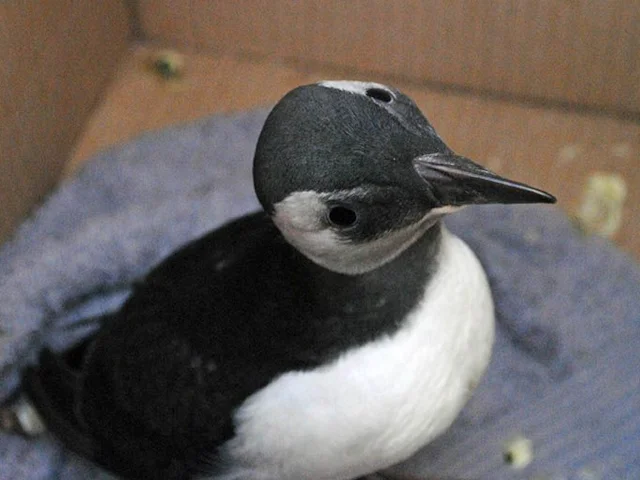 Conservation charity the Scottish Seabird Centre has urged the public to keep their eyes peeled for young Puffins, as the puffling season is in full swing.

Adult Puffins and their young are now leaving their burrows on Craigleith, Fidra and the Isle of May NNR, all small islands in the Firth of Forth. The birds head out to winter at sea, with the adults not coming back to shore until they return to the islands to breed.

The young – known as pufflings – spend the first few years of their lives at sea, coming back to land when they are mature enough to breed. However, some become disorientated by the lights from the mainland and fly inland, where they get lost. They may then seek somewhere dark to hide from predators such as gulls, and can be found under cars or even plant pots.

The Scottish Seabird Centre has already assisted with two rescue missions this season. Seabird Centre Boat Office Manager Claudia Gehrig spotted a puffling on North Berwick High Street on 19 July. The startled youngster hid under a car so a call was made to the Scottish SPCA. After coaxing the puffling, nicknamed Phil, into a long net, it was taken to the Seabird Centre where it was later taken out on a RIB (rigid inflatable boat) where boat guide James Leyden ensured Phil made it safely back out to sea.

North Berwick residents Sandra and Ronnie Williams found a second puffling in their garden. Sandra said: "We realised it was a puffling and so managed to catch it and kept it safe overnight in a box in the garage. We phoned the Seabird Centre the following morning and took it down there where staff looked after 'Polly' until it was time to head back out to sea."

James Leyden releases Polly the puffling after it was rescued from a garden in
North Berwick. Photo courtesy of the Scottish Seabird Centre.
The puffling was also taken out on the boat by James and safely returned to other Puffins on the sea between Craigleith and the Bass Rock.

The Scottish Seabird Centre's Chief Executive, Tom Brock OBE, has appealed for everyone to be vigilant and to call the Scottish Seabird Centre on 01620 890202 or the Scottish SPCA on 03000 999 999 if they find a puffling.

Click on the image below to watch a short clip of one of the rescues.
Content continues after advertisements