Late mowing helps Corn Buntings
b87aee99-e448-4e68-ac3b-99ca1e515772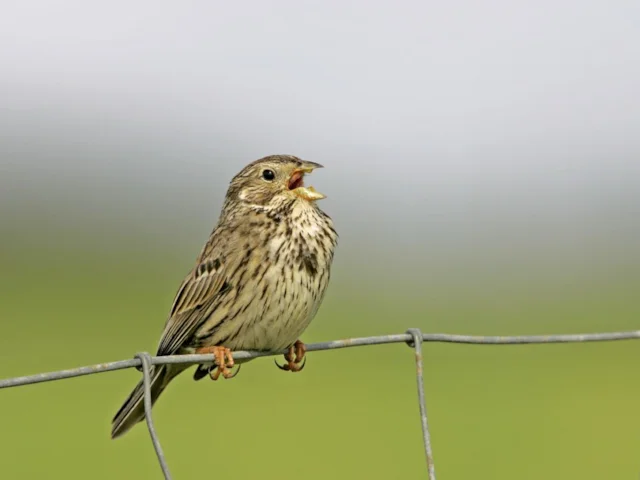 A trial management scheme on 19 farms across Aberdeenshire and Inverness-shire may have discovered the key to Corn Bunting survival, RSPB Scotland announced today.
Corn Bunting
used to be widespread throughout Europe, but are now one of the fastest declining farmland birds with just 800 singing males left in Scotland, mostly in the eastern lowlands. The species is also undergoing a radical decline in England and Wales.
Most commonly associated with cereal cultivation – hence the nickname 'fat bird of the barley' –
Corn Buntings
once bred in hay meadows too. Intensification of farming, particularly a move to earlier mowing, has made this impossible across large parts of north-west Europe.
However, in north-east Scotland, silage and hay cuts remain late enough to encourage the birds to make nests in these fields. In fact, over a five-year study, more than half of the nests started in May and June were in hay meadows. Sadly, more than two-thirds of these were then lost during June and July mowing.
A trial in partnership between RSPB Scotland and local farmers found that delaying mowing by a few weeks could make a big difference. By mowing on 1 August, less than 5 per cent of nests in meadows were lost, and overall breeding success increased by 20 per cent. This is enough to halt and even reverse local declines in this once abundant bird.
Most years, mowing on the 24 July would be as effective and a combination of this and other 'agri-environment scheme' options such as unharvested crops, over-winter stubbles and reduced herbicide use in cereals could be critical in
Corn Bunting
conservation and save the species from local extinction.
David Taylor, of Cauldwells farm in Aberdeenshire, who took part in the RSPB Scotland trial said: "I have been managing parts of my farm to benefit wildlife since 2002. Corn Buntings certainly like the late cut grass and their jangling songs can be heard most summer mornings. I have had to make a compromise in grass quality, but this is just about compensated by the payment rate. Along with the other options, this wildlife friendly farming seems to be making a difference – long may it continue."
RSPB Conservation Scientist, Allan Perkins, said: "This project was a great partnership between the RSPB and local farmers to develop an agri-environment option that delivers real benefits for birds and also works for farmers. By selecting this management option in future schemes, I'm sure that farmers in north-east Scotland will help to halt the decline of this fabulous farmland bird."
Trial management schemes like this, and other outstanding research collaborations, will be celebrated at the RSPB Centre for Conservation Science which is launched tonight (26 February 2014). Visit
www.rspb.org.uk/ourwork/science
for more information.
To find out what you can do to help wildlife on your farm, contact RSPB Scotland on 01224 624824 or email esro@rspb.org.uk.