Jankowski's Bunting found breeding in Mongolia
7bb42cfd-cfab-4cee-a2d0-aa0381224840
Jankowski's Bunting has been discovered breeding in south-east Mongolia by a team of local scientists in recent days.
The team has been conducting a feasibility study for the World Heritage nomination of the Eastern Mongolian Steppes and, during this, came across two separate breeding colonies of the severely threatened passerine.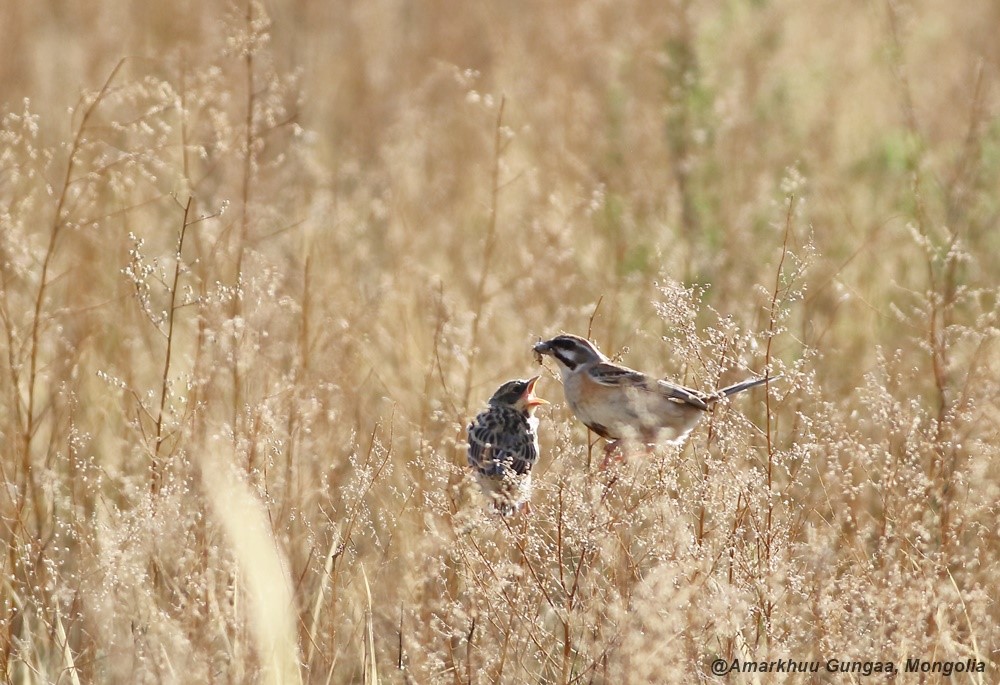 A male Jankowski's Bunting feeding a recently fledged chick at a site in south-eastern Mongolia, June 2020 (Amarkhuu Gungaa / Mongolian Bird Conservation Center).
Content continues after advertisements
Prior to this, Jankowski's Bunting was considered little more than a vagrant to Mongolia. However, there is now genuine hope that further research will locate more colonies of the rare and declining species, which has suffered greatly at the hands of overgrazing and related habitat loss across Inner Mongolia, China.
The exciting discovery was announced by the Mongolian Bird Conservation Center on its Facebook page.
Of the two sites occupied by Jankowski's Buntings, one lies within the currently protected area, where there is no human influence or livestock grazing. However, the second is situated in an unprotected area close to a village, where threats from man exist.
The team suspects that further buntings will be present in similar habitat, which extends eastwards from the protected area, although this has not yet been surveyed. Further work is now required to assess the full population size and distribution, as well as determine the extent of the threats that face those buntings breeding in unprotected areas. As such, the team is now appealing for collaborators who would like to help with the project going forward.