Illegal persecution killing Britain's Hen Harrier population
18d0e046-ce98-4a2a-b883-0584f181f32f
The newly released results of the 2010 Hen Harrier survey have revealed a 20% decline in the UK population over the last six years. The Hen Harrier, one of our most spectacular birds of prey, is also the species most affected by illegal persecution, a fact reinforced by a recent review — the Hen Harrier framework. This concluded that illegal killing is the biggest single factor affecting the species and that it is having a dramatic impact on the population in core parts of the Hen Harrier's range in northern England and Scotland.

Hen Harrier, undisclosed site, Outer Hebrides (Photo: James Wood)
The 2010 survey recorded an estimated 646 nesting pairs in the UK and the Isle of Man, down from an estimated 806 in 2004. These results complement the findings of a 2008 survey which found that only five pairs of Hen Harriers nested successfully on high-intensity 'driven' grouse moors in Scotland and England, despite the fact that sufficient habitat exists for 500 pairs.
Dr Mark Avery, RSPB Director of Conservation, said: "The Hen Harrier is one of our most wonderful birds of prey, but it also the species most threatened by illegal persecution. Every year Hen Harriers are targeted on grouse moors across the UK and it is clear that this onslaught is having a significant impact on our population. We believe that gamekeepers are killing them illegally — under pressure from their land-owning masters. The 2010 Hen Harrier survey backs up the findings of the government-commissioned Hen Harrier framework, which reported that persecution was the principal factor limiting this bird of prey's UK population."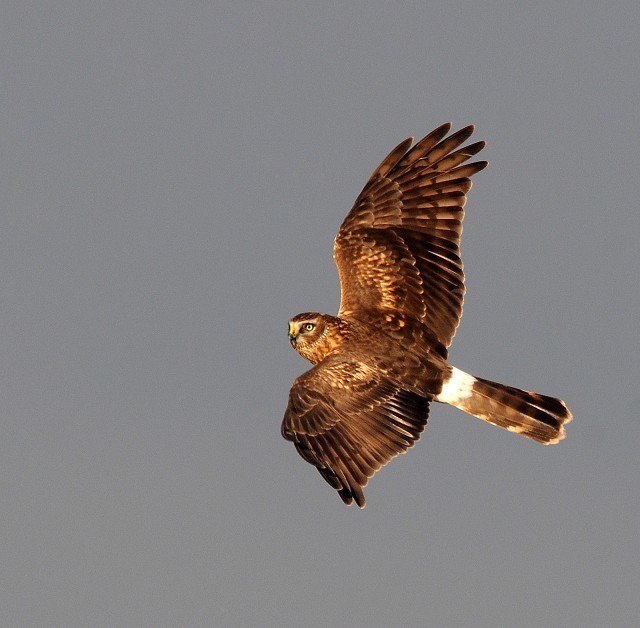 Hen Harrier, Minsmere RSPB, Suffolk (Photo: Jon Evans)
"Last year, over 210,000 people signed up to our bird of prey campaign demanding an end to the illegal killing of birds of prey. With such a strong voice demanding change, it is deplorable that some within the grouse moor community continue to break the law and deny people the chance to see such a magnificent bird."
With almost 500 pairs, Scotland has the vast majority of the UK Hen Harrier population. But here the decline has been even greater, falling over 21% from an estimated 633 pairs in 2004. The survey recorded little change in England, as the population rose from 11 pairs in 2004 to 12 last year. Estimates suggest there is potential for at least 323 pairs in England, so a dozen pairs represents less than 4% of the potential, with illegal persecution being blamed for this huge difference. The Hen Harrier remains on the verge of extinction as a breeding species in England.
Content continues after advertisements
In Scotland, the Wildlife and Natural Environment Bill, which is currently being debated, provides a great opportunity to help save Hen Harriers. One option being considered is making landowners legally responsible for the actions of their gamekeepers. Later this week, the meeting of the Partnership for Action against Wildlife Crime meeting will be addressed by Richard Benyon, Minister for the Natural Environment and Fisheries.
Dr Mark Avery continued: "We trust that the minister will agree with us that these results show that it's time to take decisive action in the struggle to protect threatened birds of prey. Although more than 70% of people convicted of bird of prey persecution in the last 20 years have been gamekeepers, in reality its often landowners who effectively force their employees to break the law. We believe that making landowners legally accountable for bird of prey crimes in Scotland and England is a vital step in the road to reducing persecution."
In Northern Ireland, the population has declined slightly, from an estimated 63 pairs in 2004 to an estimated 59 pairs in 2010. The Isle of Man population was found to have halved during the recent survey and reasons for this are unclear.

Hen Harrier, Bride, Isle of Man (Photo: Pete Hadfield)
Wales, where there are no grouse moors and very little recorded persecution of harriers, recorded a substantial increase, rising from 43 pairs in 2004 to 57 last year. Dr Sian Whitehead, Countryside Council for Wales's Senior Ornithologist, said: "I am encouraged by the ongoing recovery in the Welsh Hen Harrier population, but we must not become complacent. Declines in the breeding population during the 1980s and early 1990s could be attributed, in part, to persecution, and it is encouraging that the situation has now changed. We must continue to ensure that the Welsh Hen Harrier is adequately protected, and the habitat for them managed appropriately, so that this iconic species of the Welsh uplands can continue to thrive."

Hen Harrier, Marloes, Pembrokeshire (Photo: Richard Stonier)
The results of the 2010 Hen Harrier survey are tabulated below:
| Region/county | No. pairs in 2004 | No. pairs in 2010 | % change 2004—2010 |
| --- | --- | --- | --- |
| England | 11 | 12 | 9 |
| Isle of Man | 57 | 29 | —49.1 |
| Northern Ireland | 63 (58—68) | 59 | —6.3 |
| Scotland | 633 (563—717) | 489 (401—592) | —22.7 |
| Wales | 43 | 57 | 32.5 |
| UK & Isle of Man Total | 806 (732—889) | 646 (563—753) | —19.9 |
The 2010 Hen Harrier survey was funded by RSPB, Scottish Natural Heritage, Natural England and the Countryside Council for Wales. Additional support was provided by NIEA and many members of bird of prey study groups.